I've been a fan of Richard Russo's work since the publication of his first novel, Mohawk (Vintage, 1986). Set in rural, upstate New York, not many miles from where I grew up, Mohawk took me home to my youth like no other book I'd ever read. It was immediately evident that when Rick Russo wrote about small-town American life, he did so from the inside out. He'd grown up in the dying factory town of Gloversville, in the foothills of the Adirondacks, and there was nothing about late-twentieth-century American mill towns that this novelist did not understand. He evoked Mohawk and its rundown environs the way Faulkner evoked Yoknapatawpha County, writing with unsparing honesty and deep love about a highly specific place and the people who'd both shaped and been shaped by it. And all this at a time when any whiff of regionalism about a novelist's work could be a death knell in the New York and academic literary circles.
Literary circles be damned. Richard Russo's sights were set higher. What's more, the very critics one might think would have looked down their noses at Richard's rough-and-tumble cast of characters, and their off-the-beaten-track haunts, loved them. They loved Russo's anarchic humor and pellucid colloquial American language, as well. (So far as I know, Rick was the first fiction writer to discover and use the delightful upstate idiom "anymore" as a synonym for "nowadays.")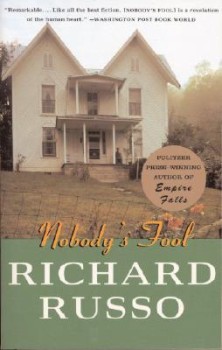 In his second novel, The Risk Pool (Random House, 1988), Richard Russo defied conventional wisdom and demonstrated that, at least when it comes to writing fiction, you most certainly can go home again. Back he went to the falling-apart riverside tanneries and shabby side streets of Mohawk, this time zeroing in on a theme that would recur in much of his subsequent work: the ties that do–and sometimes don't–bind fathers and sons together.
Russo's next novel, Nobody's Fool (Random House, 1993), received universal national acclaim. I had the privilege of reviewing it for The Washington Post Book World. I remember thinking, as I read deeper and deeper into this superb work of fiction, that no book could possibly be this good all the way through. But it was. If novels live or die by their characters, as I believe that they do, Donald "Sully" Sullivan is the heart and soul of this great American novel. In his hilarious and ruinous determination to be himself, his gruff kindness to his sidekick Rub, his affection for his former teacher Beryl Peoples, and his concern that his grown son not go down the path he's chosen, Sully reminds me of the sometimes ruthless but fundamentally decent and highly insightful ex-Texas Ranger Gus McCrae in Lonesome Dove. Ultimately, Donald (Mrs. Beryl is the only person in town who calls him by his first name) defies any explanation I can come up with for him. Great characters often do. Yet I've known people like him.
After Mohawk, The Risk Pool, and Nobody's Fool, I should have been prepared for the power and scope of Empire Falls (Knopf, 2001) and Bridge of Sighs (Knopf, 2007). I wasn't, though. Those two novels took me by storm, and have each of the three or four times I've reread them. (Empire Falls, of course, won the Pulitzer Prize for fiction. Later, it was made into an acclaimed movie starring Paul Newman, as was Nobody's Fool.)
Fathers and sons play a central role in Empire Falls. The novel focuses on Miles Roby, a gentle, intelligent man much put-upon by his ex-wife, her obnoxious lover, and  Miles's freeloading father, Max, a "painted out" housepainter who at times makes Sully from Nobody's Fool seem like a model citizen. The major dramatic moment in the novel is a school shooting, which Russo handles expertly–the shooter is a victim of child abuse and bullying–and there's a genuine hero, as well, who prevents the tragic shooting from being even worse. A secondary theme in the novel, the affectionate understanding between Miles and his artistic daughter, nicknamed Tick, may be my favorite part of the book. The relationship between fathers and daughters is an underexplored theme in contemporary fiction. In Empire Falls Russo adds an ingenious and moving twist when, at the end of the story, the only person who can bring Tick out of the psychological nightmare of witnessing and nearly being killed in the shooting is Miles's reprobate father, Max.
Like Empire Falls, Bridge of Sighs in its thematic complexity, dramatic tension, tragic revelations, hard-earned affirmation, and stylistic expertise, is a literary triumph. By mid-career, Richard Russo, always a spellbinding natural storyteller, had written and read his way (he is a voracious reader) to a technical mastery enabling him to create, in his small towns, complete artistic universes. Empire Falls and Bridge of Sighs exemplify on every page a remarkable convergence of character, setting, story, plot, language, theme and tone into a single artistic unity.
The focal point of Bridge of Sighs is "Lucy" Lynch, a kind-hearted businessman in the upstate N. Y. mill town of Thomaston. The real main character of the novel, however, is Thomaston itself: its history dating back to the Revolution and the French and Indian Wars, its shaky economy as, one by one, the little riverbank factories go out of business, and its endlessly fascinating residents. It seems to me that in Bridge of Sighs, Russo's vision of what it means to be human has evolved into a clear-eyed, non-judgmental inclusiveness that probably accounts for why he, and we, love his characters as much for their misbehavior as for their merits. Rick Russo places the highest premium on human kindness and detests any form of human cruelty. In Bridge of Sighs he examines the often-overlooked theme of racism, and its evil consequences, in a place–the rural Northeast–where one might not necessarily expect to encounter it. At the end of the novel Sarah Berg, Lucy's painter-wife, rescues a gifted young African-American girl, also a painter, from a dysfunctional family in the projects of New York City, and brings her home to Thomaston. Bridge of Sighs also contains some of Russo's funniest writing. In one incomparably comic scene, Sarah's father Mr. Berg, a high school English teacher and would-be novelist, with the help of his crony the woodshop teacher, comes clumping down the hall to class in the incarnation of Captain Ahab, prosthetic leg and all.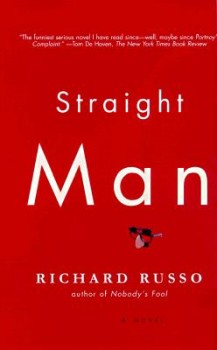 Like all great writers, Richard Russo defies classification. His "out pitch," though, may be his comic realism and range. He uses comedy to vary the pace of his stories, to put a sharp edge on elegiac passages evoking a pre-tech era, and most of all to reveal the complexities of his characters. His fourth novel, Straight Man, comes closest to pure comic fiction, though there's always an unsentimental sadness lingering around the outer precincts of even the funniest scenes in this book. Was there ever a more risible invention than Professor William Henry Devereaux, interim chair of a small-college English department? (No.) Straight Man is flat-out the funniest academic satire since Kingsley Amis's Lucky Jim (1953). Devereaux's capers were inspired, in part, by Rick's observations during his own tenure as a college English professor.
Although Richard Russo often spends many years writing and revising a novel, he is one of our more prolific literary writers. It's important to point out that each of his books is strikingly different and original. One of my favorites is That Old Cape Magic (Knopf, 2009), in which Jack Griffin, a college teacher and former Hollywood screenwriter, finds himself, in mid-life, at sixes and sevens. His parents have died within a year of one another–he's carrying their ashes around in the wheel wells of his car, a notion I defy any other writer since the era of Henry Ford to have thought up–and he's divorced from his wife and wants to write himself but hasn't quite gotten his own permission to do so. The plot hinges on a hilarious wedding weekend, replete with two hard-drinking U. S. marines, brothers, who beat up Griffin not once but twice, then shanghai the jilted fiancé of Griffin's daughter, a very proper Asian American named Sunny, off to the seamy side of Portland, Maine, for a roistering good time.
Russo works equally well in shorter forms of fiction. The heartbreaking title story of his acclaimed short story collection, The Whore's Child (Knopf, 2002), has the cumulative emotional force and dramatic complexity of a novel. More recently, Russo published, online, a jewel of a novella called Nate in Venice (Byliner, 2013). It's no exaggeration to say that Nate is the Job of our time. One by one, for no understandable reason, his dreams turn to dust as his wife leaves him, he loses his teaching job for trying to be kind to a brilliant autistic student and, on a recovery trip to Venice, he learns that his brother has stiffed him for several thousand dollars he can ill afford to lose. And yet, in one of the hardest-earned hopeful endings I've ever read, Nate is still willing to go out on a limb to befriend a lonely elderly widower. I would rate the novella Nate in Venice with A River Runs Through It and Legends of the Fall. Its theme, as I read it, is that we are capable of great acts of love even in the face of the worst that life can deal out to us. This conviction runs just below the surface of much of Russo's fiction.
Like life, Richard Russo's work never fails to surprise us. His recent memoir, Elsewhere (Knopf, 2012), chronicles the story of growing up in the down-at-the-heels upstate New York town of Gloversville, with a discontented, controlling mother. Fraught as their relationship was–as early as college and graduate school Russo found himself taking care of his mother, who continued to be dependent on him throughout her long, dissatisfied life–what strikes me as remarkable about Elsewhere is its implicit suggestion that while love in the form of family devotion may not conquer all, it may be all we're left with in an existence that is otherwise often harsh and unfathomable. As damaged and, at times, as downright impossible as Russo's mother was, he never for a moment gave up on her. Nor, though many readers might not agree with me, did she seem ever to reject him.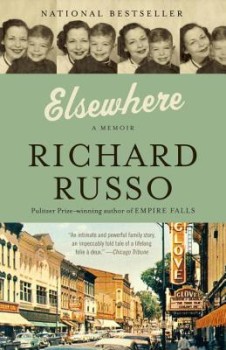 There is a wonderful, if horrifying, chapter toward the end of Elsewhere called "High and Dry." Originally it was published as a stand-alone essay in Granta. It's an account of the Dickensian conditions at the glove factories from which Rick's hometown took its name, where Russo once worked summers. The acid in which the gloves were tanned peeled the skin right off the workers' hands. Today most of Gloversville's faded brick mills stand vacant. The problem is not inhumane employment but unemployment and underemployment. Although Rick recently spoke (free) at a fundraiser for the local library, no author who ever wrote frankly about his or her hometown would be surprised to learn that many of the current residents of Gloversville were less than happy with Elsewhere and with Rick for writing it.
Personally speaking, I'm happy and honored to report that Richard Russo's latest novel, Everybody's Fool, which Knopf will release in May, is dedicated to me. Rick told me that he had no other choice. After all, he said, for the past twenty years, I'd been hounding him to tell me what Sully and Rub, from Nobody's Fool, were up to lately. Everybody's Fool not only gratified my curiosity. It exceeded my expectations in a way that sequels very rarely do. It's also a marvelous stand-alone novel in no way dependent for its achievements on Nobody's Fool, though it will most certainly draw readers back to that masterpiece.
On the surface, at least architecturally, nothing much has changed in North Bath over the past two decades. The town itself, situated about thirty miles north of Albany, is still a poor shirttail cousin to its posh sister community, Schuyler Springs. The local mineral springs from which the village takes its name, and which once drew tourists to the big resort hotel by the thousands, have run dry. Not to put too fine a point on matters, Donald Sullivan's stomping grounds are on the skids.
At seventy, Sully is still very much Sully. His circumstances, however, have altered dramatically. He's inherited his former landlady and junior-high teacher Mrs. Beryl Peoples' house, won not one but two trifectas, and owns a valuable property, left to him by his father, on Main Street. Yet wouldn't you know, just when Sully's luck seems to have changed for the better, his heart begins to play out. Without a risky operation, his VA specialist–Sully's a decorated WW II vet–has given him two years at the outside.
Rub, for his part, is married to Bootsie, an overweight romance-novel addict, and now works as assistant caretaker at the local cemetery, where Everybody's Fool opens with a wildly comic scene. Partway through the graveside eulogy of an irascible local judge, the somewhat feckless but immensely likable local police chief, Doug Raymer, tumbles head-first into the deceased magistrate's open grave, setting in train what has to be the most hilarious forty-eight hours in contemporary fiction.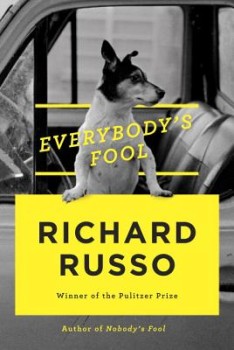 To highlight just a few of the ensuing developments, the plot of Everybody's Fool turns on the reappearance in North Bath of a vicious ex-con named Roy Purdy, who is determined to exact brutal vengeance on five townspersons. Soon after this psychopath hits town, the exterior wall of an abandoned local factory collapses, causing an earthquake; a large section of the town cemetery slides downhill into a highway, spewing out caskets and the dead; Rub Squeers gets trapped for several hours thirty feet up in a tree; and a cobra–that's right, from India–gets loose in Chief Raymer's rundown apartment building. The chief, for his part, is distracted from his appointed rounds by his discovery, in his recently-deceased wife's car, of a remote-control garage-door opener and his uproarious obsession to hunt down the owner, who he assumes must have been his wife's lover. Raymer's own life is in shambles, but just might soon take a turn for the better. Without quite knowing it, the clueless police chief is in love with a wonderfully appealing young woman who's just waiting for him to notice her.
Russo's fiction has always been notable for its strong, independent women characters. In Everybody's Fool Mrs. Beryl Peoples, Sully's off-again on-again girlfriend Ruth, and Raymer's sharp-tongued, warm-hearted office manager Charice, are memorable creations. As for Sully, he's finally forced, almost despite himself, to take stock of his life. Time in which to set things right with Ruth, with his son, with Rub, and most of all with himself is running short. There is a new, pervasive urgency in Everybody's Fool, an implicit understanding between author and reader that time is always running out for all of us. Never before in Russo's fiction has life seemed so ephemeral, or so precious. Chief Raymer needs to shake off the specter of his deceased wife. Ruth to come to terms with her husband and to save her adult daughter from the time bomb that is Roy Purdy. Sully's contractor friend and former boss, Carl, is going broke and half-crazy. Rub feels increasingly estranged from Sully. North Bath itself is losing its heart and soul to Schuyler Springs.  At times it seems that God himself has cursed this town.
Theologians tell us that doubt inheres in faith. In Everybody's Fool, Russo seems to have turned their observation on its head. To be sure, there's little reason to doubt that nearly everyone in the novel is, in one way or another, "everybody's fool." Yet running through the book like the lightning bolt that knocks Raymer to the ground in as funny a scene as any I have ever read is the strongest faith in our own capability to redeem ourselves by those small but defining acts of kindness best summarized by Melville's Ishmael: "And so the universal thump is passed round, and all hands should rub each other's shoulder blades, and be content."
I don't want to give too much away. Everybody's Fool is such a pure pleasure to read–Russo never for a moment forgets that a chief purpose of any novel is to entertain–that I hesitate to reveal anything at all about the ending. But I would say that, as character after character experiences not an epiphany–Russo will leave epiphanies to the theologians–but one or more insights into their own character and their own capacity for acts of unselfish love–he seems, in the controlling vision of this, his best and most powerful book to date, to come down on the side of Ishmael, and to endorse love for one another not as a means to salvation, here or hereafter, but simply because we can.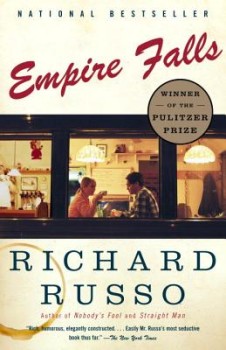 A few weeks after Russo's memoir Elsewhere appeared, I happened to be driving alone on the New York State Thruway (I-90), not far from Gloversville, on a very busy holiday. I'd been thinking about a story Rick had told me.  Soon after he and his wife Barbara were married, he brought her from Arizona to New York State to meet his family. His dad, Jim Russo, about whom Rick has told me many stories over the years and who I believe to have been in part an inspiration for Sully in Nobody's Fool, Max in Empire Falls, and perhaps other individualists in Rick's fiction as well, met the newly-weds at the Albany airport that night during a blizzard. The senior Russo was driving a battered sedan–with no headlights. Not to worry, Rick's dad assured them.  Just watch. Jim waited on the Thruway entrance ramp until an 18-wheeler lit up like a Christmas tree came along, heading west. He unceremoniously pulled out onto the interstate and proceeded all the way to the Gloversville exit, in the blinding snowstorm, tailgating the tractor trailer. Welcome home, Rick and Barbara.
Some thirty-five years later, as I approached the Gloversville exit myself, I did something I'd been meaning to do for a long time. I got off I-90 and drove the few miles north to have a gander at Rick's hometown. I wanted to see where he'd grown up with his disconsolate mom, his largely absent dad, and his steadfast and loving grandparents. I wanted to see the smoke-blackened empty factories where the finest ladies' and men's gloves in the world were once made. I wanted to see the cement-block body shops and transmission repair garages and bars and New York Central railroad tracks, the Barge Canal (aka the Mohawk River), the pizza joints, and did I say the bars, on the way into town. I wanted to take a self-guided walking tour down the line of mostly boarded-up stores and restaurants and yes, more bars once frequented by Jimmy Russo–surely Rick's no-holds-barred sense of humor comes from him–sometimes with his young son in tow. All well and fine. I enjoyed my driving and walking tour. But you know what? Although Gloversville turned out to be pretty much what I'd expected, I did not have any strong sense that this defunct little mill town was much different from any one of hundreds of others all over the country, including the one I grew up in and the one I lived in for some years when, right out of college, I moved to the Northeast Kingdom of Vermont. Where were Sully and Max?  Where was the irreverent presence of Uncle Dec from Bridge of Sighs? And that damn milk-delivery truck that Lucy Lynch used to skid around in the back of as a kid? Where was the world that, patiently, with great care and humor and affection and, yes, at times great anger and outrage as well, Richard Russo had spent his career imagining?
Quite by chance I found what I was looking for. I wandered into the public library. The day was wearing on into the late afternoon. I remember seeing dust motes in the slanted sunlight that made its way into the fiction section. There on the shelf, in a dozen dog-eared books overlooking the aisle where the boy who'd go on to write them once sat poring over other writers' books while the mother he'd later immortalize browsed nearby, for any local boy or girl or grownup to sign out and take home and live in for a time, was the one and only universe of Richard Russo of Gloversville: most certainly one of the half-dozen most American, and one of the very best, writers in the history of our Republic.
---
Editor's Note: We're proud to publish this essay in collaboration with Poets & Writers, who just released Joshua Bodwell's feature "An Open Door: A Profile of Richard Russo" as an online exclusive for the magazine. We hope you'll check it out!