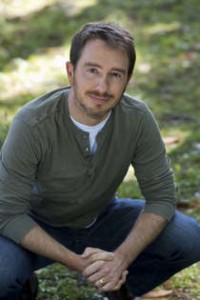 Wiley Cash's much anticipated debut novel, A Land More Kind Than Home (William Morrow, 2012), was recommended to me after I championed Tom Franklin's most recent novel for this site. And I can see why: as southern writers, both Franklin and Cash deftly portray rural southern life and the power that secrets long kept have to disrupt typically sleepy small towns with generations of tangled relationships. But while Cash's novel may tip its hat to Franklin—and other southern authors, ranging from Faulkner to Ernest J. Gaines—it is very clear that this is a gesture of respect, not imitation. A Land More Kind Than Home is an original novel by an exciting new voice in southern fiction.
The novel is narrated by three distinct first person voices: Adelaide Lyle, a midwife who has welcomed generation after generation into the mountain cloistered world of Marshall, North Carolina; Clem Barefield, a streetwise sheriff who thought he'd seen everything this town had to throw at him, including his own son's premature death; and Jess Hall, a curious young boy caught up in a clash of beliefs and deceits more complex and sinister than he can comprehend. Together, these characters tell the story of an entire community, as their hopes and fears are prayed upon by the stranger come to town, Carson Chambliss, a fiery and mysterious preacher with his own troubling interpretation of God's word.
Wiley Cash's stories have appeared in Crab Orchard Review, Roanoke Review and The Carolina Quarterly. He holds a B.A. in Literature from the University of North Carolina-Asheville, an M.A. in English from the University of North Carolina-Greensboro, and a Ph.D. in English from the University of Louisiana-Lafayette. He has received grants and fellowships from the Asheville Area Arts Council, the Thomas Wolfe Society, the MacDowell Colony, and Yaddo. He and his wife currently live in West Virginia where he teaches fiction writing and American literature at Bethany College. He also teaches in the Low-Residency MFA Program in Fiction and Nonfiction Writing at Southern New Hampshire University.
Clearly a very busy man, Wiley took the time to correspond with me via email, as we discussed his inspiration, his methods, and what it means to him to be a "southern writer."
Interview
Brad Wetherell: What was the initial germ of this novel for you?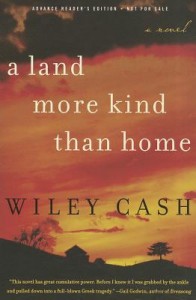 Wiley Cash: I got the idea for the story of the novel when I was in graduate school at the University of Louisiana at Lafayette in the fall of 2003. I was taking a course in African American literature, and one day my professor, Reggie Scott Young, brought in a news story about a young African American boy with autism who was smothered during a church healing service in a storefront church on Chicago's South Side. Although I was raised in an evangelical Southern Baptist church, I was familiar enough with charismatic belief to understand its power, and I was particularly drawn to the Pentecostal tradition, especially the Holiness movement that takes the Bible as the literal word of God, particularly Mark 16: 17-18:
And these signs will follow those who believe: In my name they will cast out demons, they will speak in new tongues; they will pick up snakes with their hands; and when they drink deadly poison, it will not hurt them; they will place their hands on the sick, and they will get well.
The story of the young boy's smothering was clearly tragic, but given my interest in the Holiness movement, I couldn't help but be fascinated by it, and given my own memories of growing up in the evangelical church, I couldn't help but be compelled to write about it.
But when I thought about sitting down at my desk to begin the story, I knew I'd immediately face several insurmountable problems: as interested as I was in this story, I'd never been to Chicago's South Side, and I knew nothing about the experience of growing up in the city's African American neighborhoods. It was impossible for me to attempt to speak for a cultural experience that existed so far outside my own.
But then I imagined the same tragedy unfolding in western North Carolina. In my mind, I saw a church sitting on the riverbank in Marshall, a small town in Madison County only a short drive from Asheville, where I'd spent countless days and nights driving back roads, taking photographs, camping, and swimming in the French Broad River. I gave the autistic boy a younger brother named Jess whose doubts about the church only intensify once he loses his brother inside its walls. The more I wrote, the more the community around Jess flourished in my mind: a church matriarch who struggles to protect the children, a local sheriff who must deal with his own tragic past to solve the mystery of the boy's death, a mother who's torn between her faith and her loss, and a father whose pain portends only tragedy. In creating these people and the place they live I got to live in both Louisiana and North Carolina, and it was wonderful.
At what point did you know you had a novel worth writing?
I figured I might be onto something when my friends, who were also great writers, began to take an interest in the project. I was incredibly fortunate in Lafayette to have three best friends and fellow students who were dynamic and talented fiction writers; they were also very different writers with very different strengths and interests, and when they read excerpts of the novel-in-progress they brought their diverse strengths and interests with them. Their feedback was invaluable, and so was their support.
There were many nights when I had to go home early because I was usually up and writing by 7 a.m. I got teased a good bit about acting like an old man for going to bed so early, but after my friends saw how serious I was they began to understand those early nights and early mornings. They're still some of my best friends, and they're still some of the most talented writers I know.
Can you describe your writing process during the creation of your book? Were there particular stumbling blocks?
One of the most difficult challenges I faced was in writing about North Carolina while living in Louisiana. First of all, I was desperately homesick, and every time I tried to write about North Carolina, especially western North Carolina, the page was colored by my misty-eyed, romantic memories of life there. My exaltation of the place was a serious roadblock in portraying the region realistically. Second, in Louisiana I immersed myself in a culture that was very foreign to me, and being surrounded by such distinct dialect and music sometimes made it difficult to hear the dialect and the music I'd left behind.
I accidentally stumbled upon the solution by rededicating myself to the literature and music of North Carolina. I poured over work by authors like Clyde Edgerton, Kaye Gibbons, Fred Chappell, and Thomas Wolfe, and I listened to music by Malcolm Holcombe, Sons of Ralph, the Biscuit Burners, and David Holt. I began to hear and see North Carolina again.
As I mentioned, I was in graduate school when I began writing the novel, and, like most graduate students, I was teaching two classes and taking three. Making the necessary time to write became a challenge, but I solved it by getting up incredibly early in the morning, sometimes as early as 5 a.m. I liked the feeling that the world was quiet and I was the only person awake at that time; I knew something about the day that no one yet knew. Of course this wasn't true, but it helped to cut out the noise of life if I thought I was the only one awake in those hours. I maintained this early morning schedule for years; it used to drive my wife crazy when I'd get up at dawn on the weekends.
You say that you maintained the early morning schedule "for years." How long did it take you to write the novel?
In the spring of 2004, I wrote a short story from the perspective of a grandfather whose autistic grandson is smothered during a healing service one Sunday morning. The grandfather and the autistic boy's father find out the terrible news after the local sheriff comes out to the farm to tell them. The story was about twenty-five pages, but it wasn't really a story; it was more of an event. I sat on it for over a year before I went back to it and tried to reimagine the scene. I realized that the story was much larger than one person's perspective. In 2005, I decided to attempt to write a novel with the autistic boy's death at the center. I experimented with several different narrators, and, as a result, the grandfather's narration was cut even though he remained a very important character.
By the fall of 2008 I'd landed a great agent who represents several authors whose style and regional focus are very similar to mine. This agent submitted the manuscript to a few houses, but it was rejected by all of them. We worked on the manuscript for about a year and a half, and, eventually, it seemed like there was nowhere else to go in terms of revising it. We agreed to go our separate ways in January of 2010.
I turned to Nat Sobel of Sobel Weber. He'd contacted me after reading an excerpt of the novel that had been published in Crab Orchard Review in the fall of 2008, right after I'd agreed to work with my former agent. I called Nat's office late on a Friday afternoon, and I was very surprised that he remembered my story. He agreed to consider the manuscript, but he made clear that I'd follow the same process everyone else followed, from submitting the query letter, to submitting the first fifty pages, to finally submitting the full manuscript. I was ready to give up on the novel at this point, and I probably would have if my wife hadn't encouraged me to give it one more shot with Nat.
I submitted the full manuscript to him in February 2010. He read it and offered some comments toward revision. At this point, I had to decide whether or not I wanted to go back and revisit a manuscript that I'd thought was complete months and months earlier. Maybe it was hope, or maybe it was desperation, but I sat down at my desk and considered Nat's comments. I worked on the novel the entire summer of 2010. Nat started submitting the novel in the fall, and the first editor who saw it purchased it in a two-book deal. Roughly five years passed from the time I decided to write the novel until the time it was accepted for publication.
Let's now talk a bit about the book itself. Why did you choose to tell the story with multiple first person narrators?
I think I relied on a multi-voice narrative for two reasons. One, I come from a place where every member of my family and every good friend I have tells wonderful stories. Over the years, I've found that when something happens that involves a number of my family members or several of my friends, everyone has their own perspective of the event and narrates their version of it based on their individual perspective. I suspect this is the same with other people's family and friends, but hearing that chorus of voices narrate separate stories that coalesce around a single event always stuck with me. Two, this is a pretty popular model with Southern novels and stories; I'm thinking of Gaines's A Gathering of Old Men, Faulkner's As I Lay Dying and The Sound and the Fury, and Thomas Wolfe's novella The Lost Boy. Each of these works is focused around a single event, but the authors rely on the community or the family to fully communicate that event's importance.
What was the biggest challenge of structuring the novel in this way? I can imagine that it might complicate how you manage the narrative time.
The biggest challenge was staying clear on what each narrator knows at each point in the story, a problem amplified by the fact that the novel takes place over six days. This tight schedule didn't allow for a lot of summary or exposition. Aside from the opening scene, the novel is pretty linear, so that made it a little easier to keep the narrators' stories and their knowledge of events chronological. Toward the end of the revision process, I actually found myself making calendars to track the development of the story over those six days. I really wish I'd done that earlier. Structuring a novel is a lot like solving an equation, and it helped to see all the values and integers in the visual equation instead of trying to keep them straight in my head.
Authors often say that the beginning and ending of novels are the hardest to write. Was this true for you? Also, why begin and end with Adelaide in particular?
Beginnings and endings are important in just about every process, from writing novels to romantic relationships to basketball games. I don't know if creating the events that transpired at the beginning and the ending of A Land More Kind Than Home were any more difficult to create than any other section of the novel, but it was difficult to decide who would be responsible for narrating those events and the tone that narration would take.
Originally, Jess narrated both the opening and closing sections of the novel, but something never felt quite right about that, even though I liked the symmetry of it. I kicked around all kinds of ideas about how to grab the reader in the opening scene, but nothing seemed to work. One night, my wife was proofreading some of the manuscript pages when she read the scene of Adelaide and Carson Chambliss in the church. She looked up at me and said, "You should put this at the beginning; it's a great hook." I made the revision and it worked; my agent used those opening twenty pages to sell the novel to William Morrow.
With this cast of narrators, I wonder: whose story do you think this is?
If I had to assign ownership of this story to one particular character, I suppose I would say this is Jess's story. He's the one who carries the largest burden for the tragedy that befalls the family; he's the one who sees something he shouldn't have seen; he's the one who keeps the secret until the very end when divulging it can only lead to disaster.
But I really feel like this is the community's story. I tried to make it as rich and all-encompassing as possible. There are a lot of lives wound up in what happens to the Hall family. Only a community can tell this story; because of that it just seems right for a community to own it as well.
Can you speak about the role of place in the novel?
A sense of place is really important to me in general. I'm one of those readers who opens new books in the same manner I enter my dreams at night: I immediately want to know where I am. So much about us—our motivations, reactions, fears, and hopes—emanate from the places we're from. There's no escaping the fact that home, as both a physical locale and a remembered idea, are either restrictive or emboldening or sometimes both, and characters who bear the mark of their place are simply more believable to me.
That's what I loved about living in Lafayette, Louisiana, for five years during graduate school. The language, food, and landscape were different from any other place I'd ever visited, and while I lived there I took every opportunity to immerse myself in it. I think it made me a better writer because it made me more curious about North Carolina, the place I call home.
Speaking of place, how would you define "Southern Literature"?
That's a difficult question to answer because just as there are many "Souths," there are also many types of "Southern Literature." But I think one thing that defines the South broadly and Southern literature in general is the idea of struggle and all the forms it takes. Because of its historically agrarian economy, Southerners have always struggled with the land and tried to figure out the best way to reap the most from it. Unfortunately, that led to centuries of slavery, and there was a long struggle to end that and an even longer, on-going struggle to stamp out the racial prejudice that accompanied it. You can see both the struggles with land and the struggles with racial prejudice in the work of writers like Jean Toomer, Charles W. Chesnutt, Zora Neale Hurston, and Ernest J. Gaines.
Also, because of the South's agrarian economy, people tended to live on large swaths of land and relied on their family members for everything from labor to emotional support. I believe this is why family struggle has so long been a hallmark of Southern literature; here I'm thinking of writers like William Faulkner, Tennessee Williams, and Alice Walker. On the other hand, the tight cohesiveness of the Southern family can quickly turn those who aren't related into real outsiders. So much of Southern literature, especially its local color, revolves around the mysterious and sometimes evil outsider who attempts to plunder something from those on the inside. Ron Rash, Flannery O'Connor, and several of Kate Chopin's stories come to mind.
Do you consider yourself a "southern writer"?
Absolutely, but I can't really explain why, and I don't know why it's so important to me. The first time I visited West Virginia, where my wife and I now live, I asked someone if West Virginia considered itself a northern state or a southern state. The woman thought about my question for a second, and then she said, "I don't know. It doesn't really matter." It mattered to me, but I couldn't explain why; I still can't. Perhaps it's something about my wanting to feel at home. That's why I started writing about the South in the first place—to feel at home.
I know you worked with Ernest J Gaines. Can you speak to his influence on your work? Also, what other authors have influenced your writing the most?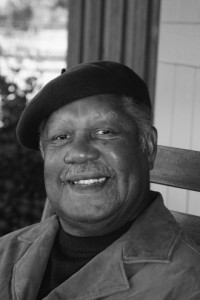 The effect that Ernest J. Gaines has had on my writing life and my life in general are immeasurable. I chose to attend graduate school at the University of Louisiana at Lafayette because it gave me the chance to study fiction writing under him. Before I left North Carolina, I didn't have any idea of what kind of writer I was or what kind writer I wanted to be, and then I got to know Ernest J. Gaines, and I learned his own story of leaving home and becoming a writer.
He was born and raised in the quarters on a plantation just west of Baton Rouge where his ancestors had spent generations working as slaves and later as sharecroppers. In 1948, at the age of fifteen, he'd had to leave Louisiana and join family in California because of the lack of education available to African American children living in Pointe Coupee Parish. But, once he arrived in Vallejo, he realized that he ached for the sugar cane fields and the twisted oak trees he'd left behind. Because he couldn't afford to return home, he decided to read about it, but after discovering that he couldn't find any books about the lives of rural, African Americans in the South, he decided to write about them.
This was never clearer to me than the first time I visited Gaines and his wife Dianne where they'd built a new home next door to the land where he was born and raised. It was All Saints Day, and a group of us were working to beautify the old slave cemetery that sits about a half-mile behind the still-standing master's house. In North Carolina and other parts of the South, these events are known as Decoration Days. Gaines and I had paused in our work, and we were talking about his memories of growing up on the land and the stories of the people buried in the cemetery. At one point, he looked at me and then gestured toward a grave. "Do you know Snookum from A Gathering of Old Men?" he asked. "He's buried right over there."
In our workshop back at the university, Gaines had helped me learn to write better stories, but that day, standing in the cemetery with the master's house barely visible through the trees and the ghostly sound of the wind rustling the sugarcane, he showed me what my stories would be about. Later that evening, while driving home in the fading light through the flat farmland of Louisiana, I saw the clouds sitting low on the horizon, and I realized that if I squinted my eyes I could make them look like mountains. I started A Land More Kind Than Home not long after.
As we wrap up, I wonder if you had any advice for aspiring writers who hope to publish a novel of their own someday.
My advice is simple: write a book. A lot of people want to talk about writing a book, especially when they find out that you're a writer, but very few people are actually willing to give it a real shot. Writing a book is hard. It requires a lot of time alone, and there will be many times when friends and family won't understand why you can't have another beer or watch the game or go out of town for the weekend. There will be a million reasons not to sit down and work, but you have to dedicate yourself to your work to finish a novel.
But don't simply write a book; write the best book you can. Only then should you be concerned with getting an agent or finding a publisher. Don't put your book out there before you're certain it's ready. Don't query agents with an unfinished manuscript; don't pitch ideas about a book you haven't yet written.
Finally, what a name! Wiley Cash. Tell me it's real.
It's a real name, for better or worse. It's actually a family name: the middle name of my grandfather, Odus Wiley Cash, and my father, Roger Wiley Cash, Sr. I'm Jr., but my parents decided to call me Wiley. As far as my last name goes, I've always heard that we're distantly related to Johnny Cash's people, but I never received a Christmas present or a birthday card from him or June, so I can't really vouch for it.
My name used to drive me crazy when I waited tables, a job I've held at too many restaurants to name. I'd say, "Hello, my name is Wiley and I'll be your server." The people at the table would ask me to repeat my name, and then they'd make the usual Wile E. Coyote joke. I'd smile along, waiting to get their drink orders. Then they'd ask about my last name and make the usual joke about Johnny Cash. I probably would've made more tips if I hadn't been standing around listening to the same jokes every night.
---
Further Links and Resources
For more on Wiley Cash and his debut novel, including tour dates and excerpts from the book, please visit the author's website