Last summer, I enrolled in StoryStudio Chicago's Advanced Fiction Workshop and wound up with Abby Geni as my instructor, which happened to be incredibly lucky as Abby is an insightful and generous teacher. This makes sense as she is also an insightful and generous writer–exploring what it means to live as humanly and humanely as possible in her short story collection, The Last Animal (2013), and in her recently released debut novel, The Lightkeepers (2016), both from Counterpoint Press.
The Lightkeepers follows Miranda, a nature photographer who travels to the Farallon Islands, an exotic and dangerous archipelago off the coast of California, for a one-year residency capturing the landscape. What transpires while she is on the islands proves as haunting and perilous as the islands themselves, and Miranda must navigate emotionally and physically demanding territory as she reconciles the traumas of her past, present, and future.
Miranda says of the islands that "things do not endure here," but The Lightkeepers endures as a testament to both human fragility and strength in unforgiving places, where one is "broken down to just the essentials."
Abby Geni is the author of The Lightkeepers, a Barnes & Noble Discover Great New Writers Spring 2016 selection, and The Last Animal, a finalist for the Orion Book Award and a winner of the Friends of American Writers Literary Award. Her stories have received first place in the Glimmer Train Fiction Open and the Chautauqua Contest and have appeared in numerous literary journals and anthologies. Geni is a graduate of the Iowa Writers' Workshop and a recipient of the Iowa Fellowship.
Abby and I met at a coffee shop in Evanston to talk about writing and her new novel.
Interview:
Olivia Postelli: I want to begin by asking how writing short stories and putting a collection together is a different experience from writing a novel. Or maybe not so different?
Abby Geni: I think I've always been a novelist at heart. Some of us are sprinters and some of us are marathoners, and I think I'm a marathoner. But only recently have I felt like I am now a wise enough human being to write a book.
I feel that the short story collection was practice for writing a novel, but I don't know I could have written the collection if the stories weren't so intertwined with each other. All the stories are thematically linked, so I was able to think about it like the bigger shape of the book was all of them together.
Do you think the next project is going to be a novel?
Yes, another novel.
You're not going back?
[Laughter.] Nope, forever novels.
Speaking of short stories vs. novels, I know we've talked in our class about plot points vs. emotion beats as two different ways you might construct a narrative arc, and I'm wondering where plot points vs. emotion beats land differently in a short story vs. a novel.
That's interesting.
Specifically, I'm thinking of when in a short story a character's world is fundamentally changed vs. when in a novel that same moment comes. Is it halfway through? At the end? 
It's probably different in every case. I'm not sure I think about it in terms of timing. I do think that short stories are all beginning and end whereas novels are almost entirely middle. So you have a lot more time to reach that moment, and to have the character have multiple moments of transformation. I think in my ideal world in a novel that moment of transformation will be in the climactic moment so that the reader feels like, "Aha! I've invested in this 300 pages and it's happening now." And at the end, it's, "Yay for me! I got this far." Whereas, with a short story, it can happen at the beginning, in the middle, or at the end. It could happen outside the scope of the story—something that happened ten years ago that the character is only just now processing and understanding and that's the meat of the story. Ideally, in a novel your character will change more than once. They'll go through several evolutions because you have the time to do that.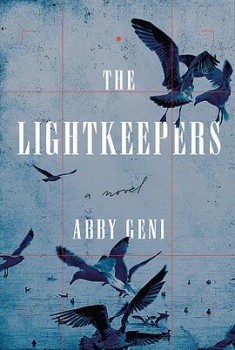 Do you think Miranda has more than one of those moments in The Lightkeepers?
I think she has multiple moments of transformation that are inflicted on her.
I like that. I think that's the perfect way to say it.
And then she has one big moment of revelation that she is responsible for, that's her own agency.
With regards to the construction of the novel itself, lots of research must have been done in terms of animals and biology and the Farallon Islands, and I definitely wished I could go on National Geographic or Slate and look up Miranda's collection of photographs, but I didn't have access to that.
Because it doesn't exist in the world.
Right! What was the research process like? Where did the information come from? Did you talk to anybody who'd been there? I'm assuming you yourself could not visit.
No, I've never been there. I'm hoping on the book tour when I'm going to be in San Francisco that it's a clear day and I can see the islands. I'm very excited to actually see the place I've spent so much time writing about. I knew the story that I wanted to write. I knew the mystery. But I didn't know where I wanted it to be set. I wanted it to be set somewhere where you can have that kind of drawing-room-six suspects-poisoned-tea whodunit where it's one of them. So when I read about the Farallon Islands in Susan Casey's memoir The Devil's Teeth, a marine refuge and totally enclosed space where you could only go with permission, I thought, "Wow, that would be exactly like that." There would be these six biologists plus Miranda and that's it. Somebody dies and it's one of them. Or not.
Or it's an accident.
[Laughter.] Yes, or it's an accident!
So I read The Devil's Teeth, which is written by someone who was able to go to the islands for a period of time. There's a map of the islands in it and a lot of wonderful description. It allowed me to get my foot in the door. Then I just did so much more research on anything I could find until I felt like I could write about it with authority.
And then science, animals, biology–these seem to be interests of yours? In terms of your writing.
I feel like we can't choose our passions for whatever reason, and that's a passion of mine. You know those jocks who memorize football stats?
Absolutely.
If you ask me any fact about any animal, I know something about that. I know about albatrosses. I know about giraffes. It's just something my brain is doing with or without my consent. So I just follow that instinct and see where it takes me. In a deeper sense, I think it's something that I'm passionate about in terms of climate change and human interaction with the natural world. Our effect on the natural world. So it's a hobby and a deep, abiding personal philosophy.
I was also very impressed with the book's structure. And it's very structured. It opens with a third-person prologue limited to Miranda, its protagonist, transitions into a first-person epistolary novel sectioned into the seasons of the islands–shark season, whale season, seal season, and bird season–and ends with a third-person epilogue told from another character's point-of-view. Was this something you envisioned going into the novel? Or was this something that developed as you went along?
I knew that Miranda was writing letters to her mother. I was very frustrated in writing the book because I didn't know why. It's a really hard way to write. It's much easier to write a story than to write someone writing letters and also telling a story. But I felt like that was the only way the book seemed to want to come out. I tried different ways, but only at the end of the book did I understand why I had written it that way so I had to take this leap of faith. I tried it because it seemed like what I wanted to do and I thought, "Maybe I'll figure it out." At the end, it was, "Oh, that's why! Now I understand."
But I would say a lot of the structuring happened in work with my editor. I handed in my finished draft to him, and we did this really intense revision. We went through the book and any part of it that was a little bit cloudy to me, he would shine a bright light on, and we made it clear. The book got shorter, leaner, tighter, and more structured. It's become this machine of forward motion which I love, but it was something that evolved over time.
About the letters, because Miranda is mailing them to her mother and sending them, or not sending them as the case may be, to this Dead Letter Office, obviously it allows her to disclose information to us in very calculated and mindful ways. Do you think this serves as a way to draw a veil between Miranda and the reader, having this letter form? Or does it have the opposite effect, where it becomes confessional?  
I think it's both. There are times when it reveals aspects of her that you might not learn any other way.
Even in first-person?
Yes, because there's a way that you talk to another person that you don't even talk to yourself. But I also think there are times where I used it in a calculated way for the sake of the plot.
To obscure things in some way?
More to build suspense. Something really intense happens, and I would start the next chapter with a letter to the mother about a memory, so the reader's going, "What about that thing that just happened? Go back to that!" Instead, I'll give you this insight into her past and slow down the plot, drawing a veil over some of the action.
Mostly, I would say, though, that it is confessional. I wanted it to be a window into the mind of someone who is maybe not completely reliable or self-aware, who maybe wouldn't reveal that much if she weren't actively trying to reveal herself to someone she loves.
A follow-up question to that would be: what about Miranda's reliability? How much does she know? Excluding, of course, the things she does not know and thus cannot tell us.
I feel a little bit like an unreliable narrator in my own life.
I think maybe a lot of people feel that way.
Yes! She has gaps in her understanding of the world, but I also feel like most of us do. Her reaction to trauma is sometimes to deny and obscure which is something many people do.
I love her, and I feel very close to her. I feel like she's doing okay. I feel like other people might read it, and go, "Wow, this woman is nuts!" I guess it depends on how reliable you feel like you are as a person and what the benchmark for reliability and sanity in the world is.
Human nature, animal nature, and the animality of human nature are all at play in the book. Miranda talks a lot about how Galen [the islands' head biologist] insists on non-interference, the biologists' credo. She says, "The food chain was paramount. Sympathy and affection are beside the point." I'm wondering where sympathy and affection are present in the story and where they're absent. There's a lot of sympathy and affection, for instance, between Miranda and her mother, Miranda and Mick [the islands' seal expert]. Not necessarily between other characters.
My way of answering that is to say that I was interested in writing about a situation of great extremity. The Farallon Islands are an extreme environment. I think that in that kind of environment, we are all stripped down to our essentials. For these biologists, in this place where you can lose focus and fall down and die–something that could happen at any moment of any day–sympathy is sometimes a luxury they can't afford. But I also think that there are people who are predisposed to live like that, without sympathy, without love, and I think—
They might be drawn to those extreme situations?
Yes. It's the chicken or the egg thing. Are they there because they're like that? Or are they like that because they're there? I was definitely interested in a community that's not a community. Bonds between characters that are not built on love, but are built on necessity which is more how animals live, maybe.
"I was definitely interested in a community that's not a community. Bonds between characters that are not built on love, but are built on necessity which is more how animals live, maybe."
And more extreme than your regular "coworkers in an office" situation.
Exactly. The main character doesn't get along with Lucy, but if Lucy hurts her arm, the main character is going to bandage it for her. There doesn't have to be sympathy for them to care for each other in the ways that they need to.
The bulk of the novel deals with injury and trauma. Certainly Miranda's mother's death is a large, traumatic experience that's hovering over the novel, and then there are the traumatic experiences that occur while she's on the island. How do you write your way out of representing trauma, of taking on that emotional toll?
For me, that is the arc of the book. That was the core of it for me. We talked about plot points and emotion beats. For the plot points, I knew the architecture of the structure, I knew the different things that happened to Miranda, the things she does. Not until the end, though, did I understand that I wanted to write about someone who is coming back to the world after having been in a wounded or fragile state for a really long time. I wanted her to make the choice.
The Farallon Islands are this place where people like Galen end up. People who are cut off from humanity both internally and externally. Miranda is heading in that direction and the events on the islands cause her to reevaluate that, to make a choice for herself instead of being buffeted by the different traumas she encounters and ending up wherever she's pushed by them. Rather, turning around and deciding what she wants to do and how she wants to respond and what she's going to make of herself despite the things that have happened to her.
Her job is to be a nature photographer and to travel to these extreme places, which makes me wonder about her artistic process. She talks about looking at her own work and not being able to evaluate it objectively–she sees what she wants to make instead of what she's actually made. Is this true of your artistic process? And how does your artistic philosophy match up with Miranda's, as a photographer, vs. Abby's, as a writer?
I think some of it is universal. Wherever possible, I liked to use her photography as a window into talking about writing. What you just said: "She sees what she wants to make instead of what she's actually made." That's the difference between the writing stage and the revision stage. When you're writing, you're like, "I'm going to make a beautiful, perfect story." You need some time before you can read it as though you're reading someone else's work.
But, initially, her photography was more that I didn't want her to be a biologist. I wanted her to be different from the people she was going to stay with, but I needed a reason for her to go there. Originally, her photography was just a tool to get her there. The more research I began to do–and the more I began to think about how photography is similar to and different from writing–the more fascinated I became by how being like that has shaped her mind. Like how being a writer has shaped my mind, and how my mind is different from her mind. It was a really wonderful counterpoint to what I do. I was able to write a little bit about what I do, and I was able to get to know her better. The more I learned about photography, the more I felt like I knew about her.
I was also thinking about the camera lens. It separates Miranda from the world but also very much involves her in it because she's a record keeper. Could you talk a little about the camera and its place in the story? Even the descriptions of the pictures that she takes and gets to go through at the very end.
It's something that I had so much fun playing with. I'm interested in the nature of memory because I feel like when we talk about an unreliable character, that's often what we're talking about. When they're talking about something that happened, are they remembering it right? So I loved the idea that photographs are both this clear, undeniable record and something that is completely subjective at the same time. You take a picture, and you can't alter it in any way. It is what it is. Yet, if you tilt the lens five inches to the left and omit something important from the picture, it becomes a complete lie. It's a lie of omission. I thought of the cameras as an extension of her possible unreliability and/or the fundamental unreliability of human beings. They are and aren't a record. They are and aren't true, all at the same time.
Speaking of memory, for the first part of the book no one can remember Miranda's name and she's christened Melissa for a while. Yet her name feels important, because it recalls Miranda from The Tempest, who is also stuck on an island.
Yay! I'm so glad you got that. That's what I was thinking.
In the play, Miranda and her father, a magician, are trapped on an island. A prince is shipwrecked there, and he and Miranda fall in love. Shakespeare's Miranda is also subjected to danger and assault from Caliban, one of the play's antagonistic figures, and your Miranda is put in a similar position.
In my thinking, Miranda is Miranda. There is a Caliban-esque character on the islands, a dangerous creature who's of that world.
And Galen is Prospero in some ways.
Yes, Galen is. If there's magic on the island, he's in control of it. And if there are creatures on the island, he knows everything about them. He is this all-knowing, all-seeing being. He does care about Miranda, as much as he cares about anyone, but more than anything he's a lightkeeper. He's removed and distant, and that's how I always imagined Prospero. Because Prospero is pretty vicious.
He locks Caliban's mother, Sycorax, inside a tree. He treats Caliban as a slave.
And Ariel is his captive, too. Usually on stage Prospero appears as a kind, benevolent figure, but I never thought of him that way. More than anything, the god of the sea is never a kind person. And that's who Galen is in some ways.
And capricious, too.
Yes, and Miranda from The Tempest is so innocent, so wide-eyed. The play skims over what happens to her with Caliban, what the result of that was. It never allows her any sort of, "Is she okay? Is she traumatized? Does she have PTSD?" No, we're just going to move on. She's just going to fall in love with whoever Prospero tells her to fall in love with. I thought about that, too. My Miranda is innocent and wide-eyed in certain ways, unaware of things that are happening around her, not really knowing the full extent of what's happened to her. In the same way Miranda in The Tempest is.
Yes, what we know and what we don't know. How much do you think Miranda will ever come to know about the events that have transpired on the islands that she doesn't already know when she leaves?
I think she knows as much as she's going to. I don't imagine her in therapy twenty years down the line being like, "What?" I hope she doesn't ever know more than she does now.
I hope so, too.
I want her to be okay. I love her. She's my Miranda, and she's been through a terrible ordeal. I feel like the less she hangs on to it and the more she's able to move on into her bright new day, the better for her.