All the happy families are alike, but happy families don't get boots from Einstein.
It's clear that Michael Levitin had no other choice but to write Disposable Man (Spuyten Duyvil, 2018), just as his protagonist, a Jewish-American journalist, Max Krumm, had no choice but to ignore his grandmother's warning and return to the places his ancestors were so happy to leave behind. But if your great aunt wrote a postcard "from depths of winter and despair at the Soviet Workers Camp in Yakutsk, Siberia" to "Albert Einstein, USA" begging for a pair of warm boots, you would have had no choice but to write a novel, too. And then you would have to leave to look for your ancestors' past.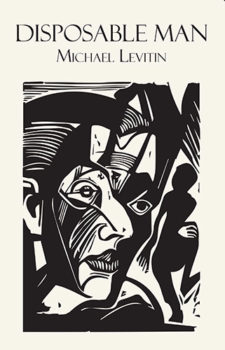 Therefore Max, along with the postcard (which he thinks of as his main inheritance) moves to Berlin, in a way the weirdest place for a Jew to go to, a place of embarrassment, writes Levitin, for both Germans and Jews. But Berlin doesn't look like the place where "all the evil happened" (to quote Stieg Larsson's Millennium saga). To the contrary, "the rent is cheap, the art is ripe and the living is good." Instead of confronting his past, Max finds himself surrounded by men pushing strollers through the family-friendly Prenzlauer Berg neighborhood. He looks at their faces and sees they feel as empty and useless as he does.
"The fathers see their futures squirming on the seats in front of them while their wives, or more often their girlfriends, walk beside them looking happier," Max concludes. "The women in the Berg are precisely where they want to be: they have arrived. Life has offered up a career that excites them and the culture that distracts them and it has even handed them a Prenzlauer Berg man with whom they have born a child."
What's worse, Max is on his way to join "the Papas of the Berg," too. He finds himself marrying a German woman, Lotte, just to be cheated on—exactly as it happened to his father, grandfather, and the great grandfather. The perverse pleasure with which Max explores the problem of "coming from a long line of cuckolds" made me think about another Jewish writer who lived in Eastern Europe, Bruno Schulz.
Kicked out by Lotte, Max finally has time and space to face his actual quest. A contemporary, straight Western man has two options. He can either search for his lost masculinity, grasp it and define it for himself, or he can live in a state of existential denial. While getting through the pain of the breakup, Max reconstructs a delightful, funny, and sad mini saga of his family. The formula is nice and easy to follow—with every other chapter we travel in time, constantly moving between 2008 and, say, Smolensk in 1922 or Riga in 1905. Between those mental destinations, Max hangs out with his buddies, a group of American expats who roll one cigarette after another and belch way too much. Among them, "the Kaiser" seems to play a special role—the narrator's alter ego or a guru of some sort. It's the Kaiser who, while working on his mysterious, colossal masterpiece, came up with the notion of "a disposable man." According to him, "Men in our time have lost the appetite for being men. We've grown weak, soft, with little to say and nothing to do."
Suddenly—as a natural consequence of his inner development, and a solution to the Kaiser's dilemma—Max decides to embark on a spontaneous adventure. Over beers, the group comes up with an idea of a bike trip to nearby Poland. "What's in Poland?" asks one of them. "Lots of rivers and forests ah reckon," replies another.
But for Max, Berlin, which "had all the madness boiled out of it," constitutes a border between what's he's comfortable with and what he's fascinated by and afraid of—all the treasures of his ancestors' past, including aunt Josephine's terrible secret. The men venture out on their bikes and accompany Max throughout the first part of the trip. They part ways in Poland—from here Max will have to travel on his own. He will be sent from one Baltic city to another and then he will discover a great family secret, the one aunt Josephine thought she took to her grave.
Max's masculinity crisis finds its resolution, too—not through intellectual operations, but through a visceral contact with the land of his ancestors and a bitter-sweet relationship with a local Slavic woman.
Full disclosure—I'm Polish-American and the lands Max visits during his trip through Poland to Lithuania, are important parts of my own identity. In a way, his graveyards were my playground—I come from the people who are equally obsessed and hunted by the past, even if their experience was not a Jewish experience. But I certainly understand what Max is looking for here; I'm equally enchanted by the picturesque world of European Jewish merchants from the times when Great Grandfather Mikhail caught "the sickness" in Riga (he was the first in the line of cuckolds). And I'm equally familiar with the shocking contrasts between the comforts of the contemporary Western world and images of my ancestors working near a frozen river somewhere in Siberia.
I'm also, like Levitin, a reader of European novels, and in many ways, Disposable Man is a nod towards this great European tradition. Levitin himself, in one of the interviews, classified it as a bildungsroman. So a bit of German writers and a lot of Phillip Roth . . . . Levitin's debut novel is a classic, compelling and hilariously fun identity quest.