Allison Amend's new novel, Enchanted Islands (Nan A. Talese), begins about as far away from a remote tropical island as possible: Duluth in the late 1800s. The child of recent Polish immigrants, Frances Frankowski idolizes her best friend, Rosalie, in part because of her more comfortable upbringing and sophisticated family. But their friendship is hardly perfect, especially as Rosalie becomes more fickle and unpredictable. Still, when Rosalie decides to run away to Chicago, Frances doesn't think twice about coming along. There, the two fifteen-year-olds rent a small room and share a bed. Rosalie dreams of show business, but does little to support herself, while Frances finds a job and pays both their bills. Finally, Rosalie goes too far and commits a betrayal that can't soon be forgiven. Frances leaves her friend, and she spends the next few decades drifting her way westward, finally settling in San Francisco. She works for several years as a teacher but eventually burns out, and ends up a secretary for the Office of Naval Intelligence.
Frances settles into middle age early in the novel, and it is then that she is tapped for her greatest adventure. Hitler gains power and America ponders the possibility of war. The Navy discovers several suspicious Germans living in the Galapagos, on a barely inhabited island called Floreana. American intelligence decides to send Ainslie Conway—a colleague of Frances's at the San Francisco office. But there are concerns about his cover; it's suggested that a wife might make him less conspicuous. Now in her fifties, Frances is asked to marry Ainslie and ship off to Floreana—to become America's most unlikely spy.
Frances hesitates at first. But a chance encounter with Rosalie—now married with children—gives Frances the nudge she needs. All of her decisions, it seems, can still be traced back to her childhood friendship. She marries Ainslie and heads to Ecuador.
After a long ocean voyage, the newlyweds arrive at their destination. Frances describes it this way:
Floreana is shaped like a sphere, about eight miles wide, but it is impossible to cross without a team of Indios machete-ing the way for you…The landscape is desert from the beach up about two miles to higher ground, called arriba, where it becomes abruptly green thanks to the garúa, the mist that lingers even in the dry season.
The two of them do their best to eke out a living without modern conveniences. The lion's share of the housework falls on the ever-practical Frances, while Ainslie grows obsessed with the widening and improving of a dirt path. Of this project, she notes:  "It was a perfectly worthless and insane endeavor, as there were no travelers but ourselves, and there would likely never be any. But I suppose men must spend their time doing something, and God forbid that something should be helping women."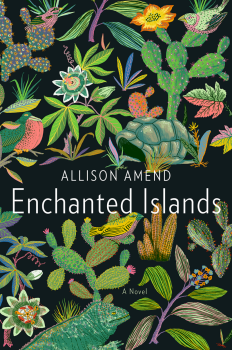 Their spy craft is equally hapless. They keep track of ships, get acquainted with the handful of German settlers on the island, and wait around for anything noteworthy. At first, Frances isn't sure if her marriage is real or fake. Her husband gets around to consummating it—once. And though it's obvious that Ainslie's passions lie elsewhere, Frances is still shocked to catch him with another man. It echoes the betrayal that Rosalie committed so many years ago. But this time, Frances has nowhere to run.
The novel's third act begins as their island life comes to an abrupt end. Once war is formally declared, Frances is returned to San Francisco, where she continues to work at the Office of Naval Intelligence, while Ainslie stays on as part of the Allied presence in the Galapagos. During this period, however, Frances is surprised by how much she misses Floreana—and Ainslie. When asked about her passions and interests, she can only refer to those days. Though once the war ends and Ainslie returns, he has surprising news: the Navy has asked both Conways to return to Floreana for another tour.
Not pretending to be a spy anymore, Frances is free to enjoy "two glorious years on Floreana," what she calls "the best years of my life." It's an unlikely happy ending: Frances finds peace in the place of her greatest suffering and frustration.
Frances's story is of a piece with Allison Amend's two previous novels—Stations West and A Nearly Perfect Copy—as well as her collection Things That Pass for Love. Readers familiar with her work will recognize the tendency to begin with a factual seed—be it an obscure piece of history, a small scientific breakthrough, or an absurd bit of news—and to grow a lush story out of it.
Enchanted Islands is a similar blend of truth and fiction. There was an actual Frances and Ainslie Conway who lived in the Galapagos for brief stints in the thirties and forties. An author's note explains that Amend was inspired partly by the little-known memoirs Frances wrote while there—mostly diaries of her daily life. The espionage, the affairs, and the years spent off the island, however, are all inventions of the author's.
Amend does a remarkable job making Frances's story feels less like a novel and more like a real life: the unpredictable fits and starts, the people from the past that reappear when least expected, and the great gaping distance between plans and outcomes. Unlike the memoirs, the novel doesn't pretend to be a historical document. It embraces the power to zoom into certain moments of Frances's life, and fast-forward through others, decades at a time.
As a narrator, Frances is straightforward and slow to make assumptions. She's constantly beset by unsettled questions—about war and sexuality, but also about friendship and marriage. She is earnest in her attempts to serve her country and the war effort—even if it's with bumbled German and boiled sweet potatoes. There's a particular charm to the way that the wheels of history seem to brush against her.
The result is a smart, beautiful novel that celebrates both the wonder and the banality of a life, a time, and a faraway place.