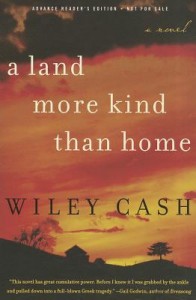 This week's feature is Wiley Cash's debut novel, A Land More Kind Than Home, released this week by William Morrow. Cash's stories have appeared in such places as the Crab Orchard Review, Roanoke Review and The Carolina Quarterly. He holds a B.A. in Literature from the University of North Carolina-Asheville, an M.A. in English from the University of North Carolina-Greensboro, and a Ph.D. in English from the University of Louisiana-Lafayette. He and his wife currently live in West Virginia where he teaches fiction writing and American literature at Bethany College. He also teaches in the Low-Residency MFA Program in Fiction and Nonfiction Writing at Southern New Hampshire University.
In his recent interview with the author, Contributor Brad Wetherell speaks with Cash about such things as finding his way back to his roots as a writer, the role of mentors in both his work and life, and the long road to finishing a first novel. When asked how he might define "Southern Literature," Cash had this to say:
That's a difficult question to answer because just as there are many "Souths," there are also many types of "Southern Literature." But I think one thing that defines the South broadly and Southern literature in general is the idea of struggle and all the forms it takes. Because of its historically agrarian economy, Southerners have always struggled with the land and tried to figure out the best way to reap the most from it. Unfortunately, that led to centuries of slavery, and there was a long struggle to end that and an even longer, on-going struggle to stamp out the racial prejudice that accompanied it. You can see both the struggles with land and the struggles with racial prejudice in the work of writers like Jean Toomer, Charles W. Chesnutt, Zora Neale Hurston, and Ernest J. Gaines.

Also, because of the South's agrarian economy, people tended to live on large swaths of land and relied on their family members for everything from labor to emotional support. I believe this is why family struggle has so long been a hallmark of Southern literature; here I'm thinking of writers like William Faulkner, Tennessee Williams, and Alice Walker. On the other hand, the tight cohesiveness of the Southern family can quickly turn those who aren't related into real outsiders. So much of Southern literature, especially its local color, revolves around the mysterious and sometimes evil outsider who attempts to plunder something from those on the inside. Ron Rash, Flannery O'Connor, and several of Kate Chopin's stories come to mind.
To read the rest of this interview, click here.
For more on this novel, tour dates, or to read an excerpt from this novel, please visit the author's Website.
You can also win one of three, signed copies of this book, which we'll be giving away next week to three of our Twitter followers.
To be eligible for this giveaway (and all future ones), simply click over to Twitter and "follow" us (@fictionwriters).
To all of you who are already fans, thank you!