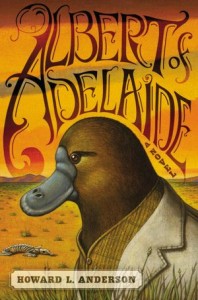 Our new feature is Howard L. Anderson's debut novel, Albert of Adelaide (Twelve). As described on his author page on the publisher's website, "Howard L. Anderson has had a varied life: He flew with a helicopter battalion in Vietnam, worked on fishing boats in Alaska, in the steel mills of Pittsburgh, as a truck driver in Houston, and a scriptwriter in Hollywood, and, after gaining a law degree, became legal counsel for the New Mexico Organized Crime Commission. He is currently a defense attorney in New Mexico, where he defends Mexican nationals charged with crimes north of the border."
His debut novel is equally varied. In a recent review, Ben Pfeiffer writes:
Albert of Adelaide is funny, touching, and entertaining. Most of all, though, it's unique. Howard L. Anderson's gun-slinging platypus is a whimsical addition to the tradition of beast epics, and, in an industry sometimes enamored of clichés, Albert of Adelaide is one of the most imaginative books published in years.
We're giving away a copy of Albert of Adelaide in two weeks to three of our Twitter followers. To be eligible for this giveaway (and all future ones), simply click over to Twitter and "follow" us (@fictionwriters).
To all of you who are already fans, thank you!
---
Further Reading