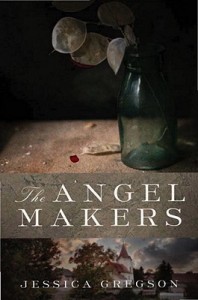 This week's feature is Jessica Gregson's debut novel, The Angel Makers. Originally published in 2007 in the United Kingdom by PaperBooks, the novel has been released this week in the U.S. by independent publisher Soho Press, which specializes in literary fiction and international crime series. Gregson is also the author of The Ice Cream Army (PaperBooks, 2009). She currently lives is Glasgow, Scotland, where she is working towards her PhD in International Development at Glasgow University.
In the opening of her recent review of this book, Contributor Cyan James writes:
Time for an embarrassingly personal admission: while reading Jessica Gregson's new novel, The Angel Makers (Soho Press), I played tricks on myself. I deliberately misplaced it to prolong the narrative; I tried to ration the chapters; I used the book as a reward to spur me through spasms of procrastination. To no avail. Despite myself, I sped through it ardently. I even thought about it while making out with a date.

My desire to stop kissing and resume reading shook me, considering that the Hungarian women in The Angel Makers fixate on ridding themselves of inconvenient men. Which might be amusing, in a certain vein of black comedy, were it not so gritty and grounded in actual fact. This factuality gives the book its claws, though it's Gregson's headlong prose and craftsmanship that truly rivet her reader.
To read the entire review of this collection, please click here.
You can also win one of three copies of this book, which we'll be giving away next week to three of our Twitter followers.
To be eligible for this giveaway (and all future ones), simply click over to Twitter and "follow" us (@fictionwriters).
To all of you who are already fans, thank you!