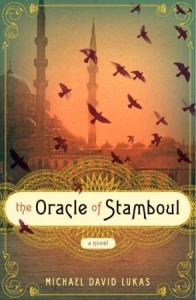 Each week Fiction Writers Review gives away several free copies of a featured novel or story collection as part of our Book-of-the-Week program. Last week we featured Alison Espach's debut, The Adults, and we're pleased to announce the winners: Annie Angelides, Vanessa Heng, and Jackie Reitzes. Congratulations! Each will receive a signed copy of Espach's novel.
This week we're pleased to feature Michael David Lukas's debut novel The Oracle of Stamboul (Harper). Lukas has been a Fulbright scholar in Turkey, a late-shift proofreader in Tel Aviv, and a Rotary scholar in Tunisia. His writing—fiction and nonfiction—has been published in the Virginia Quarterly Review, Slate, National Geographic Traveler, and the San Francisco Chronicle. Lukas lives in Oakland, and when he isn't writing, he teaches creative writing to third and fourth graders.
In her review of The Oracle of Stamboul, Lee Thomas has this to say about Lukas's novel:
Reading The Oracle of Stamboul feels like the antidote to winter malaise—a true adventure story, set in Stamboul (modern Istanboul) at the dramatic end of the 19th century, which features a heroine as precocious as she is brilliant. In Eleonora Cohen, Lukas has created a winsome companion—a prodigy, no less—to guide the reader through the teeming city. […] Lukas excels in the rich details of the marketplace or the lordly house. […] It's rare to read a debut novel so steeped in a sense of the past.
For more on the novel's lush descriptions, echoes of 19th-century literature, and bird's-eye view of Ottoman intrigue at the end of an era, read the rest of Thomas's review.
If you'd like to be eligible for this week's drawing (and all future ones), please visit our Facebook Page and "like" us. As we did last week, we'll be giving away three signed copies of this title. To everyone who's already a fan, thanks again! Our Facebook page exists in part, of course, to expand readership—but our primary goal is to put books we love in the hands of readers.
So please help us spread the word!