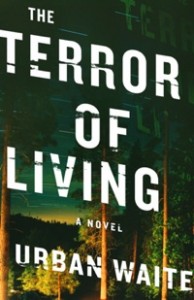 Each week we give away several free copies of a featured novel or story collection as part of our Book-of-the-Week program. Last week we featured Erika Dreifus's story collection Quiet Americans, and we're pleased to announce the winners: Steve Woodward, Marianna Taylor, and NancyKay Shapiro. Congratulations! Each will receive a signed copy of this new collection.
This week we're featuring Urban Waite's The Terror of Living. Waite grew up in Seattle and studied writing at Western Washington University and Emerson College. His short fiction has appeared in such places as The Best of the West Anthology, The Southern Review, Gulf Coast, Hayden's Ferry Review, AGNI, and West Branch. This is his first novel.
In the introduction to his recent interview with the author, contributor Cam Terwilliger writes:
On an airplane with Urban Waite's debut novel, The Terror of Living (Little, Brown, 2011), I imagined the passengers to either side of me would be scandalized if they knew what I was reading. It's hard to imagine a more attentive approach to the description of bullet holes, torture, heroin mules, a woman thrown from a cliff, cutlery turned to weaponry, or unyielding pursuits by boat and by horse. One image has been especially hard to shake: a scene in which the protagonist discovers a body so recently dead that snow falling on its skin still melts from the warmth. Tom Franklin compares it to No Country for Old Men. It's a fitting choice. Waite's fiction resembles the book not only in its lyrical brutality, but also in the way that it balances psychological complexity alongside a plot dripping with suspense.
If you'd like to be eligible for this week's drawing (and all future ones), please visit our Facebook Page and "like" us. As we did last week, we'll be giving away three signed copies of this title. To everyone who's already a fan, thanks again! What we want to do is not only find ways to expand our readership, but also to put books we love in the hands of readers.
So please help us spread the word!