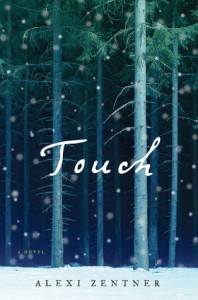 This week's featured title is Alexi Zetner's debut novel Touch. Alexi Zentner was born and raised in Kitchener, Ontario, and currently lives in Ithaca, New York. His fiction has appeared or is forthcoming in such places as The Atlantic Monthly, Narrative Magazine, Tin House, Glimmer Train, The Walrus, Slice Magazine, and Orion Magazine, and other publications. His short story "Touch" was featured in The O. Henry Prize Stories 2008 where it was chosen as a jury favorite. His short story "Trapline" was awarded the 2008 Narrative Prize and named to the Best American Short Stories 2009 list of "100 Other Distinguished Stories of 2008." His short stories "Touch," and "The Adjuster" were also selected for "special mention" in the 2008 Pushcart Prize anthology.
In her recent review of Touch, Casey Tolfree writes:
Steeped in a world of mythical monsters of the woods and ghosts that help the characters on their rightful paths, Alexi Zentner's debut novel examines the history of the town Sawgamet and its founders – the Boucher family. … The gold rush/mill town of Sawgamet, founded by Jeannot Boucher, comes alive with vivid detail: paths cut through ancient woods, riverbanks bear town lore downstream, and the small town's residents take shape. They start as men looking for gold, and later become masters of the mill and store owners. Zentner shows how river and woods comprise Sawgamet's livelihood and define the residents.
To read the rest of Tolfree's review of Touch, click here. In it, Tolfree describes the interplay of myth and realism, and the way the past accumulates to both haunt and comfort the Boucher family.
You can also win one of three, signed copies of the book, which we'll be giving away next week to fans of our Facebook page. To be eligible for this week's drawing (and all future ones), please visit our Facebook Page and "like" us.
To everyone who's already a fan, thanks again! Our Facebook page exists, in part, to feature the work of great new writers and what's happening in the literary world. But our primary goal for everything we do is to put books we love in the hands of readers. Literally, in this case.
So please help us spread the word!