Novelist William Gay, who died late last month at the age of seventy, was the topic of several conversations I had at AWP this year. Most of the talks centered on Gay's work, which was sublime, or his soul, which was sweet; we fond remember-ers would all have a sip of beer and nod somberly. He'll be missed, we'd say.
What else can you do?
But sitting here today, at my post-AWP desk, in the quiet of my office full of books and stacks of revisions that need entering, I'm thinking of William Gay again. I only met him a few times; we never chatted for long. One of the only things I remember him saying directly to me, across a crowded table from my brother-in-law and me at the fabled Ajax Diner in Oxford, Mississippi, is this: "You want some okra?"
Not exactly high literary wisdom, that question, though it is evidence of his generous personality, I suppose. And so, although I've read all of his work, I can't call him a mentor or even a friend, though we shared an agent (Amy Williams), and I well remember the delighted e-mail she sent to me when she brokered his first major book deal, which was also her first. We were all just starting out.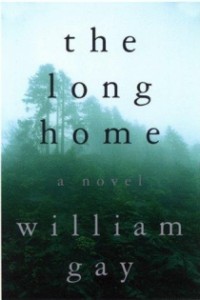 I'm not sure if William ever went to AWP. I've never seen him there, but I've missed a lot of years. Whether William showed up there or not doesn't really matter. This matters: For years he toiled at drywall hanging, one of the toughest jobs there is, and, far outside the literary panic-sphere, he worked on stories and novels at night, or whenever he had the energy and inclination. He was a voracious reader; his home in Hohenwald, Tennessee, was filled with books.
And I suppose that's why I am thinking of him today, after AWP Chicago and all of its ceaseless networking and desperate comparison and nametag-checking bar scenes that affect even those who claim to be above it all. He's a good role model for me, at this stage in my career, a reminder that the reason we do what we do isn't because we went to the right MFA program or got solicited by the slutty new literary journal or got noticed at the book fair or drew big crowds for our panels or started a Gawker-worthy dust-up with the critic who condescendingly panned us in the Times. What matters is the work in front of us; what matters is making work that attempts to be as artful and profound as the books that inspired us.
A few weeks ago, I called up my agent and told her I wanted to send out my novel as a partial manuscript. I said this because I wanted certainty, wanted a good contract and a publisher's deadline to validate the way I was spending my time. She said no. She said, do the work. Don't think about anything else.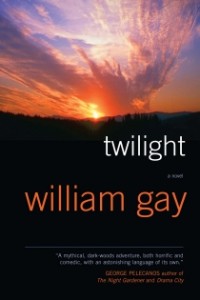 When I texted her a funny, drunken anecdote from AWP this weekend, she said, "Good for you. Now go home."
William Gay wrote for years without the validation of advances and the promises of pub dates. He just wrote because he had to do it, because he wanted to do it. Whether we write with confetti in our hair or drywall dust in our lungs, it's being alone at the desk that matters most. It's the work. We have to do the work.
William Gay proved this better than any writer at work in the last decade. His legacy is not only the impressive body of work he leaves behind, but also those early decades of his life, an almost anachronistic example of pure work ethic, egoless effort, and literary passion that will live forever.
---
Further Reading:
Read publisher David Poindexter's tribute to William Gay on the MacAdam/Cage Website.
You can also read Bruce Weber's New York Times obituary for the author.
And here is a remembrance from the Oxford American.