Ever since social media embedded itself in our lives a decade ago, the prevailing wisdom for authors preparing to launch a book has been to make sure they have a presence on platforms like Facebook, Twitter, or Instagram. Being active raises one's profile, and by making a lot of friends and followers, as well as boosting the launches of other authors by sharing news of their books, one gets boosted in return by their new network of friends and followers when the time comes. This reciprocity can work. In fact, it can be a center for community building. And for those who already use social media as part of their daily lives, or for whom these spaces are an important part of their identity, it's perhaps not much of a step to add the promotion of one's work into the natural cycle of conversation. In fact, it might feel quite natural.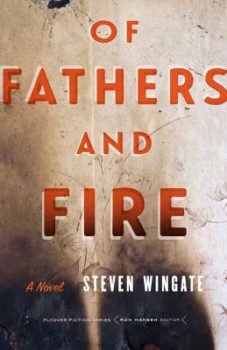 Yet not every author feels comfortable, let alone fluent, in the ways of negotiating these digital spaces. Plenty see it less about community and more as a necessary evil, gritting their teeth as they go on Facebook "friending campaigns" or Tweetstorms to draw attention and followers in order to market their new book.
I'm one of those authors who can't quite get over the hump to love social media. Sure, I'm on Facebook and Twitter, but I haven't dedicated enough sincere time or effort to make social media feel like it could serve me in a productive way as an author or become part of my identity. Yet I do hope to find readers who will connect with my work. So with the launch of my debut novel Of Fathers and Fire right around the corner in April, I wanted to go back to the fundamentals: connecting with independent booksellers. Despite the supposed migration of everything in our lives into the digital, indie bookstores are actually thriving in the age of Amazon. If you don't believe me, check out this compendium of articles on the topic assembled by the American Booksellers Association (ABA).
The ABA is the largest national organization of independent booksellers, with nine regional organizations nested within it. Live in Minneapolis? You're in the Midwest Independent Booksellers Association's territory. Live in Denver? You're under the umbrella of the Mountains & Plains Independent Booksellers Association. The regional IBAs each have their own annual conferences and trade shows, where authors can get their books into the hands of people who will decide what titles to stock, what authors to bring in for events, etc.
The ABA's primary national events are the Book Expo, held in late spring in New York, and the Winter Institute, which changes location annually. The regional IBA trade shows are typically held in the fall, but since my release date was in spring, I went to Albuquerque for this year's Winter Institute to see what I could learn about the independent bookselling world. Though this wasn't my first book release, it was the first time that I had the time (a sabbatical) to really dedicate myself to putting myself out there. So a big part of the process for me has been an educational one. For those who haven't been to the event, here are my main takeaways from the experience as a first-time participant.
---
Bookselling is an ecosystem
The hardest thing I learned was a brutal economic truth. As much as indie booksellers love to discover titles by emerging authors and small presses, they know that customers rarely buy a book they've never heard of. This means they're more likely to notice books that have a pre-publication buzz, and that buzz is something publishers can pay for. Think national advertising campaigns, co-operative arrangements with bookstores for placement and "face-out" shelf space, etc. After all, indie bookstores are businesses that have to stay alive, and they need to stock those titles that everyone is talking about to keep customers coming back, as well as the ones they're most passionate about or hope to recommend.
If you're lucky enough to have a publisher that can spend money on significant advance publicity and point-of-sale marketing campaigns, then that's great. Such strategies make booksellers predisposed to carry your title because their customers will have a better chance of hearing about your book before they set foot in a store. But for someone like myself, working with a dedicated independent publisher yet on a limited publicity budget, I soon realized I would need to adjust my expectations to meet reality. By scaling my expectations for what the conference could accomplish in terms of exposure, and what I expected to get out of the experience, I came away happier. I could enjoy the many conversations about books, meet some of the people who dedicate themselves to the trade, and get a glimpse behind the curtain to better understand the relationship between author, publisher, and bookseller.
---
Sales reps play a unique role
When I got to Albuquerque and started looking at name tags, I was surprised to see so many marketing and publicity people from a broad range of publishers. But as Winter Institute unfolded, I understood how things worked. The marketing and publicity folks were there to interface with the booksellers on behalf of their authors, most of whom don't have the same skill and experience in that kind of interaction. Some authors seemed to come with entourages—a publisher, a publicist, a marketing manager (see above for the dynamics of that). As a small-press author, I had a sales representative with me, which was fantastic because I leaned the specifics of how my book would be pitched to booksellers.
My sales rep was also able to introduce me to booksellers he knew and personally put my advance reader copies into the hands of people he thought would be interested in the title. After all, the sales reps know the indie stores individually, as well as the sorts of titles that might appeal to their regular customers. In an era of increasing publisher conglomeration (see most recently the Penguin Random House merger), there are fewer and fewer sales reps. Yet I realized how invaluable they were in bridging the author-bookseller gap. This is something I could never have done on my own, and it gave me a new understanding of what marketing, publicity, and sales people do.
---
Developing relationships with booksellers is a long-term plan
The ABA hosted an author education lunch to give us the lay of the land, and many (like me) were first-timers at a conference of this kind. The presenters stressed that the author/bookstore relationship isn't a one-night stand, and I heard this sentiment echoed by authors and booksellers alike. "Can't wait to have you back," I heard booksellers tell authors, or "Tell me about this new book of yours." Authors who forge good bookseller relationships with both their local stores and out-of-town venues—which are naturally harder to make unless your book is a runaway hit—can develop career-long bonds. Maybe this shouldn't have surprised me, but I was impressed by how personal some of the relationships felt between writers and booksellers.
This reminded me that author events aren't one-night stands either. It's easy to see a reading or a signing simply as an opportunity for both parties to sell some books, and the "success" of that event measured by numbers sold. Yet what I found at Winter Institute was that writers and booksellers had relationships that continued to develop year-after-year, book-after-book. Again, maybe I shouldn't have been surprised that this was the case. But I was impressed when some booksellers who came by my author reception table to get their book signed had already looked up the novel and decided that they wanted to stock it, had already invested time and energy to learn about my work and go out of their way to meet me. So am I going to do everything in my power to help those stores sell my book? Absolutely—a visit, a guest blog, Skyping in on a book club meeting, you name it. Are those stores going to be among the first to know if I get a good review or have another book contract? You betcha.
---
Promoting your book is a hustle, but there are lots of people to learn from
I left Winter Institute with an enormous to-do list: booksellers to contact or follow up with, revisions to my pitch, advertising and author event possibilities, strategies for leveraging reviews, etc. Fortunately, there were many experienced people who could offer me advice. I picked the brains of veteran authors, of publishers and publicists, and of course of booksellers themselves to find strategies and potential contacts. I know that when I go again—to the ABA Winter Institute or any of the regional IBA trade shows—my strategy is going to be more refined because of my first-time experience.
Going to events like this won't be for everybody, or for every book. I didn't see a lot of experimental work, for instance, and my press (University of Nebraska Press) was among the smallest represented. The Winter Institute would not be an ideal venue for a micro-press author operating on a shoestring budget. But if you go, make sure you know why you're going and what you plan to get out of it. If you do your homework before you go to an event like this, and if you keep your ears tuned for new ideas, you'll come out of it with a better plan for getting booksellers to know about your book. And regardless of how social media evolves, booksellers will always be the ones putting books directly into the hands of readers.