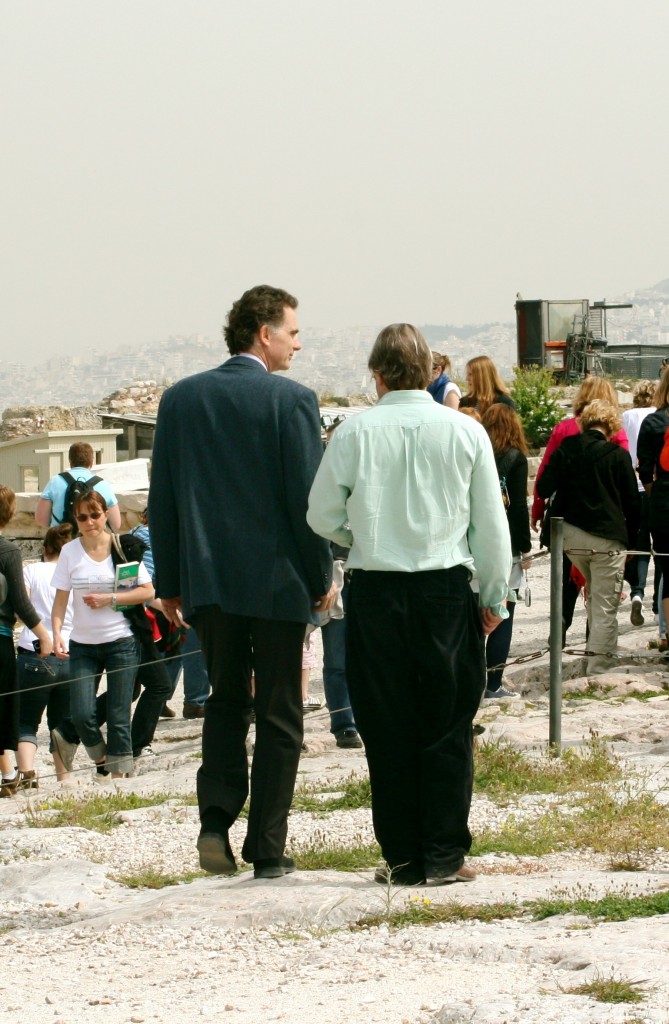 ---
In the fall of 1983, I stood in the lobby of the Grande Bretagne, the oldest hotel in Athens, looking for someone I had never met. There he was, a pale, blond man, wearing a corduroy jacket and slightly off kilter oxford shirt (fashion statement: British journalist). I was not impressed.
"Hitchens," he said, transferring his cigarette to his other hand so we could shake. "The Doctor has spoken highly of you." The Doctor was a famous Cypriot politician whom my father, then the Prime Minister of Greece, knew well: they were both leftists with Trotskyite backgrounds, and like Hitchens, of the same progressive outlook.
We spent the next few days together, driving along the coast of the Peloponnesus, attending socialist party discussions in village squares. I had the entree to it all, and so Hitchens was instantly anointed as well, treated with immense hospitality. I translated the speeches from Greek to English on the spot, and he took notes. Then we were off to another village.
I had taken time off from my Ph.D. in economics at Princeton to live in Greece and follow the "socialist project." I was twenty-seven, and he was in his late thirties. To me he was "just" a journalist. I did not rate journalists very highly, neither as writers nor as individuals – a consequence of living in a political family. The ones I had met thus far seemed to be uneducated leeches, hacks who did more harm than good.
Yet I liked Hitchens immediately. He made me feel relaxed, and for myself, a high-strung type with zero self-awareness, this was saying something.
I don't like to pry, so I didn't ask what he was writing about, nor did I ask any personal questions, worried that I might somehow embarrass him. Neither one of us, it seemed to me, had much to show for our lives. I did not know how much he loved literature, nor that he had studied the classics, and he did not know that books were all that counted for me. If he had asked me who my favorite author was, I would have said Orwell, one of his literary heroes. The thing that was most important to both of us—literature—was neglected inside a fog of political discussion and pseudo-tests of leftist credentials, such as how Trotsky had come up with his nom de guerre, or the first names of all the dictators in Latin America. Small point: My leftist outlook was inherited, his was earned.
But it wasn't all seriousness. We were thrilled by all the things that thrill adolescent boys. We engaged in a limerick competition and tried to outdo the other with expressions of crude male sexual aggression. My phrase "put the sausage to her," which I had recently underlined in a British novel, made him laugh. And once, after several shots of ouzo, I bought him two raw eggs that he expertly cracked open with a single hand then swallowed in the front seat of the car. While I stared, he vomited out the window with incredible efficiency. I looked at him with pure admiration. "Clears the head," he said.
Much is left to memory. He called me a few months later and asked me to summarize our trip, and I did my diligent best to record the story, but our days together never appeared in his writings. Nor had they, until now, in mine. Maybe he really did have a lost weekend.
Six years later, Ph.D. in hand, I had landed a job at the World Bank. But at night I was engaging in what for me was a secret sin: writing. I had begun an essay on Greek composers, a cultural history that combined music and politics, and I wanted to publish it in Ben Sonnenberg's Grand Street. For reasons I could now invent I had fallen in love with this journal above all others. I was also silently entertaining the idea of giving up my job and life as an economist to take up my childhood dream of writing, but I had told nobody of this idea.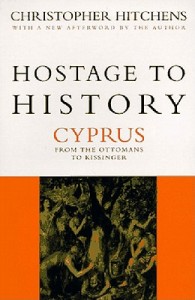 By then Hitchens was living in D.C. He had written a book about the return of the Elgin Marbles (Imperial Spoils) as well as a history of Cyprus (Hostage to History). The return of the marbles was an item that my father had initiated as Prime Minister, and I thought the Hitch and his Cypriot wife had gotten stuck in a sentimental love affair with modern Greece. Not much traction there, I told myself. He was also writing some newsletters for the Greek lobby in its efforts to liberate Cyprus from Turkish rule. None of this impressed me very much. After all, I was doing the same.
Worse, we would sometimes have lunch with Greeks whom I considered extreme right-wing sleazes or self-inflated liars. And there was Hitchens, enjoying their company and treating them as nicely as he treated me. Of course for him, he was getting a story. Enjoying the repartee. For me it felt like a betrayal.
One night he invited me to his home in Capitol Hill, to dine with his wife and children. Before dinner I wandered into his library and stared at his books. On his desk lay a recent Grand Street, the very magazine in which I hoped to see my own work. I opened it up. That was when it happened—a sudden revelation of the kind writers like to put into their fiction.
Grand Street had just published "On Not Knowing the Half of It," later selected for The Best American Essays 1989. The piece stunned me, not only for its content (the discovery that his mother was Jewish) but also for the conclusions he drew and the way he drew them, with such fluid prose. A personal essay that was not at all self-serving—Trotskyites of all sorts consider self-analysis a sign of bourgeois weakness— but an exploration of a personal discovery that he used to reinforce his political principles. You can find his writing celebrated everywhere these days, but back then I had to make up my own mind. Let's say it was typical Hitchens: bon mots, history, religion, quotes from Jacobo Timerman, the Bible, Middlemarch, Chariots of Fire, and references to Oxford, Salonika, the Final Solution, Edward Said, Irving Kristol, Franco, Ernst Fischer, and various rabbis. I knew most of the political references but nearly none of the literary ones, and I was blown away. The two worlds that I thought were fierce enemies and which for that reason I had kept separate and distinct, the worlds of politics and literature, Christopher had joined into a single seamless narration. I felt weak. How had he done it? What had I missed? How much more did I need to read to see the world like this?
At dinner I was silent. Unable to horse around, blare and bluster gone, I saw the man in a different light. I realized that "Cyprus" was part of a larger project concerning human rights and not at all the "rut" I had thought it was. And I could barely admit to myself that I felt jealous of Hitchens, with his stunning essay on the pages of my coveted Grand Street. My sick sense of superiority had completely dissipated. He was large. I was small. I never let on that something had changed—that was my secret and an embarrassingly dirty one it was.
I began to read the authors he off-handedly mentioned or cited in his essays, a sort of catching up affair. Then I'd casually bring them up in future discussions—a real poseur I was. Limericks? Now it was Middlemarch and Nabokov and Adonis.
One night at his new home, in the company of various friends and his second wife, Carol, the "divine" Miss Blue as he called her, I heard the clatter of a typewriter. Drink in hand, I wandered over. From the doorway I watched. There, bent over the typewriter, was Christopher, banging away at the clackety old keys with his index fingers. When he got up to welcome a few more guests, I snuck in. I read the piece—still unfinished—on the typewriter, which happened to be a review of a Martin Amis book for The Nation. I immediately noticed something about his writing style that I decided had to do with the fact that he was writing on a typewriter, did not use Wite-Out, and did not want to bother going back to correct: the use of parentheticals. He would charge ahead, remember something, and then parenthesize it, in perfect style. I was amazed that his review could stand on a first go. No editing. No revision. His sentences emerged complete, elegant, and complex, like all his work. The parentheticals, read as witty afterthoughts, became part of his style .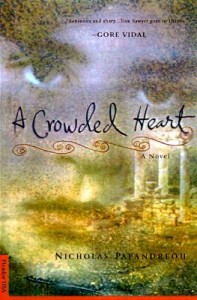 When my first novel was published, Christopher garnered me a blurb from Gore Vidal when the two of them were still enthralled by each other.  (Hitchens's support of the Iraq war led to a falling out.) "The old man apparently thinks you can scribble," he told me with a loutish smile, avoiding comment on the novel himself. Occasionally he came across my work. About an essay of mine in the Threepenny Review, he said: "Did like that one, mate." This meant there were others he didn't like, of course. There was something male-locker-room-ish to his understated support, the clipped nod.
I can't claim that Hitchens "taught" me to write. Not once did I ask him to edit something of mine. I didn't want him to feel obliged, and I also wanted our friendship to remain on an equal footing. Maybe I didn't want to admit just how much more he knew, and how in awe of him I was.  I also feared his opinion. I won't ask, so please, you don't tell.
We had more back and forths, and we met many times over the years, sometimes to join a protest or to race by cab from party to party. We talked about his difficult divorce and how he fell instantly in love with Carol the first time they met. I told him of my own peregrinations with women and he sometimes gave me advice.
We got together for the last time in Athens. He had come with his family to cover the opening of the new Acropolis museum for Vanity Fair. One afternoon, we drove to the Temple of Sounion. Having committed more poems to memory than most of us have even read, Christopher recited Lord Byron while his daughter held the original as a check on his accuracy.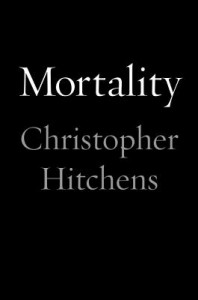 As soon as I learned about his sickness we spoke on the phone. I found it very difficult to give hope to an intelligent man about what he was about to go through. I planned to see him. I made arrangements for the flight from Athens. But I never went. I thought about him every single day. Once, I saw him on television, sharp, smart, and bald. It felt as if we had met, and this somehow eased the need to rush over.
I recall now how once, over drinks in his D.C. apartment, I marveled at how well read he was, stating that he must have read every book there was to read.
"I'm sure I've missed a few."
"Why don't you write a novel? " I asked. "I can't think of anyone better suited to the task."
"File mou," he said. My friend. "For precisely that reason. I have read too much."
Yet I have it from good authority that he was finally contemplating doing the unthinkable: writing a novel.
I can only imagine what it would be about and what sort of voice he would adopt. A Wodehouse-like sarcasm? Viktor Serge's brilliant engagement with humanity? A Gore Vidal-like lampoon of America or a serious sortie into the issues of the day à la Orwell? And where would it take place? In the hills of Colorado or the valleys of Afghanistan? Love affairs in the upper classes of Britain or aging heroes of the sixties wittily contemplating their mortality over wine and cigarettes?
One of his most moving essays was about attending the memorial of a young man, Mark Daily, killed in Iraq. The twenty-three year old had volunteered for the war partly based on Hitchens' strident support for it. He writes that for the memorial service "…my idea had been to quote from the last scene of Macbeth, which is the only passage I know that can hope to rise to such an occasion."
That essay, "A Death in the Family," published in The Atlantic, closes with this:
"May death be not proud to have taken Mark Daily, whom I never knew but whom you now know, and—I hope—miss."
Indeed.
---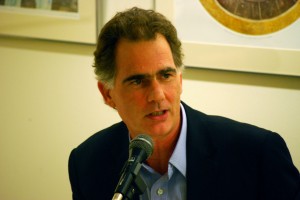 Nick Papandreou is the author of eight books, mostly in Greek. His essays, articles, and short stories have appeared in journals such as the Harvard Review, Threepenny Review, AGNI, and The Kenyon Review, as well as in various anthologies. His first novel, A Crowded Heart, was shortlisted for the 1999 Los Angeles First Fiction Award.  He lives in Athens, Greece. Lead photograph of Hitchens and Papandreou on the Acropolis in Athens, Greece, used with permission from the author.