Writing is not a cocktail party­—banging on keys before sunrise, resigned to long periods of acute loneliness, marinating in subjectivity, critical of every word on the page, all while suffering a lifetime of rejection. If you're looking for a good time, look elsewhere. Climb a mountain. Listen to The Beatles. Take that Costa Rican vacation you've been aching for. Heck, attend a cocktail party.
Nevertheless, no matter how solitary the vocation, while some writers might wallow in envy and solipsism, most desire community. So where do they turn? MFA programs. Workshops. Readings. Chat rooms. Social media.
One frigid evening in December 2011, shortly after the birth of my twins, in my attempt to discover and perhaps form a literary community, I read one of my short stories at Susan Tepper's FIZZ reading series at the KGB Bar. Susan didn't host that particular night. Instead, she read an excerpt from her then most recent novel, From The Umberplatzen (Wilderness House Press, 2012). We greeted each other and she was out the door, while I lingered to chat with a former student. I didn't quite form the community I had desired, but I was fortunate to have had the opportunity to read for a fairly large audience.
Two years later, shortly after I had moved to Montclair, in another attempt to participate in a literary community, I had attended the launch of Susan Tepper's most recent work, The Merrill Diaries (Pure Slush Books, 2013), at Watchung Booksellers. It was the first literary event in my new home. This time, after the reading, Susan and I chatted for a while. From that point on, she has become a friend and one of my biggest supporters.
Despite what writers might have heard about building community and giving back to other writers—writing is art, not a competition—some of us don't necessarily follow the golden rule. Susan Tepper, on the other hand, doesn't just give lip service to building community; she gives heart and soul to fellow writers, even collaborating on poems, plays, and novels. Susan gives back to younger writers, and it's a comfort to have someone of her stature in our corner.
Interview:
Richard Fulco: You have lived a full life, Susan. Before dedicating yourself entirely to writing, you had worked as an actor, marketing manager, tour guide, television producer, interior decorator, and rescue worker, among other things. Tell me about these jobs you had prior to writing, and what led you to give up this other work to write.
Susan Tepper: I always wanted to be an actor. Back in those days you started at sixteen. Today you have to start at six. [Laughter.] I had no interest in writing whatsoever. My mom was a writer who went to conferences, got published. I didn't pay much attention to what she was doing. I studied acting in New York and London. I was an actor for a very long time until I became exhausted. It's tiring, running around to auditions, especially in New York. If you're lucky you get some commercials, you get some acting work. Then you don't get work. You're doing all kinds of jobs in between just to keep yourself alive. I got tired. I didn't know what to do.
Then I got married and moved to a house in the burbs. While I was messing around in the garden, I kept hearing a voice in my head: Write that story. Write that story. I actually sat down and wrote this really long story. I took it to the New School because I didn't know what else to do. They massacred it. They tore it to ribbons. I thought it was an interesting story. Apparently the class did not. But then the teacher, Alexander (Sandy) Neubauer, wrote all these really nice things in his critique. He wrote, "Keep writing" at the end of my story, underlining that a bunch of times. I thought, I can actually do this. It gave me the green light. It changed my whole life. So I stayed in that class, of course.
I got into the whole groove of the workshop and started taking workshops everywhere. I'd bounce back and forth between NYU, the New School, Gotham Writers Workshop, and a couple of private places. I got published early in my writing career. First was a poem in the summer of 2000 called "Slope of the Land" in the beautiful journal New Millennium Writings. Then a story called "Blue Skies" came out the following summer in Green Mountains Review.
You've tried your hand at a ton of things. You were even a flight attendant and a singer.
I needed a break from acting. I needed money. I was living in NYC very poor. At that time, flight attendants were paid really well. Fearless is how I'd describe myself back then. Not anymore.
Every job I took was merely a fill-in for the acting. I sang with bands to make money. I was the girl singer performing country, folk, and rock music. Any gig I could get. I worked with some of Springsteen's first bands, pretty amazing musicians, made some demos with them and played the Jersey shore clubs. The big boardwalk clubs and the smaller places in the winter when we scaled down to a trio. I always had fun doing those different things. I think I'm built for fun. If I don't enjoy something, I move along and generally don't look back.
What do you think you'd do now if you were to give up writing?
I have been thinking about giving up writing.
I know. That's why I'm asking this particular question. [Laughter.]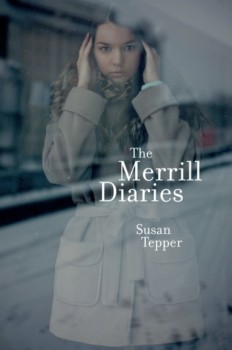 I've been writing for twenty years. I still have things to write about. It's a struggle for me now because the business essentially sucks. There used to be a passion around writing a short story and now so many stories are published that are just awful. Every blogger thinks they're a story writer. Some are. Most are not. I'm still writing a lot of poetry. I'm working on two novels. One is kind of finished. I've been revising it.
There's a change in the air for me. I don't know what is going to happen. I'm way too old to have kids. I can't be a mother, so it's not that. What am I going to do? Just like I didn't know I was going to be a writer, I think something is going to present itself. I'm interested in politics and current events. I have pretty strong opinions. I have a column at Black Heart Magazine called "Let's Talk," where I try to keep it centered around writing, but it reaches out to other areas of thought too. My interest level is high, so I write them based around what is affecting me at that moment. It can be triggered by anything. I've been spending a lot of time helping my mom recuperate from some health issues, so in a sense I've "gone home."
It was Thomas Wolfe, I think, who wrote: You can't go home again. I'm one of those people who always goes back and sees where they used to live. When I go to Greenwich Village, I look through the building's glass doors because the lobby is always locked now. It used to be open when I lived there in the '80s. And I think: There's my mailbox. There's my stairs. I always check to see if they painted over that mustard color in the lobby. And it's still the same color! I look up at the building from the vantage point of Seventh Avenue, thinking: There's my window. Stuff like this. It gives me fodder for stories. I feel that you can go home again, but in an entirely different way.
I'm also interested in that particular theme of going home. My novel There Is No End to This Slope goes back and forth between Brooklyn and Staten Island (where the protagonist John Lenza grew up). I also grew up there. It was the first time I wrote about my hometown. Two of your works are set in Long Island, where you grew up. What are some of the challenges of writing about your hometown?
I never actually write about where I grew up. Well—that isn't necessarily true. As my dear friend, poet Simon Perchik, said when I interviewed him: Ask me these same questions tomorrow, Susan, and I'll give you totally opposite answers.
I think writers live in a state of constant contradiction. It has to do with being an artist and looking at things from many different angles as we struggle to discover new worlds for our characters and ideas.
I have another novel that is finished. It starts in Long Island with a woman leaving her husband. But it's not where I grew up. I happened to see this very pretty cottage. It was white with a white picket fence going around it. I would see it all the time on the south shore of Long Island near the bay. I knew that it would become the setting for something or other.
I did write a true story about the railroad station I walked to when I was a kid, to get a Coke or something, or to use the bathroom, on the walk into town. It became the story "Girls," which was published in Counterexample Poetics. That, actually, is a mostly true story. Mostly. The girlfriends' names are made up, but the central plot is true.
You're one of the few writers I know that actually enjoys collaborating with other writers.
I do like to collaborate. I collaborated on a three-act play with the poet Dennis Mahagin. Also, on a poem with him. He's risky in his poetry and he pulled me into that zone. It was a blast doing that poem. We worked beautifully together. We had so much fun doing the play, too. It's high farce.
You have collaborated with Gary Percesepe on the novel What May Have Been: Letters of Jackson Pollock & Dori G (Cervena Barva Press, 2010).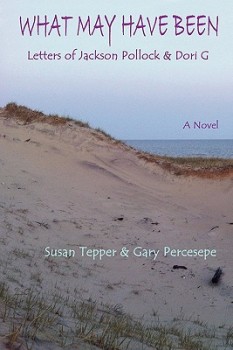 It's a novel in letters between Jackson Pollock and a made-up young woman. Everything in the book, plot-wise, we made up. Some references to Pollock's paintings are from real life, but the love interest and what went down in the plot were all made up.
Pollock is my favorite American contemporary painter. I think he's the most incredible genius. He had so much to do with moving modern art in the direction it took and where it stands today.
I wrote a short story about Pollock and showed it to Gary, who was an editor at the Mississippi Review at the time. I think he said something like: Wouldn't it be interesting to do a novel about Pollock and a love interest? So we discussed this idea over email. I was going to do the young woman and Gary was going to write Pollock. The very moment we were to start with the writing of the first letter, which was going to be Pollock, Gary sent me an email saying: You're Pollock. I was sitting there at the computer, and I screamed out loud, "No!"at the top of my lungs. We fought back and forth on email. I knew that we'd get nowhere (Gary was determined not to write Pollock). So I started writing Pollock, and as soon as the first letter was written I knew: I'm Pollock.
Gary shot the book cover of the Montauk dunes where a lot of the action in the book takes place. We decided to do the font looking funky and in purple. Pollock's paintings are a riot of color. We wanted the cover to reflect Pollock, and I believe the bright font does this well.
It was nominated for a Pulitzer Prize.
Yes! Our publisher was Cervena Barva Press, the wonderful Gloria Mindock. She published it in 2010…our book is the only book she has ever nominated for a Pulitzer. We were thrilled out of our minds. It was incredible to have that kind of publisher support behind our work.
Did Pollock have a studio in Montauk or South Hampton?
It was in East Hampton. I had a house in East Hampton, so I used to ride my bike over to Pollock's house and just stare at it. For years I did this. Long before I was a writer. A lot of the story takes place in the studio where he painted. I don't remember a lot of stuff about how my work transpires. I forget most details [Laughter.] This I do remember.
I think Lee Krasner is a heck of an artist in her own right.
She was very good. She appears briefly in our book as a shadow figure to propel the plot forward. We got written permission from the Pollock/Krasner Foundation to do this book. Strangely, the day we were granted our formal permissions in ay 2009 was the same day that the woman who was in the car with Pollock in real life when he died actually died herself. So odd a coincidence. I can't recall her name at the moment. She also had flings with other artists after Pollock died. I think deKooning was one of her men. She was dating Pollock while he was married to Lee Krasner.
Let's talk for a moment about flash fiction. The Merrill Diaries and From The Umberplatzen are novels written in flash fiction. What brought you to the form?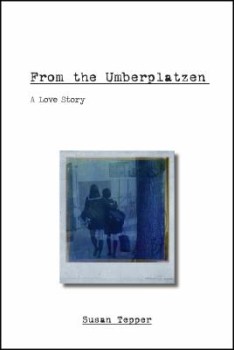 I didn't even know what flash was until I went on the site Fictionaut. People were writing little, tiny short stories. I always wrote very long stories. I read a couple and thought, These are kind of interesting. So I tried the form and I liked it. It's very easy for me. I'm an economical writer to begin with. I don't use a lot of "ands" and "buts." Nor do I overwrite my settings. So flash suited me well.
From The Umberplatzen takes place in Germany. The word "Umberplatzen" is completely made up. Platz is Germanic and must have settled into my unconscious mind. I don't speak German but did spend a lot of time in Germany when I was a flight attendant and afterward as a tour guide. "From the Umberplazen" just sprang into my mind, and I started typing—it became a story called "Leaves." Then I wrote a second story called "Crash Landing in the Umberplatzen." Both stories were initially published by the writer Marcus Speh, who lives in Germany, in his zine Kaffe in Katmandu. More stories kept flowing out of me. The book has—I forget how many flash stories—fifty or fifty-two.
Since you're an "economical" writer do you feel that flash fiction is a form you can master?
I hope I have mastered it by now, though I also really love writing the long form. I think people like flash novels. The form grabbed me so that's what I've been doing. The Merrill Diaries is mostly flash—except for the last sections, four longer sections where it is not flash–which is why my publisher, Pure Slush, called it a "Novel in Stories." I wanted that longer flow feeling at the end of the book. Merrill is older by then, close to thirty, and needed a more languid narrative. I believe that contributed to helping her grow as a character, that longer ending narrative.
Your publisher's website refers to Merrill as "crazy."
My publisher did that. [Laughter.] He calls me crazy, too. "Crazy stories from the pen of an even crazier woman, Susan Tepper." Yeah, he coined that for my book publicity. That was not my idea. [Laughter.] I go along with anything he does. He's a brilliant marketer and a talented writer in his own right. I love my publisher. I don't like him; I love him–Matt Potter. He's the best.
You write prose and verse. Could you discuss the writing process for each? How is it different?
Since I write both fiction and poetry, about 50/50, they both come from the same source in me, but the root is the variable. For instance, I don't wake up and think to myself: Today I will write a poem. I wake up and there is an emotional thing brewing and it moves itself into poetry. If I'm working on a themed collection (which I've been doing), I slide the prevalent emotion into some facet of the poetic theme of the collection. Poetry comes from a different place in the writer, I believe, than prose writing.
Prose also has to have a strong emotional component in order to work for me, but there is plot, moving characters from point A to point B and a resolution. So with fiction, both sides of my brain are involved. Kind of like architecture. You do the structure then you make it nice, or edgy, or daring, or totally wild. Something. Fiction has to start and end somewhere, even in its most oblique style. Poetry is a different breed of cat. It can go off into the hinterlands and swing back to you, or it can travel to a place where you don't see it end.
What are you working on now? Is it another flash fiction novel?
I'm revising a novel based on a road trip about a man who is hired to drive an old country-western singer home to Colorado for the holidays. I didn't write it in flash, but I'm putting it into shorter chapters.
Will Pure Slush publish your next work?
He's going to publish another book for me. I don't think it's going to be the road novel. I think it's going to be something else I'm working on. I don't want to talk about it yet. I haven't breathed enough life into this particular book quite yet.