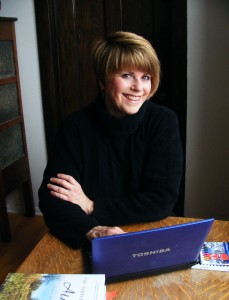 It is fair to say that Patricia McNair has been an integral part of the Chicago literary scene for quite some time. An Associate Professor in fiction at Columbia College, where she's taught since the '90s, McNair has dispensed firsthand editing and writing advice to such prominent writers as Chicagoan Joe Meno. But within the last several years McNair's own voice as a writer has come to the forefront. Her first collection of stories, The Temple of Air (Elephant Rock Books), was a 2012 finalist for the Society of Midland Authors Award in Adult Fiction. It also received the Devil's Kitchen Reading Award at Southern Illinois University and the Chicago Writers Association's Best Books Award, among other honors.
The stories in The Temple of Air are unified by recurring characters and a central setting: New Hope, Michigan. City dwellers come to this small town for a slower life only to discover that the rural landscape does not necessarily create ease or simplicity. And in spite of the town's name, there is little opportunity there.
Similarly, McNair doesn't paint a picture of white picket fences and Americana in her stories about New Hope. In the opening story, a baby plummets to the ground from a Ferris wheel, and by the end of the same story, the three teenage witnesses of the horror confront one another with their own brutal echoes and unresolved angers. The Temple of Air is violently creative, and beginning the collection with such brutality will certainly challenge some readers. But McNair sees it differently. In a conversation we had last fall at the Joliet Public Library, she said: "I find this interesting, especially because I consider this book to be very much about faith and its essential role in the lives of these characters."
But beyond her teaching career, McNair has even deeper writerly roots. Her mother was a travel writer, and her father, who died when McNair was fifteen, was a newspaperman from southern Illinois. The family bookshelves were the backdrop of her own Midwest reading: Saul Bellow, Richard Wright, Ray Bradbury, Gwendolyn Brooks, and Carl Sandburg—"those people who my father loved and read made me want to be a writer."
Of The Temple of Air, Joe Meno has said: "There's a precision, a real sense of empathy to the writing, and also a willingness to write about characters outside the limited confines of most literary fiction…If there's any justice in the world, The Temple of Air will go through another three printings and win just as many awards."
---
Interview:
What's the best book you've read so far this year?
Tessa Hadley's Married Love is a collection of short stories by a writer in the UK, full of the richness found in the ordinariness of everyday life and the fine and horrible ways we treat one another. You should know, though, that if you asked me this question tomorrow, I might have another title in mind. The Greatest Show, for instance, by Michael Downs…..can I change my answer? No, wait…. How about….Coward's Tale, by Vanessa Gebbie? Or A Vacation on the Island of Ex-Boyfriends, by Stacy Bierlein…or…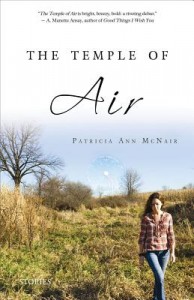 Do you have a favorite literary genre?
Lately, I have been quite enamored with short story collections. This isn't just because my own book is a collection, but perhaps this attraction is a response to the myth that short story collections just don't have a market. I know so many people who love short stories, and many, many folks who write the short form exceptionally well. I've been heartened to see collections coming out from well-known, best-selling literary authors recently: Roddy Doyle's Bullfighting, for instance, Junot Diaz's new collection This is How You Lose Her. Tessa Hadley I already mentioned, and she and Gerard Woodward (Caravan Thieves) are big name novelists in the UK who have made quite a splash with their short stories. Writers like Alice Munro and George Saunders have always been considered exceptions to the rule that short stories don't sell; if I had my way, they would be part of the rule that they do sell.
Do you read poetry?
I do read poetry. My half-brother, Wesley McNair, is the poet laureate of Maine, and I turn to his books again and again. Anne-Marie Oomen (also a memoirist and playwright), Daniel Nathan Terry, Marcus Wicker, A. Van Jordan, Fleda Brown, Travis Wayne Denton—the list of poets I admire is long; these are just a few I have been reading lately. What is remarkable about poetry to me is that you can read the same poem over and over again, and each time it can strike you in a different way. How can such a (usually) short form hold so much? This is important stuff for a prose writer to study.
If you could meet any writer, dead or alive, who would it be?
Carson McCullers. How did she accomplish so much of such significance in such a short time? What gave her the courage to be so ballsy in her work? She was unwell for much of her adult life, and from the accounts I've read, sort of timid and frail. But, man-oh-man, her stories are anything but frail and timid. And they plumb those things I find most intriguing in literature and life: loneliness, longing, love, desire, despair, selfishness—you know, the stuff of our everydayness. I find it fascinating when you read the work of an author who appears to be something other than what they create on the page, and I would love to chat about that with Carson McCullers.
If you could be any character from literature, who would it be?
Sally Hayes from The Catcher in the Rye. I would love to get to know Holden Caulfield up close. I bet he is—if not great—at least an interesting kisser. Besides that, though, because the story is so deeply entrenched in Holden's telling and point of view, we don't really know a whole lot about her. I would like to get her take on things. I've begun to work on a new collection (working title: What Girls Want) and in one of the stories, I intend to explore things through Sally.
---