Once in awhile I read a book I wish I'd written. Aline Ohanesian's Orhan's Inheritance, published this week by Algonquin, is one. With lyrical prose, it begins with a haunting opening image:
They found him inside one of seventeen cauldrons in the courtyard, steeping in an indigo dye two shades darker than the summer sky. His arms and chin were propped over the copper edge, but the rest of Kemal Türkoglu, age ninety-three, had turned a pretty pale blue.
The death of his grandfather, Kemal, launches Orhan's journey into the past in hopes of understanding the mysteries of his will. Why did Kemal leave the family house to a stranger, Seda, thousands of miles away? Who is Seda and how does her own family's story unlock the secrets to Orhan's legacy? With the backdrop of the waning days of the Ottoman Empire and the turbulent history of the Turks and Armenians, Orhan's Inheritance makes us question how much we can ever really know about our roots, the people we claim as family, and the places we call home.
Aline and I met in Luis Alberto Urrea's fiction workshop at the Bread Loaf Writer's Conference last summer. In an overwhelming and wonderful ten-day whirlwind of literary frenzy, workshop became your safety. We held on to each other a little tighter and listened a little harder when the scope narrowed to twelve voices around a table. Aline was one of those voices: contemplative, wicked smart, eager to help. That the writing is good at Bread Loaf is a given; that you also find writers who are kind and generous people is a relief.
Orhan's Inheritance is Aline's first publication. Her path to novelist has been a winding road. She was born in Kuwait and immigrated to Southern California when she was three-years-old. She earned an MA in History but left her PhD studies to write this book. Her writing was a finalist for the PEN Bellwether Award for Socially Engaged Fiction and the Glimmer Train Best New Writers Award. She lives and writes in San Juan Capistrano, California, with her husband and two young sons.
Since Bread Loaf, Aline and I have stayed in touch through social media and coast-to-coast phone calls where we strain to hear each other over the background soundtrack of our families.
Interview:
Melissa Scholes Young: We both write novels that search for answers we're seeking in our own lived experiences. In Flood, I'm questioning the stories we tell ourselves and myths that mismatch identities we create. What do you see as the central question of Orhan's Inheritance?
Aline Ohanesian: I wanted to explore the relationship between language and memory, art and memory, both on an individual level as well as collectively. If you think about it, there's this space between what happens and the words we use to describe what happened. I'm talking about that space between language and experience. There is a great quote by Martin Heidegger that says, "Language is the house of being. In its home man dwells." Which words we use to describe an experience determine how we understand it. This fascinates me because it has all kinds of repercussions. It's even more interesting when you apply it to national memory.
Through this exploration of language, memory, and art, the novel travels between the final, flailing years of the Ottoman Empire and the 1990s. What structural decisions did you struggle with?
I knew I wanted the book to have one foot in the past and one in the present. It was the only way to really explore the themes that interested me, namely how much impact does the past have upon our present? Writing the book felt a lot like weaving. When you weave a rug or kilim, it's important not to let one color or shape dominate the design. Things have to be balanced. I had to make sure one story did not overpower the other. So the structure of the novel came out of the underlying themes I wanted to explore.
At Bread Loaf, you mentioned that in striving for that balance you'd traveled back to Turkey for research. How did that journey help you write the book?
After completing a draft, I travelled to Sivas, which is in Central Turkey, where part of the story takes place. It was a cathartic and very emotional experience for me. At the beginning of the 20th century, there were over 200,000 Armenians in Sivas province. They had several schools, churches, even a monastery that dated back to the crusades. There is nothing now, nearly no evidence of them left. I visited the village where one of my favorite Armenian poets, Daniel Varoujan, was from. It had been 100% Armenian Roman Catholic in 1915. I knew this because the Pope had recognized it as such. The village's name had been changed and there wasn't a single Armenian person or structure left. We could only find one Armenian headstone and it had been repurposed as construction material for a building. It was devastating, but it renewed my focus and determination to tell this particular story.
In the acknowledgements you cite historians, scholars, and journalists you consulted for your research. Was it challenging piecing together a history with so little remaining evidence?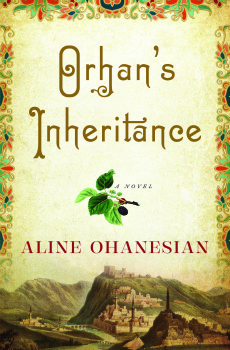 There is a good deal of archival material as well as historical analysis on the Armenian Genocide. The only archives that are difficult to reach are the Turkish ones. One hundred years of state-sponsored denial and historical obfuscation will do that. More recently, there have been a few brave Turkish historians who have gained access to Ottoman archives and dared to write about the truth. I owe them and all the historians an enormous debt of gratitude. I read everything I could get my hands on, including diaries of American and Dutch missionaries, and the letters of Henry Morgenthau, the American ambassador to the Ottoman Empire. To be honest, I didn't find the research hard to do. It was a massive undertaking but a pleasurable one. Marilynn Robinson once said, "You have to be intimately familiar with the landscape of your obsessions" And I was obsessed with this time period, so the research was exciting and interesting, even if it did take a herculean effort.
That obsession is clear in the theme of righting family injustice; it's especially coherent in the tapestry metaphor. There is a struggle between revealing secrets (Seda's) and maintaining false facades (Orhan's legacy). What might you be saying about the intersection of memory and family history? 
My goal was to examine memory on three levels: personal, familial, and national. All the characters in this novel are using language or photography or drawing to construct a version of their personal history, to explain and understand their past. The same is happening in their families and in their national history.
Like Orhan with his camera, Ani with her genocide exhibit, Seda with her oral history, and Kemal with his sketchbook.
Exactly. We are all thinking beings using words to create. Which words and images we use does indeed matter. This is even more true for writers, artists, and thinkers. We have an additional responsibility.
Because of exile, war, economic dependence, sexual vulnerability, etc. the women in your novel seem to have little self determination and fewer choices. Orhan describes Fatma as "A woman who stands apart from all the rest not just because of her sharp mind and even sharper tongue but precisely because she is immune to the limitations of motherhood and matrimony." It's a bleak portrait of womanhood, especially Mairig's.
Most of the women in this novel are exceptionally strong characters operating in a time and place that is not only patriarchal, which is bad enough, but also not conducive to any kind of individual power. I wanted to have at least one female character who's just not up to the task of coping with all of it. It's not a coincidence that the strongest women in this novel are unattached to any man. Mairig's life, specifically, is derailed by marriage. In this time, women had limited choices. When women choose love, they have to give up other things. In contrast, the American missionary Mary Griffin, who is an actual historical figure, is able to travel, run a school, and have a vocation, partly because she doesn't marry.
Perhaps this explains Seda's silence and her survival instincts.
In the beginning, she's this fiery young woman, but circumstances in her life don't really allow for that. So she finds another way to be strong. Mairig is a quieter character. She isn't equipped to deal with what is happening. Seda has to be strong enough for both of them. Sometimes we become the mother we need.
Yet women are also resilient. Seda endures her losses. Fatma thrives through her cunning. But so many others perish. Do you intend it a commentary on war or on the position of woman in patriarchal cultures or both?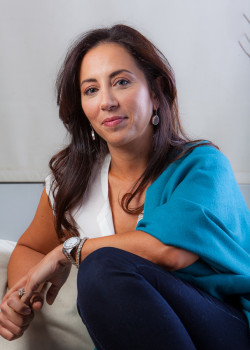 In this case it was both. This story takes place in a patriarchal culture in the middle of a devastating war. There was a high illiteracy rate in the Ottoman Empire at the time. The general population, including the men, especially in the rural areas, had very limited agency. I see both Fatma and Seda as incredibly strong women, who took different paths toward survival. There is also a message of sisterhood. Without Fatma's courage, Seda would not have lived. And without Seda, Fatma would never have formed her make-shift family.
At what point in drafting did you write this haunting opening image? I was halfway through reading the book when I began it again. That first chapter is an achievement.
I spent six months on this first chapter. In many ways writing this novel was like weaving a kilim. Every color and shape that appears throughout the novel had to be there somehow in the first thirty pages. The first chapter is packed. All the characters are there. Every tension is hinted at. Kemal and the house are the two things that connect all the other characters to one another. They are the glue of the story. I spent a lot of time inhabiting Kemal's head/ body in that house. Having him immersed, naked, in a vat of fabric dye just made sense on a number of levels.
Besides the work you consulted for this novel, what other writers have influenced you?
Like most writers, I read voraciously. It took me six years to write Orhan's Inheritance, and I must have read hundreds of books in that time, but if I had to point to a handful that really stayed with me and perhaps even informed my writing they would be: Middlesex, by Jeffrey Eugenides; The Known World, by Edward P Jones: World's End, by TC Boyle: Mudbound, by Hillary Jordan; and Cutting for Stone, by Abraham Verghese.
How did admiring those books lead to this novel's publication?
I looked at the books I love and found out who represented those authors. I sat and studied those agents. I tried to find out everything I could. I wrote ten customized query letters. When you're raised as the child of merchants, you study the market. My grandfather, an orphan of the Armenian genocide of 1915, made his living selling undergarments from a cart in the back streets of Beirut. My father immigrated to America and opened a jewelry store. Four out of ten agents I queried asked to read the manuscript. Two agents offered representation. I chose the agent who was the most enthusiastic about my work. I listened to my gut. It never leads me astray.
I assume your gut also led you to Bread Loaf. What is the most useful part of writer's conferences?
Meeting other writers. Hearing their stories. Your book, Melissa, and Isabel Garcia-Gonzales's, were ones I knew immediately I would read. The caliber of writing talent in our workshop was amazing. And Luis Urrea may be the best human I've ever met. You only realize later how useful the experience was. I don't have an MFA, so I rely on craft workshops and craft books to teach me what an MFA might have. Danzy Senna gave a great talk about using your past as a jumping point for fiction and Andrea Barrett had us deconstruct a short story my Alice Munro. I still refer back to my notes from those classes.
In workshop, you brought us an excerpt from your next novel. Have you made progress on the project? What's the next story?
Things have been a little busy with the book tour and promotional events lately. I know I'll be writing about Southern California, where I've lived for the better part of my life. The 19th century, in particular, fascinates me. California went from being a Spanish Colony to being a part of Mexico to part of the United States all in a matter of a few decades. (Think of the cast of characters I'd get to spend time with!) My first novel was about the land of my ancestors. The second will be about the land I choose to call home.