I have been an admirer of Lee Hope's fiction for many years. Her widely published short stories are intricately balanced and fearlessly honest in their psychological and moral complexity. More than that, I am grateful to count her among my writer friends, those to whom I show work in progress, to whom I can go and yell "Help!" when I've written myself into a corner. For the past several years we have also been colleagues at Solstice: A Magazine of Diverse Voices, founded by Lee, and where she serves as editor-in-chief and I edit nonfiction. Not long ago, when my second memoir, Love & Fury (Beacon Press, 2014), was published, she interviewed me in the magazine.
Over the years I have heard Lee read portions of Horsefever at writers conferences and literary festivals and witnessed audiences become entranced, stunned, and excited by what she lays bare in the novel: the hungers and terrors that drive not only her characters but all of us listening. Based on an actual murder case, the novel traces two couples whose passions, jealousies, and mistrust place them on a collision course. Set in the world of horse eventing, the story is also a deep exploration of the special and complicated relationship between animal and rider, a relationship that is sensual, tenuous, personal, and intimate.
I have waited for the day when Lee's novel would find its way to readers, and so when New Rivers Press decided to publish it, I jumped at the chance to interview her.
Interview:
Richard Hoffman: Let's start by simply sketching in the story a bit. I'd like you to do so because I'm afraid I'd spoil it for readers, give something away.
Lee Hope: The story was inspired, as you mentioned, by an actual murder case, which fascinated me because it was about two marriages and their deadly entanglement. One of my protagonists, Nikki, takes the risk of eventing horses, which includes jumping them cross-country, where many riders break bones, risk death. But fear holds her back from winning, so her husband, Cliff, a wealthy Vermont landowner, hires Gabe, a gifted former eventer, as her trainer.
The job gives Gabe, who was half paralyzed in a jumping accident, hopes for succeeding vicariously through Nikki, and their connection allows both of them to renew a spiritual connection with horses. But before long, a powerful physical attraction develops. As Nikki moves to higher levels of competition, their respective spouses, Cliff and Carla, grow jealous and join forces. The two couples become lost in a tangle of suspicion and ambition leading to violence and it consequences.
You already know how much I love this book, so let me start off by telling you that, for me, Gabe is the most compelling character in the novel. I see Gabe as an incredibly deep and complicated character. His zen-like stillness is cultivated to the point where he is tuned-in to the horse's hypersensitivity to danger, to the horse's fear.
That's interesting that you are so drawn to Gabe. I think my favorite is Cliff.
Cliff? How so?
He's mysterious to me; the way he holds in his feelings, what he does not say. His mask. Even though Cliff is one of the four point of view characters, he is still often cryptic because he is a puzzle even to himself. Because he represses, he cannot utter his love, even when Nikki, his wife, asks him to. She cannot, after all, force Cliff to say what he cannot or will not admit even to himself. In spite of his wealth and success, his passionate withholding propels others to rebel.
So what draws you more to Gabe?
Gabe's exquisite empathy, connected to his own injury and the lessons he's taken from it, makes him a peerless trainer and a masterful coach. But such an intense ability to read another's emotions comes with an increased responsibility for one's behavior and a vigilant awareness of one's own fear and desire. I even think, by the way, that the novel serves to remind us that those are two sides of the same coin.
So your implication is that fear and desire are two sides of the same coin?
I think the novel produced that insight in me, suggested it to me. I don't know. Do you think that's true?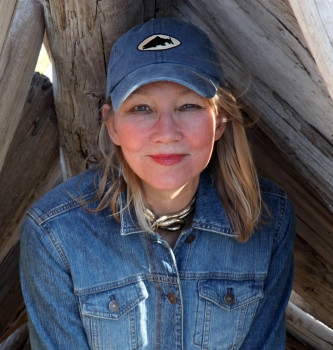 Well, yes, fear can be a motivating force in desire; the desire to be one with another sexually can be inspired by fear. The desire for union, or just for sex…we can flee toward or away from the object of our desire.
But fear can be good. For horses, beasts of prey, fear is a survival instinct. Horses have survived as a species since prehistoric times through fear. And we humans survive through fear, too. Or aggression. Fight or flight. Horsefever is partly about fear and desire leading to aggression. In the novel, Nikki must master her fear in order to survive as she events horses. But Gabe knows self-mastery is about more than jumping horses.
Because Gabe is so tuned in to her feelings?
Because Gabe knows the darkness. He has been permanently injured in a jumping accident and can never compete again. As with anyone who has lost what he values most in life, in any sport, any profession, Gabe has bottomed out. I am fascinated with those who have hit bottom. What do they find in this dark place? Who sinks? Who rises up again? Gabe seems to rise, but at what cost? He meditates but does it lead him to the light? He desires, but does it lead to love? He fears, but does his fear shift to anger, to violence?
So, yes, there is a twisted web of fear and desire and violence in this novel.
That's why I find this such a scary book! You seem to be acknowledging that we live in a world in which a moment's inattention or hesitation can absolutely wreck a life, or at least change its course permanently.
Sure it can. All four of the main characters speak of accidents. What is an accident and what is not? Is a life-threatening fall from a horse an accident, or is it someone's fault? Is a possible sexual affair a moment of weakness, or a self-indulgent betrayal? Is a murder manslaughter or premeditated? Is our greatest suffering caused by a mistake or by a sin? Or is an accident haphazard, irrational? I mean, I'm not sure I believe in fate.
When I tell people about Horsefever, I sometimes say that one of the main characters is a horse. That's a purposely misleading statement meant to pique their interest; Beau is not a horse in a fable, he doesn't get a "speaking part," and we don't see things from his point of view. Still, the human characters seem to exist not only in relation to one another and to their own motives and feelings, but to these sensitive animals at the heart of the story. What do you think about that? Maybe it's wrong to refer to the horses as characters.
But Beau is a character: a jokester, a prankster, a gelding; sturdy, reliable but only to a point; talented, but not overly so; bombproof, to use a horse person's term, but not totally. Compare him to Gracie, the young mare—brilliant, superb conformation, an equine ballerina but mean as hell; in short, a bitch. They are both characters, both playing major parts in the action, both creatures of beauty, both dangerous. Because we must master our own fear before we master horses, if we ever do. So these two characters, Beau and Gracie, force the rider to confront herself. It's an intimacy, an entanglement.
For me, Horsefever is all about that substrata in each of us that we're not always aware of, that emerges in stressful circumstances. But that substrate—of sexual appetite, ambition, rage—is always there, always part of what we exchange with one another. It's as if we are speaking to one another all the time in languages our day-to-day selves don't understand. Maybe it takes the highly evolved sensitivity of a horse to be aware of that occult emotional dimension.
Right. Horses have an uncanny ability to tap into your feelings, your vulnerabilities, and your strengths. I've tried hiding my anxiety from them, but they pick it up lickety split, and then watch out!
At the same time, one doesn't want to anthropomorphize the horse, turning it into some kind of magical being. Beau is a real horse, not a symbol, not a literary device, not an allegorical figure. I felt that I learned a great deal about horses, not to mention the world of eventing, from the novel. How do you come to know horses so intimately?
As a girl, I rode, then left riding for many years, then returned to it, had a small horse farm, and owned a variety of horses, until the last one, a Trakehner/throroughbred cross, a former show horse injured in a jumping accident, a resurrected fellow, who was talented but knew all the tricks. In fact, each horse I owned was a learning experience. And in horsemanship, one does not only ride, one cares for them. We are the custodian until that horse moves on, as horses often do, to another owner, another life.
Can you talk a little bit about the challenges of writing this book? What did you have to figure out to make it work so beautifully?
Work beautifully? Thank you. Well, first of all, I had to recast the original murder case, which wasn't about horsepeople at all, but about musicians. But I am not a musician. I didn't know where to begin, so I changed the protagonists to what I knew more about. With that change, the murder case changed, and took a different course, although always shadowed by the original violent act.
I think you know about that, how a story shifts because of violence. In your memoir Half the House, you are haunted, overshadowed by violence—sexual violence, in your case. Care to comment about that?
Yes, I came to understand that childhood rape had derailed me, had interrupted my becoming, like a bully knocking down a tower of blocks. I've come to believe that the idea of trauma as a wound is a very limited one; I think it's closer to the truth to see an act of violence as destructive of what the victim had been building: the life, the self. It goes to the question you asked earlier: Who rises back up? I think the person who is able to resume authoring his own story stands the best chance, even though the violence changed that story irrevocably. To me, that's the key: to acknowledge that the violence has irrevocable consequences one must live with. There are no do-overs; there is no reset button. That's the essence of the tragic view of life, my version of it anyway.
But let's get back to Horsefever. How many drafts would you guess it went through?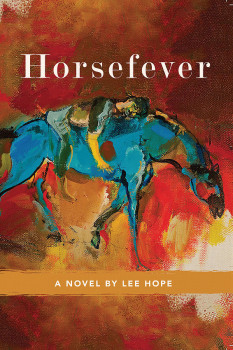 Too many! Maybe. Maybe not. Four years of writing about four days a week through multiple drafts, only to revise again. Originally, the murder occurred toward the middle of the novel. So then what to do next? One of my lead characters was dead, the other possibly locked away, so I was left with the survivors' guilt. That fast-paced action had suddenly vanished…so I restructured the novel, a process which took another few years, not to mention that I tend to write fast in early drafts to circumvent my analytic mind, so I have to revise a lot.
In summary, four years to write; then a break for some personal suffering; then writing for another two years…so how many years? Eight? Sometimes, rarely, inspiration strikes hard and fast and the novel is born fully formed. Like the dreams I used to have of giving birth to a child who emerges in a three-piece suit and walks off with a briefcase, and a good-bye wave. But this novel was in the incubator for longer than I care to think.
This is a sexy serious novel, also a seriously sexy one! There's a kind of near mysticism at the heart of it, a tantric knot. Sexuality and spirituality seem inextricably bound together in a way I have never before encountered. What do you think is the relation between the two?
Ah, yes. Sex and spirituality…that kind of sex. I mean, there's the act itself, and if it's good, if it's love, or partly love, or mostly love, then there's the heights and the depths. It's a wave you ride, a moment of being…God hovers sometimes, I think…until it's consummated, the sex act. Then…the fall from that height. Spirituality can infuse sex, yes. Or sex can just be sex. You cannot always pick.
We've been talking about story, about the characters, and about the book's themes, but I want to take a moment to point to the writing itself. Sentence by sentence, this is an exquisitely perceptive prose. You manage to situate me comfortably in a world I know nothing about, and you do it largely by the sensual nature of your descriptions.
How to respond to that? I suppose I have been affected by the minimalists like Hemingway and Carver and Jean Rhys, even while I have read and reread lyrical writers like Djuna Barnes, Virginia Woolf; and for voice, stories by Andre Dubus and George Saunders. Then, too, I have reread literary novels based on a crime, such as Before and After by Rosellen Brown, Affliction by Russell Banks, The Secret History by Donna Tartt…literary suspense set in language that's adept, piercing. I'm certainly not claiming to have reached those heights, just that there might have been a stylistic ricochet effect.
It's somewhat of a cliche to end an interview by asking the author what she's working on, but what the hell: what's next? Is there a new novel in the works?
Oh, yes. Four hundred pages of a draft I tossed out. But I know the story, or the genesis. I will rewrite without looking at what I did, yet of course it's indelibly etched. So I'm tossing out characters, collapsing, combing stuff. No horses in this one. Maybe a dog. And then people, for better or for worse. And probably some sex. And certainly a fire. And maybe somebody who believes in God.