Contrary to its title, Vanessa Hua's debut collection, Deceit and Other Possibilities (Willow Publishing), is full of characters for whom deceit is really the only possibility. Each of her ten stories centers on an individual from one of the San Francisco Bay Area's diverse immigrant communities: Chinese, Mexican, Korean, and Armenian, among others. As the saying goes, these characters do indeed "straddle two worlds." But their duplicity isn't just a life lived between the old world and the new; it's between truth and treachery.
As in a Confucian teaching, the deception often comes down to a lack of filial piety or moral character or both. While not all of the families in this book are Asian, most are, and their tales play on the well-worn "model minority" myth of sacrificing parents and children destined to become Ivy League-grads, engineers, and doctors. Yet while these narratives often start in a familiar place, they quickly enter new territory. There's a sex scandal, a firebomb, and an act of terrorism in these pages. And the power in Hua's work stems from her ability to negotiate her characters' desperation. To what lengths might one go to right a wrong?
Take "Accepted," the story of rejected Stanford applicant Elaine Park. Like a lot of overachievers, Elaine has the perfect test scores, grades, and extracurriculars to get her admitted to the college of her parents' dreams. Alas, her application is too typical, and she is rejected. "I'd been too honest, straightforward where I should have embellished, ordinary where I should have been fanciful," she thinks. To save disappointing her parents, she decides to get fanciful by showing up on campus anyway, lying her way into a dorm room address, and auditing classes.
If "Accepted" is the allegory of the filial daughter, then "Line, Please" is the tale of the wayward son. Kingsway Lee is a failed pre-med student, a lazy son always looking for a shortcut. He finds success as a Hong Kong heartthrob, the go-to guy for mediocre melodramas. Though he feels like a phony, Kingsway revels in the attention, especially the attention from women. He tempts the fates when he starts photographing his conquests. "I believed that someday, if—when—the cosmic prank ended and I reclaimed my destiny as a loser, I'd have the pictures to remind me of my time in the stars." The result is a fall as meteoric as his rise and shame for his parents.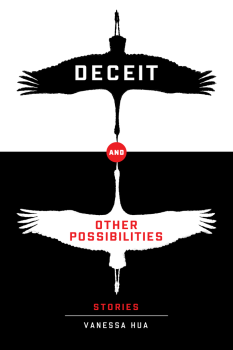 Sex is everywhere here, and it's a theme not often seen in stories about hardworking immigrant families. It's at the possessive core of "What We Have Is What We Need," as Papá cops a feel while Mamá cooks him dinner. It's what seals the deal between Old Wu and Little Treasure, the 30-something maid desperate to marry up in "The Older the Ginger." And it's the wax wings of Kingsway's Icarus-like fall; "To be wanted like that made me feel like a superhero, like I could fly or stop bullets with my hands," he says.
The tragedy of many of these stories is parental disappointment; the desire to remain faithful to one's parents leads to a less authentic life. In "The Responsibility of Deceit," a son goes to great lengths to hide his sexual orientation from his parents. "As much as I concealed from my parents," he says, "I needed them to be there to hide from. Worse than any rejection would be their absence from my life." It's no wonder that deceit is the only choice in a world where a parent's love depends on filial piety.
Family, loyalty, love, lust: Vanessa Hua does justice to the big themes in this noteworthy debut. Yet she also succeeds by keeping it local; her city of San Francisco is a constant companion in these ten stories, lending her work authenticity and empathy. An award-winning columnist for the San Francisco Chronicle, Hua knows the immigrant communities that she writes about. She never resorts to ethnic caricatures. Instead, she writes her subjects' stories as they must be told. Their choices, no matter how detrimental, are portrayed with understanding. And their deceptions, however dishonest, feel like the truth.