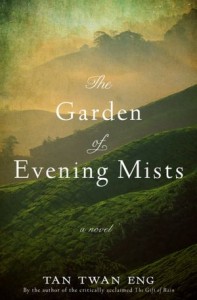 In Tan Twan Eng's new novel The Garden of Evening Mists (Weinstein Books), Yun Ling is quickly losing her memory. In an effort to "dance with the music of words, for one more time," and to remember her year with the enigmatic Japanese gardener Aritomo, she turns to two things that have helped her cope in her life: she writes, and she works in the garden of Yugiri.
From the start, author Tan Twan Eng establishes the novel's dance partners: memory and forgetting, writing and gardening, Yun Ling and Aritomo. Yun Ling is a Malaya-born Chinese rubber merchant's daughter who has a lifelong fascination with Japanese gardens. Aritomo is the enigmatic former gardener for the Emperor of Japan who creates Yugiri, a classic Japanese garden, in Malaysia's Cameron Highlands.
Aritomo is a master of shakkei or Borrowed Scenery. His placement of a fountain or a pond might reflect a distant view, taking elements from the world and making them part of his creation. Aritomo plays with perspective throughout Yugiri, surprising visitors with unexpected views. "You cut the grass to different levels," Yun Ling remarks to Aritomo. "You played with light and shadow."
Like Aritomo, author Tan incorporates borrowed scenery in his novel. The story interweaves three distinctive periods of Yun Ling's life and of Malaysian history. As a result, Yun Ling's story seems epic in scope. We see Yun Ling during World War II as the young prisoner of a Japanese work camp during Japan's occupation of Malaya; later as the apprentice to the only Japanese gardener in Malaya during the Malayan Emergency; and later still as a retired federal judge who is losing her memory and returns to the Cameron Highlands to reflect on her life.
One does not need a detailed understanding of Malaya or the Cameron Highlands to enjoy The Garden of Evening Mists, which was just shortlisted for the Man Booker Prize. Tan describes the country of his birth beautifully with a deft integration of terms that is never didactic. But readers will walk away with a new understanding of Japan's occupation of Malaya, which is as central to The Garden of Evening Mists as it was to Tan's debut novel The Gift of Rain (long-listed for the Booker). Born and raised on the Malaysian island of Penang, Tan has been fascinated with the effects of the occupation since childhood. And for good reason: the occupation resulted in more than 100,000 deaths and changed the region politically and privately, directly resulting in the twelve-year guerrilla insurgency called the "Malayan Emergency." While many think of the attack on Pearl Harbor as the start of the Pacific War, Japan actually invaded Malaya ninety minutes before its attack on Hawaii. Once in control of the area, the Japanese were especially brutal with ethnic Chinese people like Yun Ling.
Separated from their family, Yun Ling and her sister are sent to a secret Japanese work camp with hundreds of other ethnic Chinese and Allied prisoners of war. There, her sister is repeatedly raped as a "comfort woman" while Yun Ling acts as the camp's interpreter. There are many horrors in the camp, and Tan appropriately separates this section of the story from the rest of the novel through stark language, which contrasts greatly with his often-extravagant prose.
Yun Ling and her sister distance themselves from the camp's atrocities by dreaming up Japanese gardens, which they saw in Kyoto a few years earlier on a family vacation. Yun Ling asks her sister through the bars on the comfort house's window if she still admires Japanese gardens after all this. "Their gardens are beautiful," she replies.
Perhaps a beautiful garden—from any culture—could serve as a good disassociation tool in a time of suffering. But when the Japanese soldiers bury Yun Ling's sister and her fellow captives alive, Yun Ling as the camp's sole survivor takes it upon herself to memorialize her sister by building the Japanese garden of their dreams. How could someone so scarred by Japanese soldiers see a Japanese garden as a fitting tribute to her sister? How could she disassociate the art from the culture that created it? And how could someone who lived through such trauma at the hands of the Japanese put herself under the thumb of the only Japanese gardener in all of Malaya?
Even in old age as she remembers her life, Yun Ling seems not to know the reason, but she dances close to the flame. While working with Aritomo, Yun Ling remembers that she constantly suffered flashbacks. Every one of Aritomo's rituals is "tainted with the memories of the acts of obeisance [Yun Ling] had to perform for [her] captors." To add insult to injury, Aritomo inexplicably has the only remaining painting made by Yun Ling's deceased sister, and he won't give it to her! Yet in her memory, Aritomo is always described fawningly. His "faint cologne smelled of moss after rain." His touch is as light as "a dragonfly skimming over a pond." He doesn't even need a lantern because he "[borrows] moonlight for this journey of a million miles."
How can we reconcile this contradiction? We must look to memory's twin: forgetting. Nostalgia is the story's perspective, and it necessitates absence. Yun Ling feels the guilt of a survivor, and regrets that she's long since forgotten her sister's face. But with Aritomo she found some peace, and it's only at the end of her life that her memories of him are slipping away.
The light in here seemed softer, older, the air sharp with the tang of the yellowing bamboo leaves. The turns in the track disoriented not only our sense of direction, but also our memories, and within minutes I could almost imagine that we had forgotten the world from which we had just come.
So Yun Ling describes Yugiri, but she might as well have been describing her remembrances of Aritomo, or The Garden of Evening Mists itself. The novel indeed reads like a walk through Yugiri: the scenery is stylized, the effect is startling, and when you come across some unevenly cut grass, you assume it's deliberate.
---
Links & Resources
An interview on Bookslut with Tan Twan Eng about The Garden of Evening Mists
The Booker Prize Foundation's 2012 Shortlist.
Previously on FWR: More posts about the Booker Prize