I never met Wendi Kaufman, but our paths definitely crossed. We probably sat next to each other at a PEN/Faulkner reading hosted by the Folger Shakespeare Library in Washington, D.C., where the literary community we shared gathers. We definitely bumped elbows at a book launch or two at Politics and Prose, the independent bookstore we frequent. We may have raised our glasses to the same toast at the publication party hosted by Margaret Talbot at her house for our mutual friend Mary Kay Zuravleff's Man Alive! D.C. is a thriving literary community but it's a tiny one, indeed.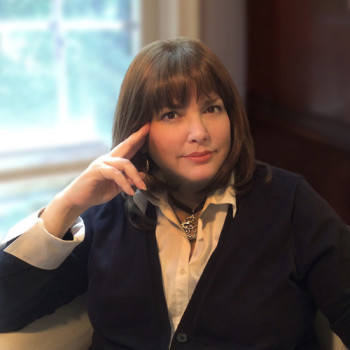 I'd heard of Wendi Kaufman long before I learned of her battle with cancer and passing last fall. I've even taught "Helen on 86th Street," published in The New Yorker and anthologized in Scribner's Best of Fiction Workshops 1998, in my Creative Writing classes at American University. Published by Stillhouse Press, the fourteen brief stories in this collection spark and burn subtly with Kaufman's wit and moxie.
In the opening short story, "Helen on 86th Street," for which the collection is titled, young Vita wants desperately to play Helen of Troy in her school play. Vita puts her faith in the power of Greek goddesses, especially Athena. Moments before her stage debut, Vita's mother delivers this news: "Greek polytheism is an extinct belief…when people stopped believing in the gods, they no longer had their power." Vita refuses to accept this just as she holds out hope that her father will return. She assembles a burnt offering of three years' worth of letters written to him.  It doesn't work to bring her dad back, but the spell alters her course. Helen of Troy gets the chicken pox and Vita gets the stage. In the final scene, Kaufman writes Vita's triumph achingly parallel with her loss of innocence. As Helen, Vita scans the crowd during her final speech, realizes her father will never return, and hears "the beating of swan's wings, and then, nothing at all." Vita's defeat is fated, but Kaufman crafts it with honesty and compassion.
Throughout this collection, Kaufman's characters are recognizable ones—you know these people, especially the women. Helen might be your niece. Her mother could be your neighbor. Girls come of age and find womanhood bleak. Mother-daughter ties are fragile. Love, it should go without saying, is complicated in Helen on 86th Street and Other Stories.  Adultery prevails. Families struggle to reach each other but the distance too great. Mary Kay Zuravleff writes in the introduction, "Wendi's talent is important because her stories reveal the solidarity as well as the singularity of women."
In "What Remains," there is wisdom and ambiguity in women's distinctive dilemmas packed into a snapshot of an affair followed by a one-night stand. We might expect something tidier out of Ava, a twenty-eight-year-old third grade teacher. "Ava was the type of woman who lost things easily; whole worlds slipped through her fingers at one time or another." What's a woman to do in the middle of a rebound when her married lover returns? Kaufman doesn't declare an easy answer. Sometimes there isn't a right or wrong choice to be made, simply the necessity of a choice.
Ava knew more about losing, the hollowness felt in the body, the emptiness of what remains. Finding was a different story. It was the other half of the picture. Love and loss entwined, a knotted tangle of grief and desire.
In the end, the reader decides what the lonely Ava might keep and what she might lose.
Loss, then, is inevitable in many of Kaufman's tales. "Life Above Sea Level" begins in scene with a child being dropped off the side of a boat in the Great South Bay to sink or swim. She almost drowns. The story is told through dated reflections of family memories that add up to family you can't escape. "I let go and begin to swim where no sea runs, in the strong current of family that always pulls me in toward shore." These are your people, like it or not, Kaufman tell us; you might as well love them anyway.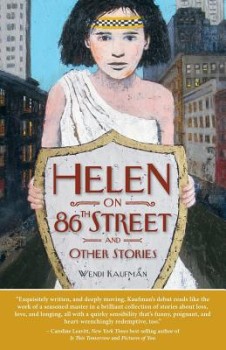 They are so much your people, in fact, that the bold second person "you" is evoked in "Talk," and the reader—willingly or not—is implicated.  It's reminiscent of Lorrie Moore's "How to Be an Other Woman," but Kaufman's story has barroom banter: "You decide getting drunk alone is a cliché and call your best friend. She is a cross between a golden retriever and the Pope—she will follow you anywhere and then forgive you." The light touch makes the heartbreak go down easier. You'll be stronger on the other side, Kaufman promises; just hold on until you get there. "You wrap your arms across your shoulders and press them in close to your chest. You pace. There is a difference, you think, between falling out of love and falling apart."
That Helen on 86th Street and Other Stories was published posthumously is another testament to the legacy of Wendi Kaufman. Stillhouse Press was collaboratively founded between George Mason University's MFA program, where Kaufman earned her MFA, and the Fall for the Book literary festival. Through working with the press, students experience writers becoming authors, words becoming stories, and stories becoming books. In June, just two months before her death, Kaufman worked urgently with students on design, editing, and outreach to launch this collection—Stillhouse Press's first. As Joyce Maynard wrote in her elegy to Kaufman, "We are all terminal here. So in the end, what we have is what we have of our lives while we were living them, and what we leave behind."
I never met Wendi Kaufman, but I wish I would have. Mary Kay Zuravleff, her close friend, assured me that we would have adored each other. I missed the opportunity to know the talented writer and the beloved literary citizen who took much less than she gave.