The verb "to curate" gets a lot of use these days. Once reserved for museum specialists and distinguished British parishioners, the term now apparently stretches to apply to vintage-store pickers, fashion bloggers, and anyone using the taste-making websites Pinterest and Mulu. In a world with so much information and "noise" (another chronically overused descriptor), it's no wonder that we want to bring order to the things we see and be known for a discerning eye.
Before the word loses its meaning, let's take it back to its root. From the Latin cura, meaning "care," a curator is essentially one who minds our cultural heritage. More than just an editor, a true curator contextualizes and interprets our history through artifacts and objects.
Can a literary journal be a curator? It seems unlikely, unless of course you've picked up a copy of Lapham's Quarterly. Like great museum curators, Lapham's  Quarterly's editors exhibit ancient and modern texts side-by-side.
Developed by distinguished editor Lewis H. Lapham, Lapham's Quarterly brings history to a popular audience through short readings that expand upon a single theme, the driving force of the issue. Each issue sees historical essays and stories by luminaries like Plato, James Baldwin, Charles Dickens, Henry James, and Hildegard of Bingen printed alongside contemporary ones by Francine Prose, Simon Winchester, George Packer, Salman Rushdie, Christopher Hitchens, and Garret Keiser.
Since the its first issue, "States of War," the magazine has made its readers think a little differently about how much things change (and how much they stay the same). Under the heading "Voice in Time," Lapham's Quarterly featured a 2003 speech given by Lt-Col. Tim Collins in Kuwait that begins "We go to liberate, not to conquer," and illuminated its historical and cultural significance by printing it just before the 1917 address "Lt-Gen. Sir Stanley Maude Presents the Gift of Freedom to the People of Iraq."
In the Spring 2011 issue "Lines of Work," American Apparel's company-wide rules of grooming are displayed along with a historical letter about sexual harassment in the workplace, written by a young female slave in 19th century North Carolina. These contrasts are made even more apparent in the "Conversations" section, where 17th century writer Anne Bradstreet's poem about filial piety is linked by ampersand to a bilious letter from Franz Kafka about his demanding father. Juxtapositions throughout the magazine feel like the literary equivalent of a really good mix tape, where obscure songs of various styles come together to tell you something more about the music.
Lapham's Quarterly was recognized early on for its unique vision and excellent production. It was a finalist for the National Magazine Awards in 2011, an amazing feat for a publication that was, at that time, just two years old. Two of its essays have been featured in the Best American series: the incomparable Simon Winchester's "Take Nothing, Leave Nothing," about a trip to the remote Tristan da Cunha, was in Best American Travel Writing 2010, and Garret Keizer's "And Such a Small Deer," from the magazine's "Book of Nature" issue, was selected for Best American Essays 2009.
The editors of Lapham's Quarterly shared the magazine's objectives, vision, and history with Fiction Writers Review by email. Throughout our conversation, it was clear that the magazine's goals are as timeless as the writing they publish: to find the best readings that serve a topic, to make the readings timely and topical, and to respond historically to the events of the day.
What is the role of Lapham's Quarterly (LQ) in today's literary community, be it for readers or writers?

LQ is a literary curator and a historical mirror. The readings we choose for an issue may revolve around a single theme, but oftentimes we choose them because they still feel very modern or very true. Curation has become an essential form of creation, and we want LQ to serve as an entry point for writers you may have heard of but never read, writers you've read but never enjoyed, and writers you may have enjoyed as a student who have reentered your life in a new way.

How do you see Lapham's Quarterly's mission and tastes evolving in the next two years?  Will the rise of digital publishing impact the composition of a magazine that prizes treasures from the past?

The mission of LQ will always remain the same. Our themes will expand and contract according to the continued interests of editorial staff. Treasures from the past aren't necessarily endangered by digital publishing (unless they are literally ripped up and thrown away by libraries as they scan them, like in Nicholson Baker's Doublefold, and works in the public domain in particular have a lot to gain from being distributed freely, printed out on EBMs, downloaded to iPads, or written across the sky. It's our job to make sure you know about them—there's a wide range of work between the classic and the forgotten, the esoteric and the unknown.

If you could put three items in a time capsule (or USB drive) to be opened in 1,000 years that would provide a snapshot of Lapham's Quarterly's aesthetic today, what would they be?

Suetonius's The Twelve Caesars, a painting by Paul Klee, and a bottle of McCallan 18. A copy of our "Future" issue might be nice too, just so our blue-skinned, computer-brained counterparts can read about future predictions from the past four thousand years.

What album is playing on the Lapham's Quarterly stereo these days?

Les Paul, Caribou, Four Tet, The Civil Wars, lots of 80s music, and lots of jazz.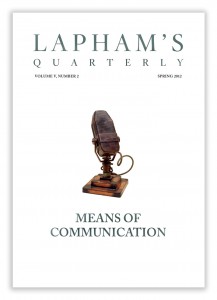 Lapham's Quarterly's newest issue "Means of Communication" is on newsstands now. Readers can look forward to an expertly culled selection of writing about media and communication, as well as staff-written lists about pigeon messengers, ancient libraries, and invented languages like Klingon and Loglan. It is, in other words, not to be missed by readers, tastemakers, or Pinterest curators everywhere.
If you haven't explored it yet, Lapham's Quarterly's website is a treasure trove. There are book recommendations from the editors, wonderful podcasts (including a compelling one with historian and humorist Sarah Vowell), content from past issues, and even a recorded interview of the great Lewis Lapham himself at Google's headquarters. While you're on their website, you can subscribe to Lapham's Quarterly and receive four beautiful issues full of 224 esoteric and illuminating pages this year.
---
Or if you're feeling lucky, follow Fiction Writers Review on Twitter for the chance to win one of three copies of Lapham's Quarterly most recent issue! If you'd like to be eligible for this week's drawing (and all future ones), please visit our Twitter Page and "follow" us.
For those of you already in the FWR Twitter family, you know our presence there exists in part to inform followers of what's happening here on the site, as well as to update the community on literary trends, worthwhile links, etc. We couldn't be happier to see this role expand in a way that allows us to put journals we love in the hands of readers who will love them too.