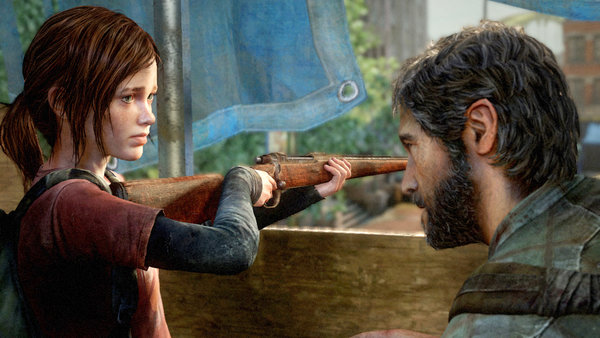 For the last several years, we've periodically explored the intersections between fiction and video games in these pixilated pages–they are, after all, both narrative art forms. Back in 2009, we published Christine Hartzler's "Games Are Not About Monsters," which was subsequently anthologized in Dzanc's 2010 Best of the Web. In 2010, Mike Rudin argued that the Next Great American Novel just might be a video game (heresy!). And in 2011, Celeste Ng wondered, along with the Guardian, "Why aren't more novelists weren't writing vido games?"
Most recently, James Pinto sat down in March for an interview with Tom Bissell, who in addition to books of short fiction, essays, memoir, and literary journalism, has also written a title on this very subject: Extra Lives: Why Video Games Matter. And who has, in fact, recently co-authored a video game: Gears of War: Judgment.
So I was intrigued to read Chris Suellentrop's review of the newly released game The Last of Us (Naughty Dog) in this morning's New York Times. Not simply because the reviews of video games have begun to more closely resemble the reviews of literature, but because it so explicitly holds the game up to literary standards, and calls on literature to define its critical terms. In the opening, Suellentrop writes:
When The Last of Us begins, it pretends to be a video game about a teenager in Texas named Sarah, the kind of girl who wears rock T-shirts and loves her daddy and is impossible to find as a playable character in nearly every game ever made.

This being a video game, we already know it's not really about Sarah. She's not pictured on the box, for one thing. And yet, for a few fleeting minutes, I really did think I was going to play something different, a game that would transport me into the life of someone very unlike me, using what Austin Grossman in his new novel, You, calls the medium's "physical link into the world of the fictional."
Suellentrop goes on to discuss the portrayal (or lack thereof) of Sarah's character, and to criticize the lack of female heroines in video games, in general, as well as the presence of women at this year's E3 trade show in Los Angeles, in particular, noting:
[The Last of Us] does some things better than any other game I've played. But I found it hard to get past what it embraces with a depressing sameness, particularly its handling of its female characters.
The review goes on to reference Anita Sarkeesian's YouTube series, "Tropes vs. Women in Video Games," and to analyze tradionally literary issues in the game such as moral complexity, ambiguity, characterization, and point of view.
Closing, Suellentrop writes:
For a brief time, The Last of Us does become Ellie's game, and the player is asked to direct her journey. As you would expect — it is the magic of the medium — I identified more with her character when I was playing as her. I became more interested in her. Her feelings became my feelings. And then she — or at least my ability to inhabit her — was gone. For a second time, the game surprised me, did something wonderful, and then took it away.
This is an obvious point I'm making here: that the criticism of video games has come to feel nearly indistinguishable from the criticism of literature, which–if criticism serves any higher purpose–should help push the form toward greater complexity and artfulness. But despite the often great criticism of games that has begun to appear in the Times and elsewhere from writers like Suellentrop and, even more regularly, Seth Schiesel, I was still impressed by what was being implied here. Though the word was never used in the review, what rests below the surface of Suellentrop's assessment, it seems to me, is quite simple: "empathy." A seeking for that "physical link into the world of the fictional," which allows us the opportunity to empathize with another human being. To inhabit another life. And could there be anything more fundamental to–and defining of–art?
Or, as Ian McEwan once so aptly noted about writing and literature: