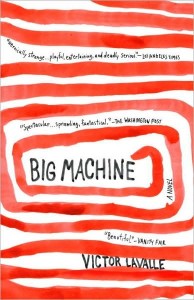 Next Monday, March 22, at 7:30 PM, Brooklyn's Greenlight Bookstore continues their Blogger/Author Pairings series, wherein lit bloggers host and talk with authors whose books they love, and the authors read from their work. Next up is Brooklyn's own blogger/critic Maud Newton (of MaudNewton.com, one of the finest lit blogs, exclamation point) and award-winning author Victor LaValle, whose work has drawn comparisons to the likes of Ralph Ellison, Shirley Jackson, and Thomas Pyncheon, and whose novel (of the same title) inspired Mos Def's The Ecstatic. LaValle will read from and discuss his new novel Big Machine, which Greenlight's newsletter describes as "the story of a middle-aged hustler inducted into a band of paranormal investigators." New York-based readers can RSVP on Facebook or just show up. Greenlight is located at 686 Fulton Street, Brooklyn.
I love this idea of organizing blogger/author pairings at a local indie bookstore; inviting a respected blogger who loves a particular book to join that book's author offline, in a face-to-face dialogue with readers, affords a rare opportunity for publicity and community: a chance to support books, bookstores, and lit blogs all at once. Is this kind of event happening throughout the country? Because it should be!
If you could host and talk with any author, at any bookstore, who would you introduce, and where would it be?