It's said that to get ahead, all must climb the ladder of success. Hustling up the ladder rung by rung, winners must be willing to succeed at any cost. Those at the bottom are advised to be ruthless, and those higher climbers surely stomped more than one competitor's finger on their way up.
In truth, success is not always such a mean, linear progression. Those who do get ahead – in writing and publishing, not to mention less-literary pursuits – get there with a little help from their peers. That's the idea behind Slice, the Brooklyn-based literary magazine where new voices get a boost when printed alongside interviews by more famous ones.
Slice was founded in 2006 when two Random House editorial assistants, Maria Gagliano and Celia Johnson, were disappointed that publishing didn't focus more on helping up-and-comers. Even from their entry-level vantage points, they could see that too much attention was focused on existing platforms. In founding Slice, the pair hoped to create their own platform for identifying bright new voices and ushering them towards future publication and praise. They do this by featuring stories, poems, and essays by new writers next to interviews by legendary authors like Salman Rushdie and Ray Bradbury.
These side-by-side pairings of famous writers with less famous ones sets the tone for the magazine. Like its subtitle, "A Room Full of Voices," the magazine reads like a fabulous dinner party where Pulitzer Prize winner Junot Diaz shares his stories while sitting beside a previously unpublished author from Mexico City. Slice is a journal with a spirit of collaboration more than competition.
While its readership crosses the nation, Slice frequently makes reference to its own literary community: Brooklyn. Interviews with literary borough ambassadors Paul Auster and Jonathan Lethem offer insights into the local culture, and a playful "Literary Tour of Brooklyn" on the back pages of Issue 8 tells you that the best place to stalk famous writers is certainly the Brooklyn Flea. Slice's sense of community is an expansive one, though. They are just as likely to print a startling short story about the Great Plains (Rob Roensch's wonderful "Oklahoma City") as they are to discuss the trees growing in Brooklyn during Maurice Sendak's childhood (from a not-to-be-missed interview in the recently released Issue 9!).
Taking the camaraderie off the page, the editors also maintain a Twitter/Tumblr feed, called CoverSpy, of what folks are reading on the subway, and they host events where they foster the book-loving community. The magazine comes to life during these unique, live interactions between emerging and established writers.  Slice events range from literary game shows, readings, and parties to a recent writers' conference. At each event, new readers discover Slice and not only subscribe to the journal, but also take part in the community they have helped cultivate.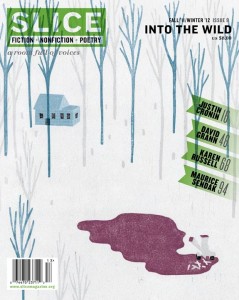 Now in its fourth year of publication, Slice has seen some of the young writers they publish progress in their careers. The first issue of Slice contained work by Patricia Engel, for example, whose first book, Vida, was later a New York Times Notable Book of the Year, a finalist for the PEN/Hemingway Fiction Award, and Barnes & Noble's "Best Book of the Year."  And in the years since its first issue, Slice itself has thrived, too. Issue 9 (theme: "Into the Wild") is on newsstands now, and Issue 10 is on the way in March.
Between her duties at Slice and those as an editor with the Hachette Book Group, Celia Johnson took a moment to answer our questions:
What is the role of Slice in today's literary community, be it for readers or writers?

Slice is designed to bridge the gap between emerging and established writers, to spark a dialogue between the two groups, and to help new voices find an audience, both in our magazine and beyond.

How do you see Slice's mission and tastes evolving in the next two years?  Will the rise of digital publishing impact the composition of Slice?

We are excited about all of the new opportunities that are evolving from the digital growth of publishing.  We do plan to publish the magazine online (in addition to print) at some point in the near future.  Right now, we feature excerpts using Issuu on our website (if you haven't checked out Issuu yet, we suggest taking a look–they're at the forefront of online publishing!).  We are posting more unique content on our website (story and interview excerpts, a literary calendar for events in New York, newsy items about the book world, blog posts).

We also have a Twitter/Tumblr feed called CoverSpy that has received rave reviews from the press.  A team of undercover Slice spies hit the New York City streets and post the covers that they spot, in addition to brief descriptions of the people they see reading them. CoverSpy offers a unique blend of old (featuring print covers) and new (featuring them via an online outlet).

If you could put three items in a time capsule (or USB drive) to be opened in 1,000 years that would provide a snapshot of Slice's aesthetic today, what would they be?

Our interview with New York Times–bestselling and award-winning author Junot Diaz from Issue 1. Junot supported Slice from the very beginning, simply because he believed in the cause. Since that point, a large number of renowned authors have jumped on the bandwagon, from one issue to the next, but he was our first heavy-hitter.

Any of our published work—fiction, nonfiction, or poetry—from new voices would capture the spirit of the magazine. They're an eclectic bunch of pieces, but they all share one common thread: we couldn't put them down. From our most recent issue, we'd pick "Her Own Special Touch" by Jackie Shannon Hollis, "Country Miles" by Colin Fleming, and "Winter Harbor" by Elizabeth Bevilacqua.

A recent cover of Slice. Our covers feature artwork by local Brooklyn artists. Amy Sly, our art director, has made Slice a standout visual magazine, with a two-color design and stunning illustrations from local artists that compliment the poetry and prose.

What album is playing on the Slice stereo these days?

The Band has recently taken over Explosions in the Sky.
To see a preview of Issue 9, visit Slice's website, or better yet, consider subscribing to the journal to receive a bi-annual treat in your mailbox. Back issues are also available in bundles. Writers just starting out or those more established can submit stories, essays, or poems.
And proving yet again that camaraderie beats ladder-climbing any day, Slice is teaming up with Housing Works Bookstore this December to host a "Literary Magazine Office Party" for their fellow journal editors and interns. Since most literary magazines don't have their own offices and thus lack office holiday parties, the generous folks at Slice and Housing Works are bringing out the karaoke machine and a white elephant gift exchange for their peers to enjoy. For details, keep an eye on Slice's website in the next few weeks.
A successful magazine that doesn't kick the competition? That's a
"Room Full of Voices" that both readers and writers will want to join.
As a special bonus to readers of Fiction Writers Review, we'll be giving away three free subscriptions to Slice! If you'd like to be eligible for this week's drawing (and all future ones), please visit our Twitter Page and "follow" us.