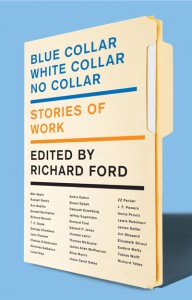 This week's featured title is Blue Collar, White Collar, No Collar: Stories of Work, edited by Richard Ford. This anthology was created as a benefit for 826michigan, a non-profit organization located in Ann Arbor, Michigan, that is dedicated to supporting students ages 6 to 18 with their creative and expository writing skills, and to helping teachers inspire their students to write. They offer drop-in tutoring, writing workshops, storytelling and bookmaking field trips, nighttime and weekend workshops, and various other community-related events and services. All are free of charge, always. Founded by Ann Arbor writer Steven Gillis, 826michigan is a chapter of 826 National, which is a non-profit organization that grew out of 826 Valencia, started in San Francisco by famed writer and editor Dave Eggers.
All of the proceeds from the sale of this collection, as well as Ford's advance and those of the contributing authors, will go directly to 826michigan to support their writing and tutoring center.
As the title suggests, the stories here focus on the theme of work and our relationship to employment. Included are stories from such authors as Charles D'Ambrosio, Jeffrey Eugenides, Ann Beattie, Deborah Eisenberg, Nicholas Delbanco, Edward P. Jones, James Allen McPherson, Jhumpa Lahiri, Jim Shepherd, Elizabeth Strout, Eudora Welty, and Tobias Wolff. When asked about the project in a recent FWR interview with contributing editor Travis Holland, Ford said this about the collection:
It's important to me for several reasons, the chiefest of which is to be able to assist 826michigan in its noble mission to serve the youth of southeastern Michigan by teaching kids to write, giving them confidence to do better in school, helping them with their homework after school hours, and addressing many other really critical needs of kids trying to succeed in a demanding world. 826michigan performs these services free to the kids. So the proceeds of the sale of this anthology all go to that good end. Beyond that, editing an anthology gives me a chance to find a few new readers for my colleagues' excellent work. And the premise of the book – stories about work – seemed apposite to all that Michigan means to your average American: a place where work matters. And, of course, doing the book allowed me to renew my long-standing affiliation with the state, which has meant so much to me in my life and given me so much.

Finally, how do you hope these stories might appeal to readers?

I don't think the premise of the book overshadows the stories themselves. I've identified the stories as having to do with work, and insofar as the premise is a fair one – and I believe it is – the stories will turn the diamond of work this way and that and show work's various facets to advantage: principally its consequence in peoples' lives, its centrality as a legitimate subject of contemplation, its simple interest to us as a force in our lives. But in saying that, I'm just pointing out what excellent fiction routinely does to any subject it seizes: it shows us where importance lies when we might've thought we knew better; it elevates in importance a human concern or pursuit that might've been taken for granted; it pleases and informs us about subjects of genuine moral interest. To me, these are gifts of literature which have rather enduring appeal.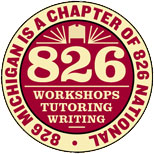 To read the rest of this interview, please click here.
Help support 826michigan and buy a copy here.
You can also win one of three signed copies of this book, which we'll be giving away next week to three of our Twitter followers. If you'd like to be eligible for this giveaway (and all future ones), simply click over to Twitter and "follow" us (@fictionwriters).