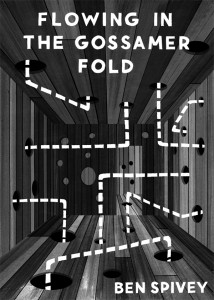 Each week we give away several free copies of a featured novel or story collection as part of our Book-of-the-Week program. Last week we featured Charles Baxter's Gryphon: New and Selected Stories, and we're pleased to announce the winners: Jen Michaels, Rob Schmitt, and Matt Bell. Congratulations! Each will receive a signed, first-edition of this new novel.
This week we're featuring Ben Spivey's novel Flowing in the Gossamer Fold. Spivey is the co-founder with David Peak of Blue Square Press. In fact, this book is the Press's first publication.
In his October review of the book for The Collagist, J.A. Tyler addresses this point, reassuring readers that this first-time publisher knows what it's doing. He writes:
We see this happen: An upstart press publishes its own co-editor's name on its first book and maybe takes away a little of the magic for us, maybe leaves us a little colder than we were before – but Blue Square Press has, with Ben Spivey's Flowing in the Gossamer Fold, every right to dodge the negative sentiments or prickly connotations that often come with such seemingly nepotistic print-play. It is clear that Blue Square Press is serious about its literature and it is also clear that Spivey deserves the publication of Flowing in the Gossamer Fold – these words enchant and provoke, these words are worth their press.
In an equally positive review for The Outside Writers Collective and Press blog, Caleb J. Ross says of the book:
Flowing in the Gossamer Fold, simply, is about understanding an altered position when all known context falls away. Literally, a story of a professional motivational speaker attempting to harness his life after a divorce, Ben Spivey's debut novel quickly and beautifully submerges the literal for an appropriately poetic read.

After about 20 pages of concrete scene-setting, we begin to experience a more language-focused breakdown of the protagonist's deterioration, a style that continues throughout to the end of the book. Normally, such contrast, from suited professional speaker to emotional vagabond in such a short number of pages might feel forced. This makes Spivey's ability to seamlessly drift from concrete to illusive imagery, while never completely leaving the reader to wander the text, all the more impressive.
If you'd like to be eligible for this week's drawing (and all future ones), please visit our Facebook Page and "like" us. As we did last week, we'll be giving away three copies of this title. To everyone who's already a fan, thanks again! What we want to do is not only find ways to expand our readership, but also to put books we love in the hands of readers.
So please help us spread the word!