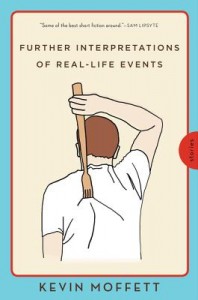 This week's feature is Kevin Moffett's new story collection, Further Interpretations of Real-Life Events (Harper Perennial). He is also the author of Permanent Visitors, which won the John Simmons Short Fiction Award, judged by George Saunders, and was long-listed for the Frank O'Connor International Short Story Award and the Believer Book Award. His fiction and nonfiction has appeared in such places as Tin House, the Harvard Review, American Short Fiction, the Chicago Tribune, the Believer, A Public Space, and in three editions of The Best American Short Stories. The title story for this new collection won the National Magazine Award in 2010.
In his recent review of this collection, Shawn Andrew Mitchell writes:
There are plenty of writers who attempt to work in George Saunders's style, one of absurdity and satire and capital letters, but what they often miss is the morality and heart at its core. Moffett misses nothing. He follows his own advice and listens closely, to the detail, to the mystery, and to his characters' plights.
We're giving away a copy of Further Interpretations of Real-Life Events next week to three of our Twitter followers. To be eligible for this giveaway (and all future ones), simply click over to Twitter and "follow" us (@fictionwriters).
To all of you who are already fans, thank you!
---
Further Reading
Read the rest of Mitchell's review.
Read an interview with Kevin Moffatt conducted by the University of Pittsburgh.