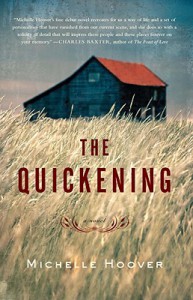 At the end of August, Fiction Writers Review launched a Fan Page on Facebook. The goal is threefold: to introduce new readers to FWR, to create an informal place for conversations about writing, and also to give away lots of free books.
Each week we'll give away several free copies of a featured novel or story collection as part of our Book-of-the-Week program. All you have to do to be eligible for our weekly drawing is to be a fan of our Facebook page. No catch, no gimmicks. And once you're a fan, you'll be automatically entered in each subsequent drawing.
Last week we featured Dzanc's Best of the Web 2010, edited by Kathy Fish and Matt Bell, and we're pleased to announce the winners: Jennifer Norris, Kurt Horvat, and Jane Martin. Congratulations! Each will receive a copy of the anthology, signed by series editor Matt Bell.
This week we're featuring The Quickening, by Michelle Hoover. Loosely based on a fifteen-page document that her great-grandmother typed out in the final year of her life, as well as on family oral histories, the novel follows the journeys of two Iowa families trying to build their lives amid the hardships of the Great Depression. In her July review of the book for FWR, T.L. Crum concludes by writing, "Hoover covers a large expanse of time in The Quickening, and her graceful prose lends an epic feel to this beautiful, compact novel."
If you'd like to be eligible for this week's drawing (and all future ones), please visit our Facebook Page and "like" us. As we did last week, we'll be giving away three, signed copies of this title. To everyone who's already a fan, thanks for supporting this project. What we want to do is not only find ways to expand our readership, but also to put books we love in the hands of readers.
So please help us spread the word!