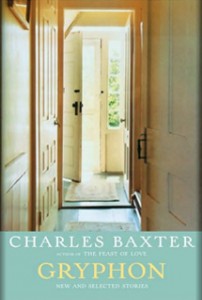 Each week we give away several free copies of a featured novel or story collection as part of our Book-of-the-Week program. Last week we featured Damon Galgut's novel In a Strange Room, and we're pleased to announce the winners: Alex Boyles, Kara Candito, and Joanne Wong. Congratulations! Each will receive a copy of this new novel.
This week we're featuring Charles Baxter's Gryphon: New and Selected Stories. Baxter is the author of more than a dozen books, including four previous collections of stories, five novels, and several books of nonfiction. His novel The Feast of Love was nominated for the National Book Award, and he's been the recipient of numerous other accolades, including a Guggenheim Fellowship, a Lila Wallace-Reader's Digest Foundation Fellowship, a National Endowment for the Arts Grant, and the Award in Literature from the American Academy of Arts and Letters.
In his recent review of the book for FWR, Editor Jeremiah Chamberlin writes:
A gryphon is a magical creature—half eagle, half lion. It is also the title of Charles Baxter's most recent book, a collection of new and selected stories, published this month by Pantheon.

It's a well-chosen title. Partly because "Gryphon" is one of Baxter's most anthologized and lauded stories, partly because it's a feat of magic for any writer to reach the milestone of having a book of collected stories, and partly—as I learned from Charlie on his recent return to Ann Arbor as part of the Zell Visiting Writers Series at the University of Michigan—because the story "Gryphon" was a salvage job from one of his first, unpublished novels. And so all the stories that have come since can, in a sense, trace their lineage back to that primary work.

As a young writer, it gives me wonderful hope to know that a career as accomplished as Baxter's originated from the wreck of such early trials and attempts at fiction.
If you'd like to be eligible for this week's drawing (and all future ones), please visit our Facebook Page and "like" us. As we did last week, we'll be giving away three copies of this title. To everyone who's already a fan, thanks again! What we want to do is not only find ways to expand our readership, but also to put books we love in the hands of readers.
So please help us spread the word!