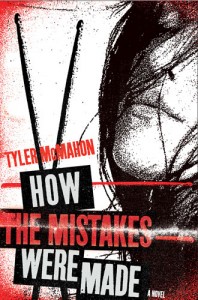 This week's feature is Tyler McMahon's How the Mistakes Were Made, published this week by St. Martin's Griffin. Born and raised in the Washington, DC area, Tyler McMahon studied at the University of Virginia and Boise State University. Before writing his first novel, he worked as a Peace Corps volunteer in El Salvador, a surf instructor in California, and waiter in Montana. He co-edited the anthologies Surfing's Greatest Misadventures and Fishing's Greatest Misadventures for Casagrande Press. He lives in Honolulu with his wife, food writer Dabney Gough, and teaches in the English Department at Hawaii Pacific University. His short stories have been published in the Sycamore Review, the Antioch Review, and the Minnesota Review, among others.
In the introduction to his recent interview with McMahon, J. Caleb Winters describes the subject of this new novel. He writes:
In Tyler McMahon's debut novel, How the Mistakes Were Made, Laura Loss comes of age in the 1980s hardcore punk scene, the jailbait bassist in her brother Anthony's band. While on a reluctant tour through Montana, Laura meets Sean and Nathan, two talented young musicians dying to leave their small mountain town. With these two men, Laura forms the Mistakes, and at the height of their fame, the volatile bonds between the three explode. Hated by the fans she's spent her life serving, Laura finally tells her side of how the Mistakes were made.
During their conversation, McMahon recalls the paranoia of Cold War America, shares his own experiences touring with a band, and discusses the influences of this new novel. In response to a question about how the Cold War shaped the book's protagonist, Punk Rock, and the themes of the novel, McMahon says the following:
All my earliest memories involve being terrified by some sort of nuclear apocalypse. I would have nightmares about it all the time. I'd wake up in the middle of the night and cry about it. So many childhood sleepovers ended with somebody's older brother or sister whispering about how the bombs worked—if they used keys or buttons, if the president could launch them from his limo, how big they were and what shape they had. There was something on television back then, maybe one of those Amazing Stories bits, in which all the nukes were fired and a little boy runs outside and screams "Stop!" and the missiles all froze in midair. I remember identifying with that at a young age.

For many years, I thought I was just paranoid or a coward. Then one day when I was in my twenties, my father told me a story about a college lecture he attended. I believe they were talking about the Cuban missile crisis. The professor was absolutely certain there would be a nuclear war between the US and the USSR in the next few years. My dad talked about how unsettling that was. After that, I realized it was a symptom of an age, not just my own psychological flaw.

I definitely think the nuclear threat was a significant factor in punk rock's genesis, and in American hardcore especially. That's a position I argued for often when I taught my rock history class to undergrads. I'll concede that it might be too neat of a thesis, as a lot of bad stuff happened to the US in the 80s. But in the case of punk, it rings true.

When I began writing in Laura's voice, she immediately had this tough, two-fisted, tomboy exterior. It became doubly important to give her some kind of soft underbelly, an inner frailty. The fear of nuclear weapons felt like a good fit. It helped place those flashbacks, both in a specific time and in D.C.
To read J. Caleb Winters's complete interview with the author, please click here.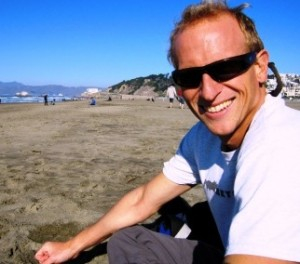 We're honored to count Tyler McMahon as one of our regular contributors here on Fiction Writers Review, and so it's a particular pleasure to feature his new novel. For some of his most recent work for us, please read his "Stories We Love" post on Eric Rickstad's story "Ballerina, Ballerina."
You can also read his reviews of Alan Heathcock's debut collection Volt and Joshua Mohr's debut novel Some Things That Meant the World to Me.
Check out Tyler's website for more information, including upcoming author events.
You can also win one of three signed copies of this book, which we'll be giving away next week to three of our Twitter followers.
To be eligible for this giveaway (and all future ones), simply click over to Twitter and "follow" us (@fictionwriters).
To all of you who are already fans, thank you!