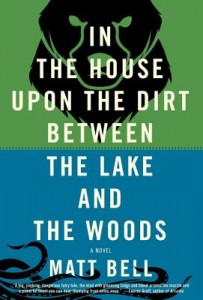 This week's feature is Matt Bell's debut novel, In the House upon the Dirt between the Lake and the Woods, which is just out from Soho Press. Bell is also the author of the novella Cataclysm Baby and the story collection How They Were Found, as well as three chapbooks: Wolf Parts, The Collectors, and How the Broken Lead the Blind. His fiction has appeared in numerous publications, including Conjunctions, Hayden's Ferry Review, Gulf Coast, Willow Springs, Unsaid, and American Short Fiction, and has been selected for inclusion in anthologies such as Best American Mystery Stories and Best American Fantasy. He is the Senior Editor at Dzanc Books, where he also edits the literary magazine The Collagist, and he teaches creative writing at Northern Michigan University.
In Aaron Burch's recent interview with Bell, the two talk about the difference between the short and long form, why empathy matters, and writing in new directions, among other topics. In response to a question about where the fictional and the real intersect in his work, Bell replies:
Instead of trying to depict my own character accurately upon the page, I write about characters doing things I wouldn't do, making choices I wouldn't make. And while I rarely know what motivates them during a first draft, I often eventually end up with characters whose beliefs oppose mine or are at least skewed slightly away, whose reactions to trouble are wrong in different ways than mine are wrong, whose best solutions won't be my solutions. Then there's something to explore, and surprises along the way. But what I'm exploring is still, in some ways, my own emotional struggles, just from a different angle.
We're happy to announce that we'll be giving away a copy of In the House upon the Dirt between the Lake and the Woods to three of our Twitter followers. To be eligible for this giveaway (and all future ones), simply click over to Twitter and "follow" us (@fictionwriters).
To all of you who are already fans, thank you!
---
Further Links and Resources: