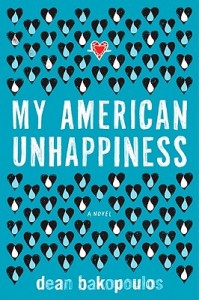 This week's featured title is My American Unhappiness, by Dean Bakopoulos. Bakopoulos was born and raised in metro Detroit, which is the setting of his first novel, Please Don't Come Back from the Moon (Harcourt, 2005), a New York Times Notable Book. He has lectured at Michigan, Cornell, UW-Madison, and other universities about the economic and environmental problems facing the post-industrial Rust Belt, and has published related essays and criticism in The New York Times Book Review, The Los Angeles Times, The Miami Herald, The Progressive, The Believer, and Real Simple. His one-act plays "Phonies" and "Wayside" have been produced at Alley Stage in Mineral Point, Wisconsin. His short fiction has appeared in such places as Zoetrope: All Story, The Virginia Quarterly Review, Prism, and The Madison Review.
The winner of a 2008 Guggenheim Fellowship and a 2006 National Endowment for the Arts fellowship, Bakpoulos is a professor in the MFA Program in Creative Writing & Environment at Iowa State University. He is the former director of both the Wisconsin Book Festival and the Wisconsin Humanities Council.
In his recent essay for FWR, Bakopoulos borrows the form of the author's note to meditate on the process of writing his second novel. In particular, he examines how having children and dealing with the prolonged death of a dear and influential friend, Mark Gates (who would later serve as a model for the character Mack Fences in My American Unhappiness), impacted not only his book but also his way of looking at the world.
In the section of the essay entitled "Disclaimer," the author describes his anxiety about the possibility of bear attacks during a vacation in northern Wisconsin. He closes by writing:
In the end, we survived. We did not see any bears. We even ate blueberries at the edge of a waterfall and saw no bears, though as we ate those berries at the waterfall, it occurred to me that, were I to die, dying while eating wild blueberries with your family, overlooking a waterfall in northern Minnesota, is not a bad way to go. The tooth and claw tearing your flesh and piercing your organs may not be all that ideal, but the waterfalls in that part of Minnesota are quite beautiful and the light is a certain kind of crisp white in the mid-afternoons, and my God, the berries are delicious and I love my wife and kids.

I tell you all of this because when I wrote my first novel, I was not a parent. This novel, my second, was attempted with children. It is a tale told by a chronically anxious, worried man whose best friend was dying.

While I don't expect critics to bear that in mind, I would appreciate it if you, dear reader, might.
Like his new novel, this essay is a wonderful mix of wit and pathos, self-deprecating humor and beautiful sadness. So in addition to charting the effect of these profound influences on his life and work, he also describes with wonderful absurdity such things as how a failed lobbying trip to Washington, D.C., that was followed by several bourbons from room service and a movie rental of Little Children would lead not only to a lusty love poem to Kate Winslet, but also serve as the catalyst for this novel.
To read "Author's Notes" in its entirety, please click here.
You can also win one of three signed copies of this book, which we'll be giving away next week to three of our Twitter followers. If you'd like to be eligible for this giveaway (and all future ones), simply click over to Twitter and "follow" us (@fictionwriters).