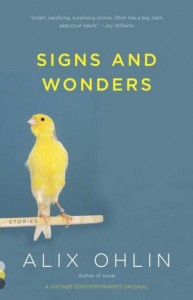 Our new feature is Alix Ohlin's most recent collection, Signs and Wonders (Vintage), which was simultaneously published last month with her new novel, Inside (Knopf). Additionally, she is the author of the novel The Missing Person (Knopf, 2005) and the collection Babylon and Other Stories (Knopf, 2006). Her work has been anthologized in Best American Short Stories and Best New American Voices, and has also appeared on public radio's Selected Shorts. Born and raised in Montreal, she currently lives in Easton, Pennsylvania, and teaches at Lafayette College. She is also on the faculty of the Warren Wilson MFA Program for Writers.
In a recent review, Contributor Sung J. Woo writes:
There's chaos in these sixteen stories, but usually not right away. Ohlin fools you into a lull, and then there it is: a car crash. A coma. A missing child. A man licking a woman's leg. This is just one of Ohlin's many talents, this pervasive calmness she exudes no matter how awful the situation is turning out. It's really sort of a strange magic…
We're giving away a copy of Signs and Wonders next week to three of our Twitter followers. To be eligible for this giveaway (and all future ones), simply click over to Twitter and "follow" us (@fictionwriters).
To all of you who are already fans, thank you!
---
Further Reading
Read an excerpt from Signs and Wonders.
Visit Ohlin's website—and in case you want to tell others about this great book (and you should!), this is how you pronounce her last name: "Oh-leen."