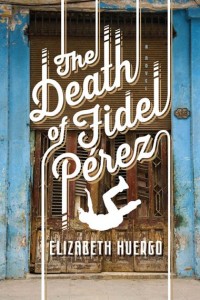 Our newest feature is Elizabeth Huergo's debut novel, The Death of Fidel Pérez, which was published this month by Unbridled Books. Elizabeth Huergo was born in Havana and immigrated to the United States at an early age as a political refugee. Her work has been published in such places as Diaspora and Potomoc Review, as well as anthologized in such collections as I Go to the Ruined Place: Contemporary Poems in Defense of Global Human Rights and Gravity Dancers: Even More Fiction by Washington Area Women. She teaches at George Mason University and lives in Virginia. Huergo can be found online at www.elizabethhuergo.net/ .
In the introduction to her recent interview with Elizabeth Huergo, Melissa Scholes Young writes:
Is fiction always political? Elizabeth Huergo thinks so. In her debut novel, The Death of Fidel Pérez, when the title character and his brother comically fall from their Havana balcony to their deaths, a rumor that "Fidel has fallen" awakens the city. Their fictional fall coincides with the 50th anniversary of the Moncada Army Barracks raid that sparked the Cuban Revolution. The news of the death revives hope for political change and stirs the unrealized promises of the past. In this provocative novel, fiction and history, prose and politics collide.
We're happy to announce that we'll be giving away a copy of The Death of Fidel Pérez to three of our Twitter followers. To be eligible for this giveaway (and all future ones), simply click over to Twitter and "follow" us (@fictionwriters).
To all of you who are already fans, thank you!
---
Links and Resources:
For more on this book, or information about Huergo's other work, please visit the author's Website.