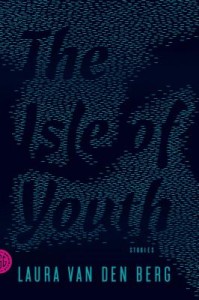 This week's feature is Laura van den Berg's new collection The Isle of Youth, which releases today from Farrar, Straus and Giroux. Laura van den Berg was raised in Florida and earned her M.F.A. at Emerson College. Her debut collection of stories, What the World Will Look Like When All the Water Leaves Us (Dzanc Books, 2009), was a Barnes & Noble "Discover Great New Writers" selection, longlisted for The Story Prize, and shortlisted for the Frank O'Connor International Award. For more information on Laura and her work, please visit: http://www.lauravandenberg.com/.
In the introduction to her recent interview with the author, Elliot Holt describes Laura van den Berg as "a poised, mature writer whose work combines elements of noir with a deep emotional awareness." In this conversation, the two discuss issues of self-doubt, the differences between writing short stories and novels, the fertile literary ground of Florida—where van den Berg was born and raised—and writing on trains.
In response to a question about where her stories come from, Laura van den berg replies:
I almost always start with voice. And by "voice" I mean that I get a line lodged in my brain that just won't leave me. […] With "Acrobat," for example, I was washing dishes and all of a sudden the first line, "The day my husband left me, I followed a trio of acrobats around the city of Paris" came into my mind, seemingly from nowhere. Even though the story changed a great deal in revision, that was always the first line. Same for "Lessons" and "I Looked for You, I Called Your Name."

So I follow those voices and they lead me through the (usually very rough) first draft. They are almost always "I" voices and they are always a woman's voice, which probably helps explain that consistent emotional core.
We're happy to announce that we'll be giving away a copy of The Isle of Youth to three of our randomly selected Twitter followers. To be eligible for this giveaway (and all future ones), simply click over to Twitter and "follow" us (@fictionwriters).
To all of you who are already fans, thank you!