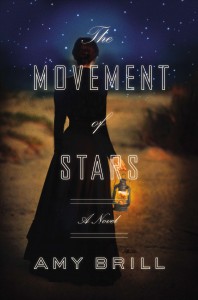 This week's feature is Amy Brill's debut novel, The Movement of Stars, which was recently published by Riverhead. Brill is a writer and producer. Her articles, essays, and short stories have appeared or are forthcoming in such places as One Story, The Common, Redbook, Real Simple, Salon, Guernica, and Time Out New York. She has been awarded fellowships in fiction by the Edward Albee Foundation, Jentel, the Millay Colony, Fundacion Valparaiso, and the Constance Saltonstall Foundation. In 2005, she was the Robert and Charlotte Baron Visiting Artist Fellow at the American Antiquarian Society in Worcester, MA. As a broadcast journalist, she received a George Foster Peabody Award for writing MTV's The Social History of HIV, and she researched, wrote, or produced over a dozen other projects for the network's pro-social initiatives. She has also produced online projects fostering public dialogue on arts, culture, and society for PBS, The New York Foundation for the Arts, and other organizations. A native New Yorker, Brill lives in Brooklyn with her husband. They have two small daughters.
In the introduction to Allison Amend's recent interview with Brill, she writes:
Amy Brill has pulled off a magic trick—a highly literary novel that manages to enthrall even as it educates. In her debut The Movement of Stars (Riverhead), Brill's protagonist Hannah is an amateur astronomer (inspired by real-life scientist Maria Mitchell) living on Nantucket in the 1840s. Her observation of the stars is about to end, though. Her father is moving off-island and as an unmarried woman in a strict Quaker religion, she has to follow him. Complicating matters is her new Azorean navigation student, Isaac, who draws her in as her community rejects her for her individualism. Lyrical to the extreme, Brill's prose brings to life a remote time and place, engaging us so that Hannah's passions become our own.
We're happy to announce that we'll be giving away a copy of The Movement of Stars to three of our Twitter followers. To be eligible for this giveaway (and all future ones), simply click over to Twitter and "follow" us (@fictionwriters).
To all of you who are already fans, thank you!
---
Further Links and Resources: