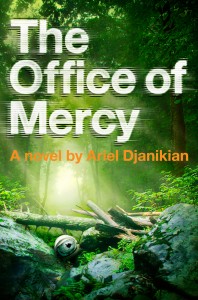 Our newest feature is Ariel Djanikian's debut novel The Office of Mercy, which was just published by Viking. Djanikian was born in Philadelphia and attended the University of Pennsylvania. She holds an MFA degree from the University of Michigan and is the recipient of a Fulbright grant. She's also lived in Madison, Wisconsin, and Irvine, California. Her newly adopted city is Chapel Hill, North Carolina, where she lives with her husband and daughter and hopes to stay for a long time. Her writing has appeared in The L Magazine and The Paris Review Daily. Visit her Website for more information on the book and her writing.
In the introduction to her recent interview with the author, Editor-at-Large Celeste Ng writes:
In addition to creative writing, Ariel Djanikian has studied chemistry and philosophy—oh yeah, she was a Fulbright scholar, too—and all of that shows in her debut novel, The Office of Mercy (Viking). But don't get me wrong: The Office of Mercy is no dry, dense, Novel Of Ideas. Its heroine, a young woman named Natasha Wiley, lives in a futuristic settlement called America-Five. Inside America-Five, everything seems perfect: there's plenty of food, everyone has a job, and no one ever dies. Outside America-Five lies a post-apocalyptic wilderness, peopled only by a few roaming bands who survived the "Storm" that destroyed all other civilization. Natasha works in the aforementioned Office of Mercy, where her job is to—
—and here Ng makes sure not to spoil the surprise for you. Though we're happy to announce that we'll be giving away a copy of The Office of Mercy to three of our Twitter followers, who can find out what happens in America-Five. To be eligible for this giveaway (and all future ones), simply click over to Twitter and "follow" us (@fictionwriters).
To all of you who are already fans, thank you!
---
Links and Resources