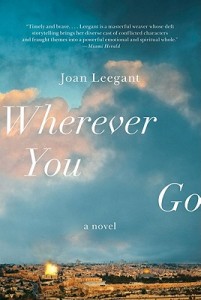 This week's feature is Joan Leegant's debut novel, Wherever You Go, which was released by W.W. Norton and Company. Her first book, a collection of stories entitled An Hour in Paradise, was published when she was 53. Winner of the PEN/New England Book Award, the Wallant Award for Jewish Fiction, and the 2011 Nelligan Prize from the Colorado Review, Leegant was also a Finalist for the National Jewish Book Award. For eight years she taught fiction writing at Harvard. Currently she divides her time between Boston and Tel Aviv, where she is the visiting writer at Bar-Ilan University.
In her recent interview with the author, former Harvard colleague and fellow fiction writer Jody Lisberger speaks with Leegant about such things as questions of structure, identity, listening to your characters, and the treatment of ethical issues in fiction. Here is the beginning of their conversation:
Jody Lisberger: In terms of moving from stories to a novel, do you think writing a collection of stories made the job of writing a novel easier? Did having those prizes under your belt for your first book create pressure for your second?

Joan Leegant: Readers and writing students sometimes assume that writing stories is "practice" for writing a novel—that you start "small" and then grow—but I think most writers would say that's not the case at all. Stories as an art form have their own set of demands. And lest anyone suggest that short fiction is a lesser art, we can look to the work of such story masters as Alice Munro, Grace Paley, and Edith Pearlman, who won the 2011 PEN/Malamud Award for the Short Story and whose latest collection, Binocular Vision, was just nominated for the National Book Award.

That said, while writing stories first didn't make writing a novel easier for me, writing fiction for a long time before tackling this particular novel made a difference. I began writing fiction around 1990 and published Wherever You Go in 2010. That's 20 years. I teach writing, and one of the hardest things I've had to do is tell a student he or she needs to master more of the craft before shackling him/herself to a big project. It's not that writing stories is easier; it's just that you can labor on a story for a few months and then put it aside and start another. This allows you to let go of what's not working and move on.

I was very grateful to have received those prizes. I was 53 years old when the collection came out, and a lot of water had flowed under the bridge by then. When I turned to the novel, I didn't experience the prize-winning as pressure but as affirmation. Permission to keep going. A prolific story writer once told me that with each story she published, she was given permission to write another one. That's what kept her submitting and submitting. That's what those prizes felt like for me.
To read the rest of this interview, click here.
For more on Leegant's work, please visit the author's Website.
You can also win one of three, signed copies of this book, which we'll be giving away next week to three of our Twitter followers.
To be eligible for this giveaway (and all future ones), simply click over to Twitter and "follow" us (@fictionwriters).
To all of you who are already fans, thank you!