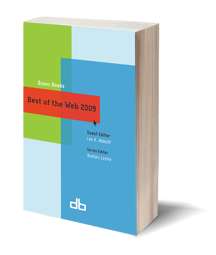 Because we are an online journal ourselves, it's no surprise that FWR is excited to announce the release of The Best of the Web 2009, published by DZANC Books. This is their second volume of the annual anthology, which selects the best poetry, fiction, and nonfiction published online during the previous year.
Click here to read my full review of Best of the Web 2009 here on FWR.
Big Congratulations to all the writers included in this year's collection, and to the editors for bringing together such a range of voices and talent.