Hello again, FWR friends. Welcome to the latest installment of "First Looks," which highlights soon-to-be (or just) released books that have piqued our interest as readers-who-write. We publish "First Looks" here on the FWR blog around the 15th of each month, and as always, we'd love to hear your comments and your recommendations of forthcoming titles. So please drop us a line with buzz-worthy titles you're anticipating: editors(at)fictionwritersreview(dot)com. Thanks in advance!
---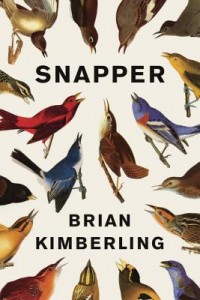 Perhaps I'm biased because I teach Midwestern Lit courses and classes on Rust Belt Narratives, but Brian Kimberling's debut novel, Snapper, which Pantheon is releasing next week, and which takes place in rural Indiana, is high on my soon-to-be-read list. Maybe not the most exotic locale to some, I'll grant you. But as the son of an ornithologist, I'm intrigued by the bird-watching protagonist, Nathan Lochmueller, who "drives a glitter-festooned truck, the Gypsy Moth." Fun fact for trivia night: cuckoos are the natural predators of gypsy moths, and their populations have co-evolved–when the population of one rises, the other falls, and vice-versa, in a classic predator-prey relationship. Second fun fact: roadrunners are also in the cuckoo family. Though I'm not sure what their relationship is with coyotes beyond antagonism… Anyway, count me in.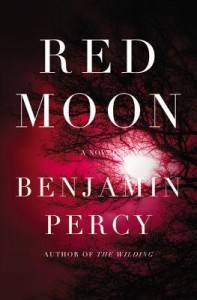 On a completely different note, Ben Percy's new novel, Red Moon, will be published by Grand Central on May 7th. A literary, supernatural thriller, the book envisions an alternate universe in which Lyncanthropes, "from the Greek λυκάνθρωπος: λύκος, lykos, 'wolf', and ἄνθρωπος, anthrōpos, 'man'" (thanks, wikipedia!), live in a negotiated peace alongside humans until an act of terror destabilizes that truce. John Irving calls it a "politically symbolic novel." He goes on to say,"If George Orwell had imagined a future where the werewolf population had grown to the degree that they were colonized and drugged, this terrifying novel might be it."
Comparisons will naturally be made between this book and Cronin's vampire trilogy that began with The Passage, or between this and Colson Whitehead's zombie book, Zone Out, simply because these literary authors have entered the domain of genre and that often makes critics as uncomfortable as watching a monster transform. But let's dispense with this tired conversation about genre right off the bat and get to what matters: the writing. I can't speak for the whole book yet, but I read the first sixty pages of this novel in one sitting. Hell, I forgot to sit down for the first twenty pages! I only realized I was still standing after I'd made it through the first few chapters. The pacing and undercurrent of dread reminds me of Dennis Lehane's Mystic River. Another cross-over title, come to think of it. Maybe these authors are on to something.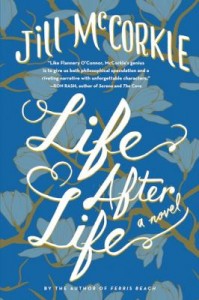 And continuing our theme of there not being a theme here, Steven Kurutz's profile of Jill McCorkle in the Times two weeks ago really made me look forward to reading the author's newest novel, Life After Life, just out from Shannon Ravenel Books, an imprint of Algonquin. Ravenel is, of course, famous for editing New Stories from the South, which I though was one of the best annual anthologies of short fiction. Sadly, 2010 was the last edition. But if Ravenel's taste in McCorkle's work (whose stories regularly appeared in New Stories from the South) is as good as her taste in curating short fiction, which I expect it is, then I imagine this novel will be superb.
I also love those projects that unfold over the course of decades, like Denis Johnson's reputed three-decade-long grappling with Tree of Smoke. McCorkle, apparently, worked on this project on and off for more than twenty years. As Kurutz recounts, "The novel was largely inspired by the death of Ms. McCorkle's father from lung cancer, in 1992." Yet what I was most struck by in the description of this book's project was McCorkle noting what, in hindsight, might seems obvious if one stops to think about it, but which in fact is worth reminding ourselves about the aging process. She tells Kurutz: "We think people get to the end and stop living, stop thinking, stop doing. And yet they're all experiencing life in the same ways they would have 40 years ago."
Speaking of time passing, we're in the midst of gearing up for our month-long celebration of short fiction. Each year we join Dzanc Books and several other literary partners in celebrating May as Short Story Month. We hope you'll join us!
---
Links and Resources:
For more on these authors and work, please visit their Websites: