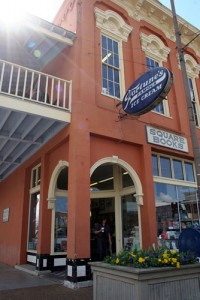 Square Books, the famed independent bookstore in Oxford, Mississippi, celebrates three decades in business this month. Festivities began last Thursday, September 10th, with a special program on Thacker Mountain Radio, which broadcasts a live show made up of "literary readings and an eclectic mix of musical performances" each week from Off Square Books. This most recent one featured musical guests King Curly and Sanders Bohlke, as well as a reading by John Brandon, the current John Grisham writer in residence at Ole Miss. John received his MFA from Washington University, in St. Louis. His first novel, Arkansas, was recently published by McSweeney's.
The celebration continued Friday with a cocktail party, a short film about the store by Joe York, and a panel discussion entitled "Oxford Reminiscences," moderated by famed fiction writer and long-time Oxfordian, Barry Hannah. For a fantastic interview with Barry, get your hands on the 10-year anniversary issue of Tin House (#40, Volume 10, Number 4) that came out this summer. Fellow novelist and short story writer, Tom Franklin, sits down with Hannah to discuss the long arc of his literary career, as well as Hannah's forthcoming collection, The Sick Soldier, what it means to be an aging artist, the meaninglessness of truisms, and the great joy of writing. Says Hannah, "I've never been interested in intellectual experiments. I prefer to thrill people in their guts rather than in their heads."
This weekend was for kids, with the Cat in the Hat at Square Books, Jr., all day on Saturday. There was also a reading by Hester Bass, author of The Secret World of Walter Anderson, illustrated by E.B. Lewis.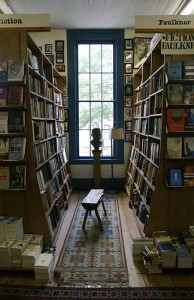 But it's the final event, which takes place tonight, that I imagine people will be talking about for some time—the reading of an original, serial short story by eighteen local writers. It's entitled "Writer Comes To Town," and its authors are Ace Atkins, Ann Fisher Wirth, Beth Ann Fennelly, Larry Wells, Wright Thompson, Curtis Wilkie, Lee Durkee, Tom Franklin, Neil White, John T. Edge, Jack Pendarvis, Gary Short, Blair Hobbs, Jane Mullen, Jere Hoar, Jim Dees, D. C. Berry, and Barry Hannah. With a collection of talent like this (to say nothing of combining the styles and voices of such a diverse group of fiction writers, poets, and essayists) you can bet it'll probably be one of the most unique stories you've ever heard. And one hell of a performance. If you're within a day's drive of Oxford, you should be in your car already.