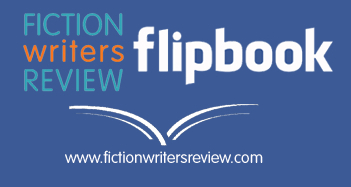 We're always on the lookout for new ways to inspire, encourage, and challenge our fellow readers and writers.
During the past two and a half years, we've featured more than 50 interviews with authors established and emerging. And they've had such valuable insights into the writing life – from thoughts on process and craft to ideas about community and influence – that we wanted to find a way to further these conversations within our writing community.
So we're pleased to announce the Fiction Writers Review "Flipbook."
Flipbooks debut today on the FWR Facebook page. Every few weeks we'll post a Flipbook that highlights some of the very best of the conversations on our site, centered around a particular topic.
Our inaugural Flipbook's theme is "My Writing Process," featuring reflections from Charles Johnson, Hannah Tinti, Dan Chaon, Benjamin Percy, and Yiyun Li. Flip through, share with your friends and fellow writers, and most of all, enjoy!
We're also hoping that you'll add your voice. Let us know how you approach the craft, or pass on favorite quotes from writers on the subject.
Here's an exclusive slide from Adam Haslett. Head over to our Facebook page for the rest of this album.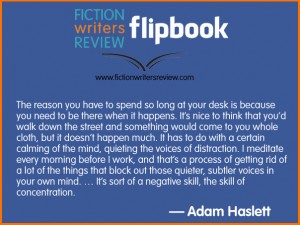 [Click on slide to enlarge]
[Click here for the rest of "My Writing Process" Flipbook!]
Adam Haslett
is the author of a novel,
Union Atlantic
, and a story collection,
You Are Not a Stranger Here
, which was named a finalist for a Pulitzer Prize and a National Book Award and translated into fifteen languages. The winner of the PEN/Malamud award in 2006, Haslett has published fiction and essays in such places as
The New Yorker
,
The Nation
,
The Atlantic Monthly
,
Zoetrope All-Story
,
The Barcelona Review
,
Best American Short Stories
,
The O'Henry Prize Stories
, and National Public Radio's Selected Shorts. Haslett has taught writing at the Iowa Writers' Workshop and Columbia University.
The full interview containing this excerpted Flipbook page was originally published at Fiction Writers Review and can be read by clicking here: Notes on Paying Attention: An Interview with Adam Haslett.