Each of us has our own secret symbols, a private reliquary where memory and meaning reign. A battered cast iron skillet. An heirloom quilt. The scent of wet red clay that evokes a childhood in the Piedmont. Fiction provides a window into the inner sanctum of a stranger. Proust's madeleine, Poirot's mustache, Charles Kane's Rosebud. In Tamas Dobozy's story "The Restoration of the Villa Where Tibor Kálmán Once Lived" (originally published in One Story), the vessel of all meaning is a house.
Set outside Budapest in the waning days of World War II, the story begins with two Hungarian soldiers, Lázló and Györgyi, making a dash for freedom as the Russian army approaches. Györgyi tells his friend of Tibor Kálmán's villa, promising that there they can get forged papers for a new life. But during their escape, Györgyi is shot.
Lázló looked back at his friend for a second, calculating the odds of getting to him in time, the two of them managing to elude the guards, limping along at whatever speed Györgyi's leg would allow. They'd be caught, charged with desertion, executed—both of them. And then Lázló turned in the direction he was headed, Györgyi's cries fading into the distance.
By deserting Györgyi, Lázló not only leaves his friend to face death alone, but also abandons morality, doing only what he must to survive as the Red Army and a "wall of refugees" press him on every side. "So Lázló became part of the human tide flowing from one death trap to another during the siege, and the things he'd seen would live on, unspoken, beneath everything he was to think and say from that point forward." Life in wartime has a provisional quality. Random violence alters a normal sense of time, both heightening passing moments, and infusing the whole structure with precarity.
Directness, clarity, and speed characterize Dobozy's writing. Lázló passes through the shocks of war, committing horrors himself, over a few brief pages. He comforts himself with the imagined villa, which soon becomes more real than the violence he witnesses and commits.
After awhile, Lázló began to feel protected by the villa, as if the new life it promised was his true life, and the one he was living now only an alias, false, as if there was no one really inside, and that anything that happened was therefore not really happening to him.
Re-reading this story now, after the terrible years of Covid, in the shadow of the ghastly war in Ukraine, as famine stalks Africa and the Middle East, one understands the dream of escape. Lázló believes the villa will restore what's been blown apart.
When Lázló finally reaches the villa, Tibor Kálmán's daughter-in-law, Karola, opens the door. She views the dirty soldier with suspicion, as though she senses his depravity. He rattles on, giving too much of his story in a desperate bid for human connection.
If only he'd gotten to the villa in time, he told himself. If only he'd chosen the one other option he had: death. He knew now it was preferable to what he'd done to save himself, though it was too late by then, betrayal had become Lázló's vocation …
When Karola's forgiveness eludes him, he continues his descent into cruelty. If she wishes to judge him, he'll make her pay.
Lázló's entanglement with Tibor Kálmán's surviving relatives reminds me of a passage from Shirley Hazzard's The Transit of Venus. As a delegation pleads for the life of a dissident facing execution, the bureaucrats make their calculations and choose to do nothing, condemning the man to certain death. In bitter resignation, the leader of the delegation says, "Men go through life telling themselves a moment must come when they will show what they're made of. And the moment comes, and they do show. And they spend the rest of their days explaining that it was neither the moment nor the true self." Have the parts of himself that Lázló has surrendered in order to survive come at the cost of his soul?
In Lázló, Dobozy describes a wounded animal unable to save himself and lashing out in fury. But the tenderness of his secret longing for the villa remains. As he walks through the villa, he has an eerie feeling that he hasn't yet entered.
"Another step and I will be there," he told himself, speaking into the emptiness of the home. And with the next movement, he said it again, "Another step and I will be inside." Eventually, he would exit the villa, stand in the courtyard bewildered, then cross the threshold again, hoping this time to get it right, haunted by how he'd dreamed of the place, hoped for it, imagined being safe inside these rooms, when in reality he was facing bullets and starvation and disease in Budapest. And killing people.
The power of an imagined place where one's true self exists beguiles even the murderer. But such hope has a dark side—the thing our hearts desire most may elude us forever.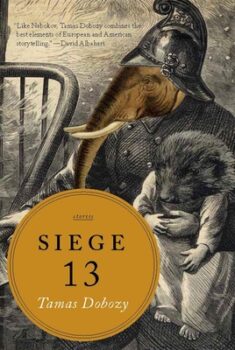 Dobozy's story is about the power of storytelling. In a very real sense, the story of the villa sustains Lázló through unspeakable atrocities. But the reverse is also true. Rob people of a coherent story, as the authoritarian state does, and it erases meaning, injecting only terror and suspicion into society. Dobozy writes chillingly of that regime of paranoia: "Picking off the most loyal had the added benefit of amplifying the fear, of making everyone feel equally vulnerable, because if loyalties didn't matter, if the liquidation of men and women appeared random, then survival had nothing to do with you and everything to do with grace, which arrived from the state, as mysterious and medieval as the favor of God." The state's capricious violence falls with the indifference of the rain, individual calculations have no bearing on outcomes. What Dobozy shows through the ruthlessness of Lázló's journey is the incredible power of stories, for good and ill. It feels like a fable for our times, when our struggle over stories has broken out in the open in bloody and terrible ways. The question is: what stories will we write? Which narrative will enough of us believe? What stories will give us a future and save us?