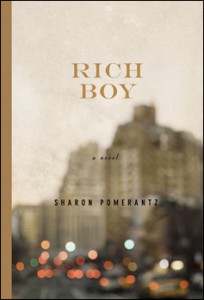 Chicago friends, don't miss Sharon Pomerantz's reading this Thursday at Women and Children First at 7:30pm. Sharon will be reading from her debut novel, Rich Boy. Beginning in the 1970s in a working-class Jewish neighborhood and stretching to the halls of power in Reagan-era Manhattan and beyond, the book chronicles four decades in the life of Robert Vishniak as he struggles to create a new identity for himself. Sharon is a talented writer of short fiction–in addition to publishing stories in such places as The Missouri Review and Ploughshares, "Ghost Knife" was selected for inclusion in Best American Short Stories 2003. She's also been a supporter of FWR from the beginning. So we hope you'll attend this event if you're in Chicago tomorrow.

Better yet, Women and Children First (located at 5223 N. Clark St) is one of our favorite bookstores in the country–an institution that's hosted such luminaries as Maya Angelou, Alice Walker, Gloria Steinem, Annie Leibovitz, and Hillary Rodham Clinton. The store has also helped foster the early careers of such writers as Sandra Cisneros, Ana Castillo, Julia Alvarez, Margot Livesey, and Jane Hamilton.
For more on Sharon Pomerantz and her new novel, visit her author page on Twelve Publishers.
You can read more about Women and Children First–including the wonderful work they've done for authors and the Chicago literary community over the last thirty years–in Jeremiah Chamberlin's Poets & Writers interview with bookstore co-founders Linda Bubon and Ann Christophersen.