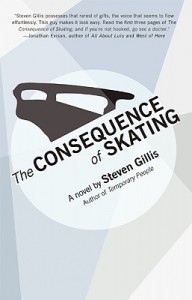 Most of our readers know Steven Gillis as the founder of 826michigan in Ann Arbor, or as the co-founder and publisher of the non-profit literary press Dzanc Books. Yet Steve is also a talented writer. He is the author of four novels as well as a collection of stories, his short fiction has appeared in dozens of literary journals, and he's been nominated for six Pushcarts.
Most recently, his novel The Consequence of Skating was a 2011 finalist for the Independent Publisher Book Award. And today the book is a B&N Daily NOOK Find, available for only $3.50.
I happen to know Steve—he's probably the most humble guy I know, and he does so much good for the literary community.  So I'm happy to finally have the opportunity to recognize some of his own accomplishments as an author. Congrats, Steve!
As a bonus, Dzanc Books is offering anyone who downloads The Consequence of Skating from B&N the opportunity to purchase any 4 Dzanc e-books for just $15 during the next three days. This is more than half off the normal price. (Just forward the B&N emailed receipt for proof of purchase.)