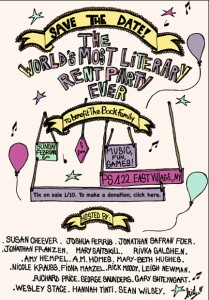 On Sunday, February 6th, join literary greats such as Mary Gaitskill, George Saunders, Rick Moody, Amy Hempel, Gary Shteyngart, Jonathan Safran Foer, and Hannah Tinti at PS 122 in New York's East Village as they throw "The World's Most Literary Rent Party Ever," to raise money for Diana Colbert, wife of novelist Charles Bock (author of Beautiful Children). In 2009 Colbert was diagnosed with leukemia and had a bone marrow transplant. But in October of this year, the leukemia returned. So friends of the Bocks–writers Fiona Maazel, Mary-Beth Hughes, and Leigh Newman–decided to help by throwing this literary fund-raiser.
As the New York Times reported at the beginning of this month:

Some 18 writers will be on hand, including Susan Cheever, Jonathan Franzen, Richard Price and Mary Gaitskill, and many of them will be auctioning off their services. Amy Hempel will walk your dog, Ms. Maazel explained over the phone. Rick Moody will write a song for you. And Gary Shteyngart will "buy you a hot dog and flatter the pants off you." John Wesley Harding, among others, will perform, and Ms. Maazel said there might be some booths where for, say, a dollar a minute one could obtain literary advice.
So if you're in New York, come out to support this wonderful cause. Tickets go on sale today at most-literary-rent-party-ever.info. You can also make a donation to benefit the Bock family on the site.