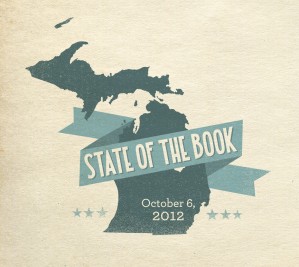 Although Fiction Writers Review's contributors come from many different states and countries around the world, the idea for the site started in Michigan. In 2008, Anne Stameshkin, a University of Michigan MFA grad, started a simple blog for reviewing books. As it become more popular, she recruited a few friends from her MFA program to help her. Fast forward four years, add about 100 contributors, and here we are, a community of readers and writers—thank you for being a part of our journey!
We're thrilled to announce that we're having our first big in-person event in the place we started. On Saturday, October 6, Fiction Writers Review and the University of Michigan's MFA Program in Creative Writing will celebrate Michigan's great writers and the state's enduring literary traditions by declaring Michigan "The State of the Book."
The revival of Michigan's auto industry has garnered a lot of recent media attention, but few stories have focused on the enormous amount of creative work happening in the state. Michigan is home to a diverse community of writers whose work inspires, enlightens, and engages.
To celebrate Michigan's creative economy, we invited 28 fabulous people who care about writing—including fiction writers, poets, journalists, publishers, and leaders of writing communities—to a free day-long symposium open to the public in Rackham Auditorium on the University of Michigan campus in Ann Arbor. Novelist Charles Baxter and former poet laureate Philip Levine will end the day with a keynote conversation moderated by U-M MFA Program Director (and FWR Contributor) Michael Byers. As if that weren't enough, Angel Nafis will debut her poetry collection BlackGirl Mansion, and Jay Baron Nicorvo will release his poetry collection Deadbeat. Dave Eggers will also be on hand to debut the OMNIBUS, 826michigan's annual anthology, AND the new Best American Nonrequired Reading anthology.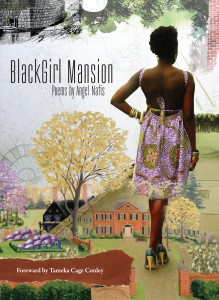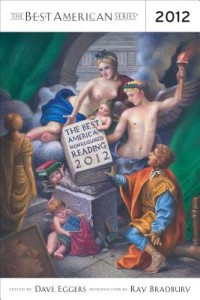 Other events include:
a performance poetry event featuring writers from the U-M Slam Team, the Neutral Zone's VOLUME Youth Poetry Project, and Detroit's InsideOut Literary Arts Project;
a presentation on innovative publishing by editors and publishers of both traditional print ventures and online literary journals;
a panel featuring debut authors who will discuss the path to publishing their first books;
a discussion on "Writing Michigan(s)" with poets, essayists, and fiction writers from around the state; and
a conversation about the future of literary journalism with prominent editors and journalists.
Throughout the day there will also be a book fair with more than a dozen presses and literary journals from across the state of Michigan.
This event is TOTALLY FREE and if you can make it, we hope you will attend. We'll post dispatches, reflections after the event, and video of the keynote conversation in the weeks to come.
The State of the Book is a major step forward for Fiction Writers Review. We're thrilled to be able to include teen participants as well as non-fiction writers and poets in our event, as we hope our site, despite its name, is and will remain a welcome place for everyone dedicated to the written word. We're as committed as ever to being a place where literature and the writing life are discussed in new and interesting ways. You can support our all-volunteer staff by donating to our fundraiser The Great Write Off through this week. Your contribution will go to improving the FWR website and compensating staff for the past four years of this labor of love.
Fiction Writers Review is grateful to its partners, each of whom was instrumental in making
The State of the Book
possible, including the
University of Michigan MFA Program
,
826michigan
,
Dzanc Books
,
The Neutral Zone
,
InsideOut Literary Arts Project
, and the
National Writers Series
.
And, of course, we are hugely grateful to the Michigan Humanities Council for their generous grant that got the whole project started, as well as to the many sponsors who have gotten behind this program: The U-M Department of English, The Institute for the Humanities, The Lloyd Hall Scholars Program, The Hopwood Program, Michigan Quarterly Review, Knight-Wallace Fellows, Rackham Graduate School at the University of Michigan, Espresso Royale, Glimmer Train, Poets & Writers, Nicola's Books, and Wayne State University Press. Thank you!
Finally, a special thanks to Bright Bulb Ideas for building both of our gorgeous event sites: The State of the Book and The Great Write Off. Thanks also to the Undergraduate English Association at the University of Michigan for their tireless work on this project, and to our amazing designer Joel Panozzo for his creativity.
For more information, visit The State of the Book website, "like" us on Facebook, or follow us on Twitter and Tumblr. If you can't join us in Michigan, we hope you'll keep coming back to Fiction Writers Review for continuing literary coverage. We can't wait to read and write our way through the end of 2012—and beyond!