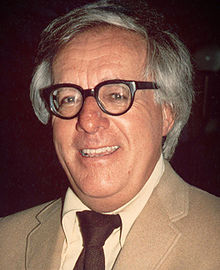 Days after Ray Bradbury's essay, "Take Me Home," appeared in The New Yorker's June 2012 fiction issue, he died—rendering essay and title resonant and prescient. The piece became his parting salute; he signed off and disappeared with a flourish of sky writing. Later that month, an electrical storm knocked out power to our neighborhood near Washington D.C.  We escaped to the Alleghenies. I read through a week of record high temperatures, lounging in the porch swing, in the hammock; re-reading my favorite Bradbury.
One afternoon beside the lake, a friend noticed my book and remarked, "I don't like science fiction. In fact, I've given up on fiction. I'm reading Caro's biography of Johnson."
We chatted, watching boys drop from a rope swing into water. He recalled his own sons' plunging in years earlier from a precursor rope with the requisite shout on splashdown: "Geronimo!" Musing on childhood's evanescence, he anticipated his coming grandchild, and regretted another grandchild had already outgrown the small rocker found at a country auction.
Our conversation prompted a pitch. "I don't like science fiction either," I said. "But try Bradbury. The Green Town stories. I think you will like them."
Here, I extend the same invitation to others like myself who do not consider science fiction or fantasy their cup of tea. Read Dandelion Wine; Something Wicked This Way Comes; and Farewell Summer. Visit Green Town: these stories evoke emotion and memory with the intrinsic magic of everyday and just a fillip of the speculative.
Travel through the fourth dimension in Green Town—not intergalactic rocket ship time travel, but through the inner space of the psyche. The time travel of childhood Bradbury recalled in his final essay: "While I remained earthbound, I would time-travel listening to the grownups, who on warm nights gathered outside on the lawns and porches to talk and reminisce." The Green Town stories explore the yearning temptation to hold onto the ephemeral –  to slow time, reverse it, seize the fleeting moment.
Visit Green Town to meet shape shifters: not phantasmagoric species benders but shape shifters engaged in the ordinary, miraculous human metamorphosis of growing up, growing old. Visit Green Town and encounter dangers.  Not aliens, rather the inexorable threats of loss and regret. The victory in Green Town is not to vanquish nor escape terrestrial imperatives, but to savor the moment and make peace with endings.
Bradbury's 2007 Pulitzer Citation recognized "an unmatched author of science fiction and fantasy." Neither genre, the Green Town stories hybridize fiction, poetry and memoir into loosely autobiographical, metaphoric dreams.  Speaking to The Paris Review (Spring 2010) he described his science fiction writing as "ricochet vision" – looking backward at reflected truth.  He employs this ricochet vision differently in each of the Green Town books: Dandelion Wine closer to memoir, Something Wicked This Way Comes closest to magical realism, Farewell Summer a dialogue, a fable.
The Green Town stories pay homage to his childhood in Waukegan, Illinois, where Raymond Douglas Bradbury lived around the corner from his grandparents. A travelling carnival came to town when he was twelve; sideshow magician Mr. Electrico exhorted him to "Live Forever." Thereafter, Bradbury started to write and continued for eight decades: producing books, screenplays, plays, poetry, and essays.
In 1957, thirty-three years into his prolific career, he published Dandelion Wine. Bradbury captures a lyrical catalogue of the sensory delights of a boy's summer—the push mower's "clatter of rotating metal"; the kinesthetic joy of running in new tennis shoes; the taste of dandelion wine "summer on the tongue…summer caught and stoppered."
First titled Summer Morning Summer Night, a June dawn and August dusk frame the reverie on summer's cycle from blossom to harvest. In an endeavor to figure out how to "live forever," twelve year old Douglas Spaulding records every summer day in his notebook of Discoveries and Revelations, Rites and Ceremonies. When his best friend John Huff must move away Douglas makes a futile attempt to stall time by stopping his watch. The chill of school bears down. Mourning the last night of summer, falling asleep, he comforts himself by remembering "…the dandelion wine stood in the cellar…He would go there often, stare straight into the sun until he could stare no more."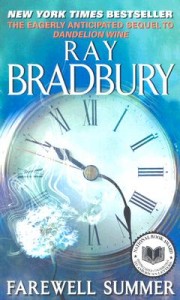 Bradbury published Something Wicked This Way Comes in 1962, five years after Dandelion Wine. This second volume is the dark reflection and evil twin of the luminous earlier book. The first celebrates the sensual pleasure of summer childhood; the second conjures the temptation to escape childhood's confines, the glittering lure of growing up. Benevolent images become malevolent here: the dragonflies that in the first book "sewed along the air," now threaten to sew eyes shut. Dandelion Wine is a prose psalm, all unfolds according to the season. The hectic pace of Something Wicked This Way Comes surges like the roller coaster of adolescent adrenaline and hormones. Protagonist Will is fourteen; seduced by Midway artifice and carnie impresario Mr. Dark who tempts him with a free ride on the carrousel and almost abducts him. Deceptive layers of funhouse mirrors entrap, confuse, and distort—adding years; "shucking" years away. Will's father rescues him from this "sideshow populated by madmen" in bondage to the illusion of eternal youth, an eternal prime.
Farewell Summer, last in the trilogy, was published in 2006, fifty years after Dandelion Wine, and billed as a sequel. But Bradbury himself called it "an extension" of the first book, explaining that much of the material had been part of his original much longer manuscript for Dandelion Wine.
In this last volume, Bradbury reprises the themes of change and growing older. Youth and age confront each other, question each other, and come to conversational terms. Douglas Spaulding reappears from the first book, two years older, fourteen—the hinge age between childhood and adolescence, the cusp between innocence and experience (also Will's age in Something Wicked This Way Comes). In an attempt to stop growing and "stay the same age forever," Douglas stops eating. He declares old and young neighbors to be "different races" and leads his friends into a guerilla war against "the whole darn school board, the town council … all those dumb old men." The boys scarify with cap pistols and steal chess pieces. The old men proclaim them animals. Finally, the boys vandalize the Town Hall Clock, "the thing that bleached and ruined life, jerked people out of bed, hounded them to schools and graves." Douglas's grandfather facilitates the boys repairing it and making amends. The clock chimes again; time moves forward, and a member of the School Board brings hostilities to a truce over birthday cake. He asks Douglas, "What's life all about?" The boy replies he was about to ask the same question of the old man. The reader hears the older Bradbury in conversation with his younger self.

In his final essay in The New Yorker, Bradbury describes the summer ritual of helping his grandfather release fire balloons, and watching "the balloon drift free, up past the porch, illuminating the faces of my family."  The balloons vanish and "tears were streaming down my face…"
This image of loss and disappearance, and the gentle mentorship between grandfather and grandson, echoes a passage in Farewell Summer. Douglas naps and dreams of boarding an un-named excursion boat:
And soon the ship was way out in the cold water with the fog wrapping it up…he knew if he searched he would find no captain, no crew as the ship's engines pumped below decks…if he reached down to touch the prow he would find the ship's name, freshly painted:  FAREWELL SUMMER.
Awakening, weeping, Douglas asks his grandfather, "Is death being on a ship sailing and all your folks left back on shore?" The grandfather replies, "That's about it, Doug. Why?"
I read, and I imagine the older author reviewing, revising, and completing the manuscript his younger self began, continuing the dialogue with his own grandfather, still trying to figure it out.
One of the old men of Farewell Summer says, "Learning to let go should be learned before learning to get." Arrivals and departures, dawns and dusks, births and deaths.  Farewell Summer loops back like a Möbius strip to where it began – Dandelion Wine.
Bradbury dedicates Farewell Summer to his own childhood friend – who bears the same name as Douglas's Spaulding's lost friend in Dandelion Wine:
"With love to John Huff, alive many years after Dandelion Wine."
He said finishing Farewell Summer provided "a great pleasure for me, to revisit my beloved Green Town." And I found great pleasure in revisiting these stories many years after my late father (Bradbury's exact contemporary and also native to small town Illinois) introduced me to his favorite book—Dandelion Wine. The Green Town stories pay homage to the stories Bradbury heard "the old ones" tell on summer evenings. This is my own homage to Bradbury, and the remembered pleasure of listening to my own old ones' stories on summer evenings. I hope my lakeside friend will read the Green Town stories, and perhaps share them with his grandchildren one day.
In the Homeric tradition, as long as people tell our stories, we will not die. At present, every copy of Something Wicked This Way Comes is out on loan in my county's library system. Safe to say Bradbury fulfills Mr. Electrico's prophetic exhortation and lives, forever.

---
Links and Resources
Ray Bradbury's final piece in The New Yorker (which Ellen mentions in her opening) "Take Me Home."
Read Ellen Prentiss Campbell's essay "Creative Defiance" on Pearl S. Buck's 1948 YA masterpiece, The Big Wave.
For that matter, read the rest of our YA Coverage.