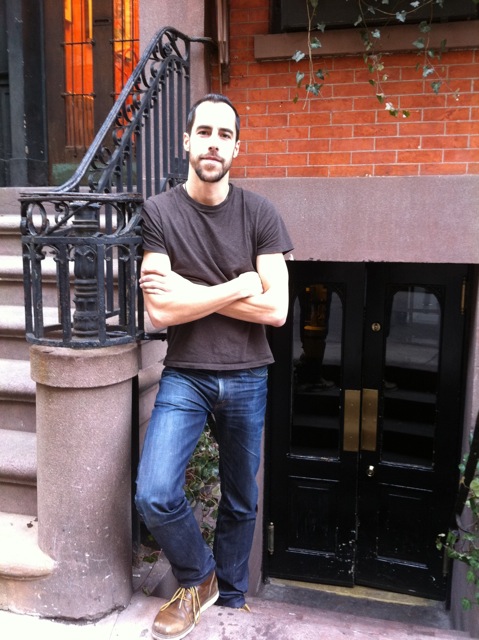 Howdy, park rangers.
How goes it? Did everyone have a healthy and lit-heavy year of fiction, non-fiction, and personal growth, despite your cell phones? It was tough for me. I'm not going to fib. Our phones have turned on us the way Stephen King's machines did in Maximum Overdrive. Even bars and coffee shops are no longer safe—people used to go to these places to have conversations with one another, but now it seems everyone agrees to meet together somewhere so they can text other people who are not there.
WTF.
That Gary Shteyngart really was ahead of his time, you know?
Anyway, there were moments I caught my phone controlling my focus so much I needed to turn it off completely if I planned to get in some quality reading time. So in 2012 I took it upon myself to re-engage the experience of getting lost in the arc of storytelling. I'll also admit that part of this had to do with my competitive spirit; my pal Grover set out to read fifty-two books—one for each week—and I began last year with the warped idea that I could challenge that accomplishment.
To keep this civil (children might be reading!) let's just say Grover definitely beat me. Badly. Still, quality matters more than quantity, right? Or, at least that's what I tell myself…
Final note: these books were books I read in 2012, though not necessarily published last year. Right on. Let's begin, good people of Earth.
---
Book That Will Probably Get Made Into A Movie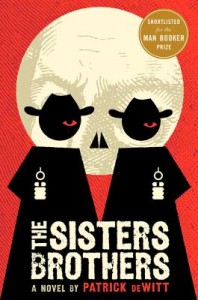 There's been a couple this year—people just write with more visual awareness these days. But of them all, I would say The Sisters Brothers (Ecco, 2011) stands a good chance of being made into a film, though not for another few years since Django Unchained recently arrived. Still, Patrick DeWitt captures sibling duality as good as anyone I've read in recent memory. I have four brothers. We live in wildly different worlds. We all love each other but we have the ability to get under each other's skin faster than a frog's ribbit. I could only imagine if it was the 1880's and my brothers and I were hired bounty hunters with two wildly different intentions. It's bad enough today, since half of them are Republicans!
Also, The Sisters Brothers is such a good title it needs to be made into a more commercially viable medium. That's the one redeeming quality of book-to-film adaptations: hopefully it gives typical film audiences inspiration to go buy the book and read up on the extended detail of what is always a more fulfilling journey shared between reader and writer.
Book I Won't Read But Want You To Read And Tell Me About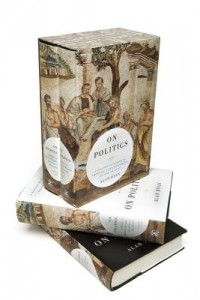 This is a tricky one. Arguably, lots of books were published last year that many of us will not get a chance to read. It's a shame we find ourselves pinched by time these days, so much so we have to decide a lengthier book would be an epic involvement best left ignored. (I'm talking to you, George R. R. Martin!)  Perhaps this leads back to the cell phone interference. Perhaps I am a defeatist. Perhaps life gets in the way of lengthy submissiveness.
That said, I would love it if you read On Politics: A History of Political Thought, by Alan Ryan (Liveright, 2012). Mr. Ryan has worked on this book for three decades, which is cause for celebration. At 1,114 pages, the pleasure is all yours.
Best Book Recommended By A Friend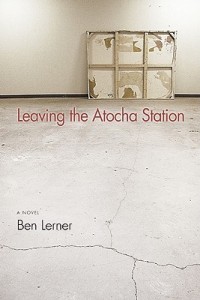 This is a tricky category. We all have friends. And many recommend books to us on a regular basis. But are they submitted with full consideration of our tastes and inspirations?  This is not always so. Recommending a book is like trying to get kids to change their cereal flavors. Everybody's got their favorite cereals, baby! Stay outta my bowl! It conjures an argument or social experiment on reader as subject and their insular captivity when it comes to getting lost in a story or series of books (again, George R. R. Martin, you animal). But I digress.
My favorite book recommended by a friend was Leaving The Atocha Station, by Ben Lerner (Coffee House Press, 2011). It was, in fact, the first book I read last year and I still salute its levity. Lerner's protagonist, a young poet on fellowship in Spain, does a fine job of straddling the anti-hero line in so many truthful ways, and his decisions even when the character's meandering on life and its myriad ways of confusing myths of love and inspiration evoke the very physical displacement going on. These factors exist while attempting to understand a different culture in a different part of the world, when he's having a hard enough time understanding himself throughout. It's a transcendent accomplishment while making things look easy.
Biggest Book That Made Me Want To High Five Someone When Finishing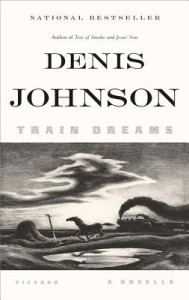 This is a misnomer, as the biggest book making me want to high five was the smallest physical book: Train Dreams, by Denis Johnson (Picador, 2012). What can we do about Denis Johnson? Can we stop him? He can shoot. He can play D. He slam dunks with ferocity and precision. But best of all, he passes the ball and shares with us his unique visions. The Pistol Pete of contemporary novelists just keeps serving us nuggets we are lucky enough to take and score and help our team advance. Writers know him through his impressionable background (Jesus' Son, Tree of Smoke, Nobody Move, etc.) and university teaching, and some reader friends hold him in high regard through his emblematic renderings of times and worlds we have experienced in the past, and yet here is a new approach to how we see the heartbeats. Train Dreamsis so succinct, so terse in its printed topography, but the places traveled in Johnson's account of one man's lifetime may as well be ten lifetimes. His work stands up and his stories breathe through us all.
You know you caught something special when you're writing and thinking about it so much later and the goosebumps arrive. High five, man.
High fives all night long.
Best Book By A Writer Friend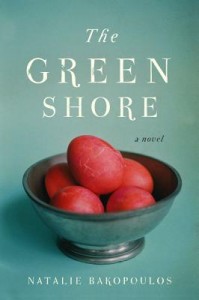 Boom. Easy. The Green Shore, by Natalie Bakopoulos (Simon & Schuster, 2012). To know Natalie is to know the best ways we harbor earnestness as human beings. She wears her characters on her sleeve, and the book's three-dimensional tableaus illuminate our connectivity as humans and how we struggle to maintain those connections despite debilitating governmental strife – in this case, the military dictatorship of Greece, a period of that country's history unknown to most Americans because everyone's focus in the 60s and early 70s was on Vietnam. Yet here's a touching story of a cultural happening in Greece that's been grossly overlooked, one that Natalie succeeds in capturing through both unique storytelling and historical research. Read this book and enjoy life some more, park rangers. Bravo and huzzah, Natalie.
Book Read During Hurricane Sandy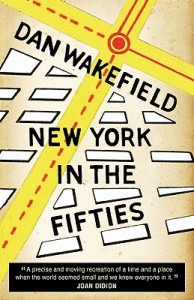 I was in Lower Manhattan for the duration of powerless days and nights for that week. I'm not complaining. We had no power and no hot water and my bones learned how to stay cold and tolerate the environs, but there were many other people who suffered much worse than us. We are still helping the outer boroughs rebuild and I'm grateful to live in a city so steadfast in its resilience.
I read New York In The Fifties, by Dan Wakefield (Greenpoint Press, 2011), an autobiographical account of an aspiring young writer from the Midwest who moved to New York during a time where the literati were the celebrities of New York, when people read books so often they would go to a cocktail party and discuss literature the way people now bring up pop culture references. Wakefield's recollection of this era would make any writer proud to briefly live in a time where we appreciated every little detail of our surroundings—no stone left unturned, every person engaged in their own unique way.  And I sat in my fourth floor walk-up, candles huddled near my head as everyone who decided to stay in Lower Manhattan silently waited for some sign of revival from Con Ed, unable to stop reading about people living and writing fifty years before me, directly in the heart of where I was breathing as I turned the pages, each one a steadfast memory.
Book Most Like Counting Crows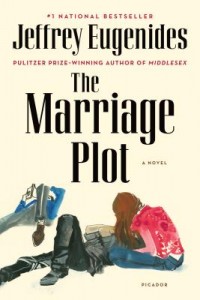 Counting Crows were a breakout successful 1990s band with a passionate and literary-minded lead singer and…ah, shit—everyone knows who I'm talking about. They still perform from time to time and are no doubt responsible for some relationship you had long ago that occasionally resurfaces in your mind as The One That Got Away (But It's Okay).
Which brings to mind the book I read last year that was vintage Counting Crows: The Marriage Plot, by Jeffrey Eugenides (Farrar, Straus and Giroux, 2011). It had everything the Crows embodied in their heyday: college liberal arts romance, a little bit of drugs and drinking, and lots and lots of emotions. And theology. Which, oddly, was like my time in Catholic grade school. But once again, I digress.
Both book and band were considered for major awards in their respective industries, with Marriage Plot being a National Book Critics Award finalist, while August and Everything After managed to receive Grammy nods.
The actual track listings for August and Everything After could very well be the name of upcoming Eugenides books: "Perfect Blue Buildings," "Sullivan Street," "Anna Begins." (I actually love the titles, and would happily claim them for my own had they not already been accomplished.) But the similarities are remarkable, and the saturations abundant. MTV played "Mr. Jones" more times than I care to research and count, and every time I went into a bookstore for a solid five months all I could see was the Marriage Plot's front cover on the counter right next to the register.
I finished Marriage Plot faster than I finished most books last year, as it was recommended by a recent ex at the time, so of course I wanted to read something between the lines mirroring her recommendation of the book and our relationship. As such, the emotional frequencies reflecting our relationship and the relationships within the pages of Mr. Eugenides' college-era romance made me feel like listening to the Counting Crows again, and that is why The Marriage Plot is my "Rain King."
Desert Island Book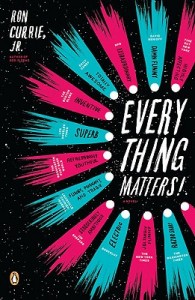 Oddly, I would say the book I would take away with me the most was not my favorite book of the year, but it mattered in the right way. It's gotta be Everything Matters, by Ron Currie, Jr. (Viking, 2009). It was one of those books where I remember exactly where I was while reading it—which park bench I sat in, how my posture was on my couch—practically able to recall what food I was craving as I turned the pages.  The contents reflect a sobering account of life from several complicated characters, all connected by the supreme knowledge of the main character, who embodies an all-knowing omniscience yet is still incapable of harnessing the power to transform the ones he loves the most, thereby proving again that we were born alone and we'll die alone, and yet, with such vastness between those crucial moments, there is still so much happening—big and small—somewhere beyond the edge where the sand stops and the water begins, and vice versa.
Yeesh. Goosebumps again.
---
Thanks for reading. My hopes for 2013 are more bookshops open on every street corner in the world. I loved 2012 for reminding me how much I enjoy getting lost in story, and finding new ways to look at the world through others' translations. A personal thank you to all the writers out there yearning to communicate those stories. I am forever grateful. Keep reaching for the moon. We'll be waiting. Mr. Jones. And me.
Further Links:
Read Gary Shteyngart's 2010 essay "Only Disconnect" about our relationships with our phones.
You can also read the Pew Internet & American Life Project's study "The rise of e-reading."